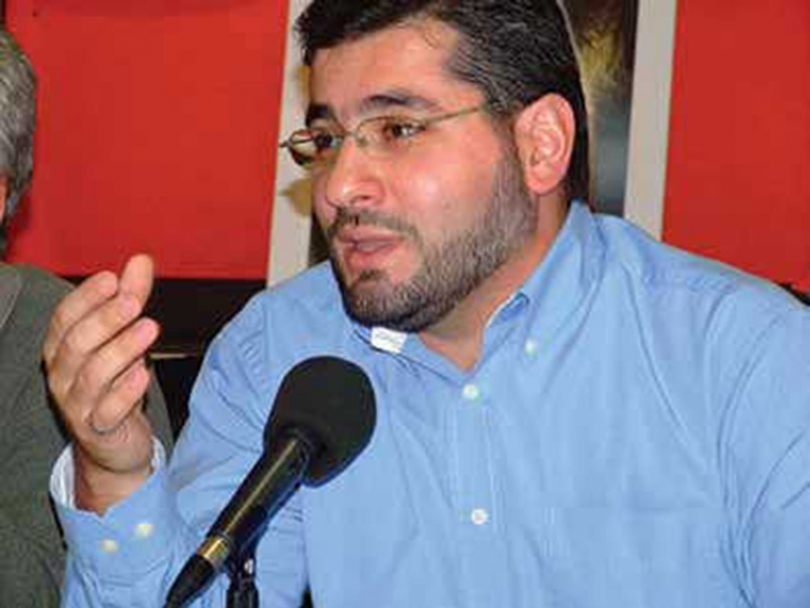 In 2008, a federal inquiry determined that Abdullah Almalki had been mislabeled an "imminent threat" by the RCMP and tortured in Syria due, in part, to the actions of Canadian officials.
Photo Credit: peoplescommission.org
11
May


2012
Removal of CSIS watchdog leaves critics worried about abuses
Written by Noman Bajwa
Critics are condemning the federal government's decision to shut down the independent office that served as the watchdog for Canada's spies.
A single line in a massive budget implementation bill tabled on Apr. 27 signalled the end of the Office of the Inspector General of the Canadian Security Intelligence Service. The office will be replaced by the spy agency's civilian oversight body, the Security Intelligence Review Committee which has a more distant relationship with CSIS.
News that the inspector general's role would be scrapped is causing concern in the Muslim community particularly as it comes on the heels of a federal government directive that allows CSIS to use information extracted through torture in cases where the agency deems public safety is at stake.
That directive "" leaked to Canadians in March "" stirred public controversy with many NDP Members of Parliament denouncing the Tories for the initiative.  NDP MP Jack Harris proclaimed in the House of Commons that the government was "showing utter contempt for the Charter of Rights and Freedoms" by displaying "a sudden passive endorsement" of torture.
In response to criticism by MPs and public interest groups, Julie Carmichael, Director of Communications for the Public Safety Minister's Office says, "I cannot be any clearer.  Our government does not condone and certainly does not engage in torture.  However, when we have information that Canadian lives are at risk, we will act without delay "" Canadians expect no less. The views expressed by the NDP are unrealistic and negligent.  Our Government will always protect Canadians from those who wish to harm us."
But critics fear that with one less set of eyes on it, CSIS might be tempted to push the legal envelope as in the case of Abdullah Almalki, a Syrian-Canadian businessman who was wrongfully confined and tortured in a small Syrian cell for 22 months with the knowledge and compliance of Canadian officials.
"The fact that the government has not implemented a key recommendation of Justice Dennis O'Connor's Commission of Inquiry into the Actions of Canadian Officials in Relation to Maher Arar -- that being the creation of a comprehensive oversight body for all of Canada's security services -- is troublesome," says Ihsaan Gardee, Executive Director of the Canadian Council on American-Islamic Relations.
"This, combined with the recent announcement regarding the elimination of the post of Inspector General of CSIS should be a continuing cause for concern for all Canadians in regards to the potential for abuse or misuse of this directive," he says.
Pointing to Mr. Almalki's case, Mr. Gardee adds that "without oversight, and in the absence of robust accountability and redress mechanisms, there remains little recourse for individuals who find themselves the victim of false or inaccurate sharing of information."
Unlike Maher Arar who received a federal government apology and a $10 million settlement for RCMP and CSIS involvement in his eight months of torture in Syria, Mr. Almalki has received neither an apology nor any formal compensation.
CAIR-CAN also notes that several security experts, including a former federal solicitor general, have stated that pushing more duties onto SIRC, which has a different mandate and core function than the Inspector General, will not improve oversight. In effect, the monitoring of CSIS activities to ensure that they operate within the bounds of the law would be considerably downgraded.
It's a view that's supported by Wesley Wark, an intelligence expert and Professor at the University of Toronto. He doubts that SIRC would be able to produce the detailed annual reports that the inspector general has generated. In recent years, these reports have admonished CSIS for making numerous errors.
"If (the SIRC) makes mistakes, that can potentially impact on the civil liberties of Canadians who may find themselves subject, and perhaps wrongly, to CSIS investigations," Prof. Wark said to CBC News.  
This article was produced exclusively for Muslim Link and should not be copied without prior permission from the site. For permission, please write to info@muslimlink.ca.