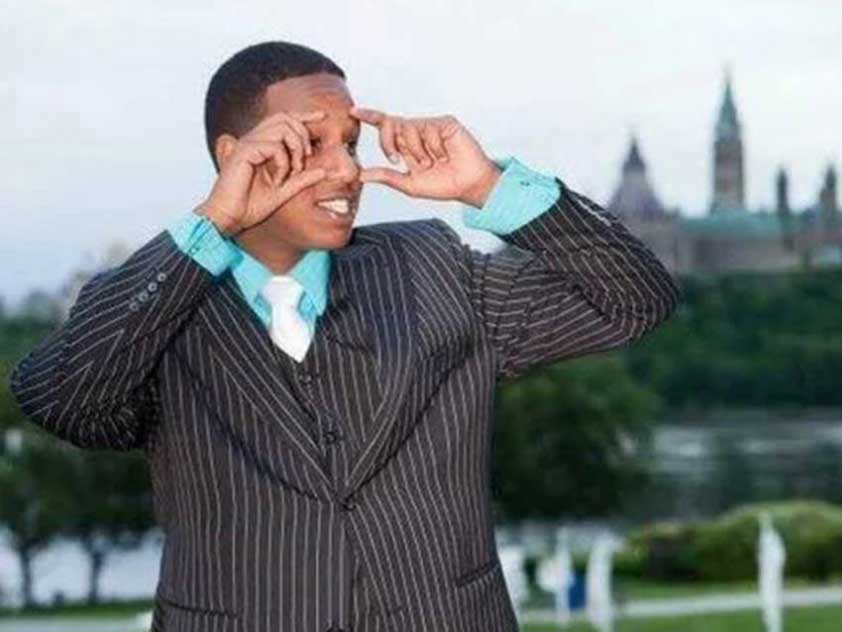 Jabeir Jemmie at his prom
Courtesy of the Jemmie Family
01
October


2014
"You never really know the impact of a person until they are taken away," said Wader Jemmie, sister of Jabeir Jemmie. Jabeir, at 21, became Ottawa's fourth homicide victim this year; a crime which remains unsolved.
When the media first started reporting about the end of Jabeir's life, dying from stab wounds on the corner of one of Ottawa's busiest streets, it painted the typical picture of a Black young man mixed up in gang life.
"They made him look like some big gangster," Wader stated angrily.
The media gathered most of their information from his Facebook page, sharing photos which fit well with the gangster image. Although never convicted of any crime, the fact that he was facing charges for robbery helped to solidify that narrative.
But then other narratives began to emerge, stories of someone loved by family, friends, and a large community. Someone whose funeral could pack a mosque with people from all faiths whose lives he had touched.
"We didn't even know our brother knew all of these people. And my dad told me that many people who couldn't make it to the mosque came to the burial. He said again every race was there. He was completely shocked. He said 'I never knew my son had known all of these people and had touched their hearts.' So it was a sad but happy moment at the same time," Wader explained. "And the people who work at the cemetery tell us that new people keep coming to visit his grave."
Ottawa's small Eritrean community rallied to support the Jemmie family. Eritrea is a small and not particularly well-known country in the Horn of Africa, with close cultural ties to its more well-known neighbour Ethiopia. The Jemmie family, like most Eritreans, came to Canada to provide more opportunities for a brighter and safer future for their children. One unique aspect of Ottawa's Eritrean community is that while it is religiously diverse with Ethiopian Orthodox, Protestant Christian, and Muslim members, in a crisis, those differences are put aside. The loss of Jabeir Jemmie was a loss for them all. "The Eritrean community, out of respect, paid for Jabeir's burial and all the other costs involved in laying him to rest. That really meant a lot to my family," Wader explained, "We just reunited as one and held each other together."
Jabeir Jemmie grew up in Ottawa's West End and attended Woodroffe High School. His janazah (funeral prayer) was attended by former friends, neighbours, teachers, and former classmates. Wader thinks the reason why he was so loved was his warm and goofy personality. "My brother was tall. He was 6'6". He was huge. So if you see him at first you might be scared. But then you get to know him. When you get to talking to him, he brightens people. He jokes around, gives really good opinions. He always asked people if they needed anything and he would try to give what he had," Wader explained.
But then why did someone want to kill him? Wader hopes that other young men take a lesson from this tragedy and realize that if they are in trouble, if their lives are threatened, they need to talk to someone. "We don't know if my brother had a problem with someone. He didn't tell anyone. You don't want to end up a cold case like my brother so if you are in trouble, tell someone! It doesn't have to be your mom or your dad. It could be anyone," she explained. She also has a message for those who think violence will solve their problems. "Killing someone hurts everyone, the victim, the family, and you...how can you sleep at night?" she asked.
The Jemmie family is working to ensure that Jabeir's short life continues to have a positive impact; setting up a scholarship fund for students in need, and donating money in his name to the mosque and to rebuild a school in Gaza.
Wader is working with the City of Ottawa and the Centretown Citizens Ottawa Corporation (CCOC), a non-profit housing community where she lives, to plant a tree near her house in remembrance of her brother. "I've also been told that planting a tree in his name is also good ajr (spiritual reward) for him because anything that drinks or sleeps or eats under the shade of that tree earns ajr for him," she shared.
The family hopes to raise enough money (they need $300 as the city is covering the rest of the $700 cost) before the first snowfall.
To support the Jabeir Jemmie Scholarship Fund send a contribution to http://www.gofundme.com/f3an7o or contact This email address is being protected from spambots. You need JavaScript enabled to view it.
The Ottawa Police Service asks anyone with information on the stabbing of Jabeir Jemmie to contact them at 613-236-1222 ext. 5493 or Crime Stoppers at 613-233-8477. ■
This article was produced exclusively for Muslim Link and should not be copied without prior permission from the site. For permission, please write to info@muslimlink.ca.