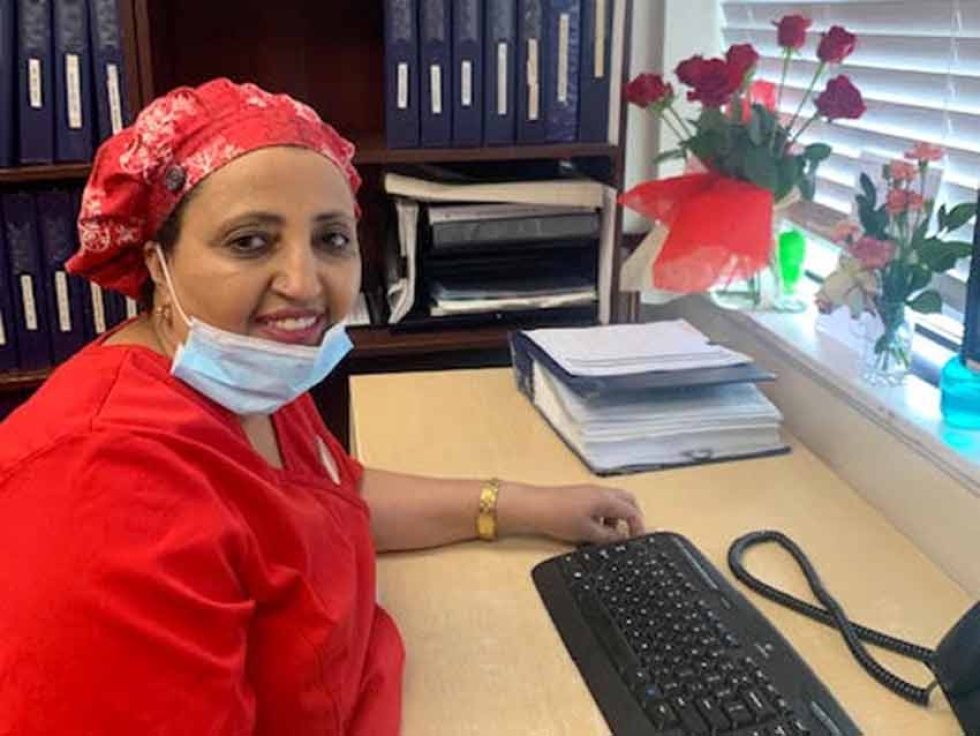 Semira Saba Kifle has worked at The Redwoods Retirement Residence in Ottawa since 2013.
Algonquin College
17
Feb


2022
Support Algonquin College Bursary Named In Recognition of Ottawa Muslim Refugee Nurse
Written by Algonquin College
As a young person caught in the devastation of war – or maybe because of that – Semira Saba Kifle dreamed of becoming a nurse. She realized that dream, graduating from the Algonquin College Practical Nursing diploma program in 2018, after 18 years as a Personal Support Worker (PSW).
That led to an honour that will stand in perpetuity: A new bursary established to help health-care workers enrolled in the Practical Nursing program at Algonquin College has been named after her.
The "Semira Saba Kifle Practical Nursing Bursary" is one of two bursaries established with a gift from a longtime community volunteer and philanthropist. The second bursary, the "Thank You PSW Bursary," supports students in the Personal Support Worker program.
After fleeing Eritrea for neighbouring Sudan, Kifle arrived in Montreal in 1991 as a refugee and made her way to Ottawa the following year. Most of her family remained in Africa, in Egypt and Sudan, and so she went to work in order to be able to send them money. Night school provided the path to becoming a PSW in 1998.
Meanwhile, Kifle had a family – her four children are now 26, 18, 17 and 13 – and tucked her dream away for another day. That day came in 2016.
"I went back to school and with the help of my family, support system and wonderful teachers at Algonquin, I finished my nursing program and finally can say that I have accomplished my lifelong dream," she said. Kifle also received bursaries that helped ensure she could successfully complete her studies.
Today, Kifle works as a Registered Practical Nurse (RPN) at The Redwoods Retirement Residence, where the donor's 99-year-old mother has resided for 14 years. Before returning to school, Kifle was a PSW at the home.
The donor says she had not been aware that Kifle had returned to school, and when Kifle came into her mother's room as a nurse "her face was shining." She said all the staff at the home are outstanding —the laundry workers, cleaners, cooks, and bus drivers, as well as the PSWs and nurses. "They all work hard for the residents and show phenomenal care and concern."
But it was Kifle and her difficult yet inspiring story of hope and determination who ultimately moved her to establish these bursaries.
Kifle said working with retirement and nursing home residents is special because you can establish a one-to-one connection with the residents.
"When the family can't be there all the time, you can be there for them," she said, adding that her experience helps her bring the best to patients and residents. "If a person likes certain things, you want to respect that and provide that as much as possible."
The donor says that at Christmas, she and her grandchildren wrote more than 100 thank-you notes to the staff at Redwoods, a kind gesture and a practical way of encouraging her that generation in a giving habit, but she wanted to do more for the common good.
Establishing bursaries, a form of help she received as a university student, achieves that goal.
"These health-care workers are phenomenal. They don't have much time right now because of pandemic protocols, but they're always really good to my mother," she said. "We need more of them and providing bursaries will help them get the training they need."
Kifle wants to do more for the common good, too. She now dreams of serving others through an organization like Doctors Without Borders. Her experience — her youth as a Red Cross and paramedic volunteer, her journey as a refugee, her resolute pursuit of her dreams — will help ensure she achieves that dream, too.
Donations made to the "Semira Saba Kifle Practical Nursing Bursary" between Monday, February 6, and Monday, March 7, 2022, are eligible for matching one-for one, to a total of $15,000.  To donate, click here