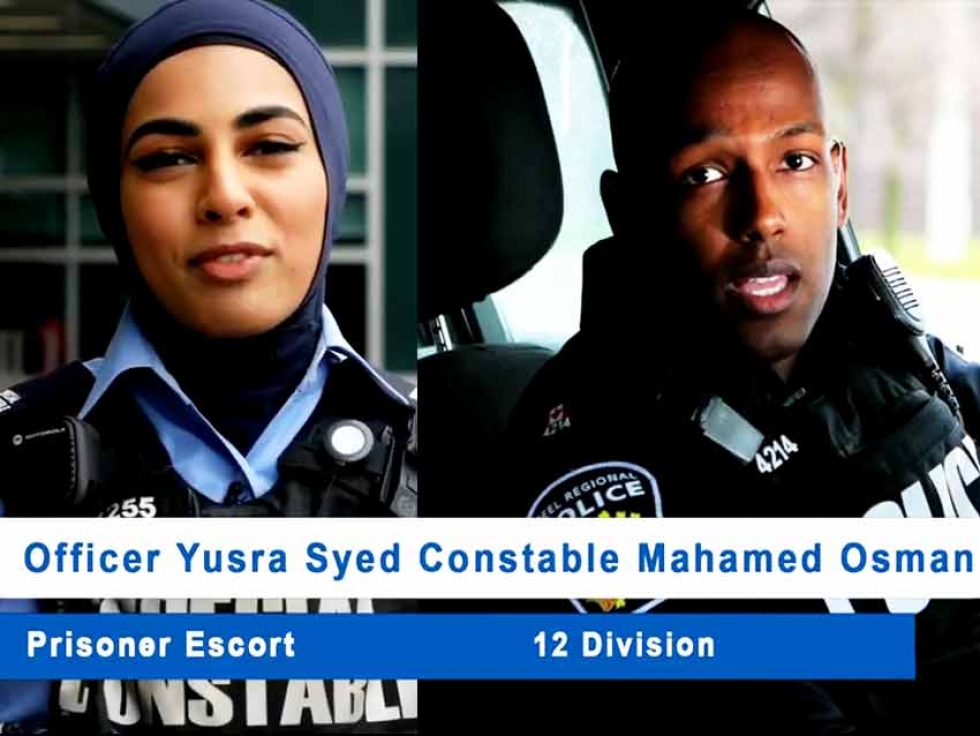 Special Constable Yusra Syed and Constable Mahamed Osman are featured in the Peel Regional Police video celebrating Ramadan.
16
May


2019
Peel Regional Police Create Ramadan Video Featuring Muslim Employees
Written by Making Headlines
Peel Regional Police serve one of the most diverse regions of Canada, the cities of Mississauga and Brampton.
In order to show support for its Muslim employees and the Muslim communities it serves, as well as to educate other police members about the Holy Month of Ramadan, Peel Regional Police created a video about this special season, featuring several Muslim Peel Regional Police employees.
The video features Special Constable Yusra Syed, a Prisoner Escort Officer (PEO) with the Brampton courthouse who has been working with Peel Regional Police since 2017. A University of Toronto Mississauga alumna, she is one of the first women to wear hijab while on duty with a Canadian police service.
The video also features 2018 recruit Constable Mahamed Osman who is Somali Canadian. 
These younger police service members are reflective of a national push to recruit more ethno-culturally, racially, and religiously diverse members of Canadian municipal police services in order to better reflect and serve Canada's changing population.
"We at Peel Regional Police are committed to learning about, celebrating and engaging with the many cultures and faiths in our community. Please join me in wishing everyone in our Muslim community a safe and prosperous Ramadan," said Peel Regional Police Chief Chris McCord.
Watch the video below (It may take a few moments for the video to load from YouTube).
You can follow the Peel Regional Police's Equity and Inclusion Bureau on Twitter here.
This article was produced exclusively for Muslim Link and should not be copied without prior permission from the site. For permission, please write to info@muslimlink.ca.