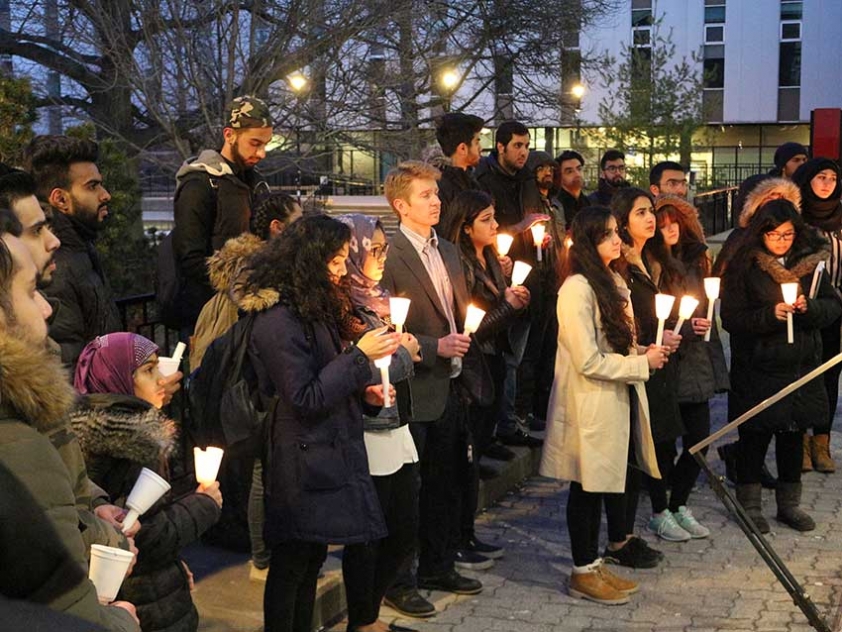 Students gathered at Carleton University on March 29th to mourn the victims of the Lahore Attack over Easter Weekend
Courtesy of Jasmine Cousineau
31
Mar


2016
Ottawa Students Organize Vigil for Victims of Lahore Attack
Written by Chelby Daigle
Waleed Sheikh, a President of the Pakistani Students Association who is currently studying Sociology at Carleton, spearheaded the initiative. Waleed lived in Lahore for most of his life. "Initially when I moved to Lahore [from Karachi] I lived in Iqbal Town which is located near to the park where the terrorist attack took place," he shared, "I used to visit that park with my family frequently and used to go on the different rides. Hearing about it on the news was devastating for me personally because I had childhood memories associated with that park."
Unfortunately, this isn't the first vigil for Pakistan Waleed has organized. "Two years ago when I was President of the Association, the Peshawar incident took place which took the lives of over 130 students and teachers," he explained, "Back then I received immense support from the university and different associations on campus who helped me organize the vigil. So when something similar happened on Easter Sunday, I knew it was best to organize a vigil through PSA as I knew I would receive support from the Carleton U community."
Although the event also had speakers and attendees from outside the Carleton campus, including representatives from the Pakistan High Commission and the Canada-Pakistan Association, most attendees were students. Meisan El-Maghrabi, originally from Gaza and a member of the Palestinian Students Association at Carleton, felt it was important to participate in the vigil. "I chose to attend the vigil because I really wanted to represent a different culture and show that we will all stand by Pakistan, no matter what our background is," she explained, "I wanted to support Pakistan and condemn the terror it had to endure. Vigils like this are extremely important because I believe we need to show everybody that this event - as atrocious as it is - did not turn us against each other. It brought everyone together."
Meisan appreciated that the speakers at the vigil acknowledged many of the other recent terrorist attacks that have devastated communities globally. It was important for Waleed to ensure that this happened at this vigil. "The reason I included other countries was to bring to the attention the tragedies that have taken place around the world," he explained,"I wanted to make the point that we are all connected. It is one world and we are all human beings. One country's problem should be considered as other countries' problem too. We could say that terrorism is a global phenomenon, and instead of trying to pin point and localize the problem to one country, we should try to unite to eliminate this illness."
Waleed feels that vigils serve an important purpose both socially and psychologically. "I believe vigils like these play multiple roles," he shared,"For example, not only do we get together and make dua (prayer) for the ones who have died and were injured, but also I believe this kind of occasion creates a space for people to unite and talk about the situation. For me the biggest thing I take from this is the unity of people. After such tragedies I always get messages and phone calls from friends asking if my family back home is okay, and you if I need anything. My professors were also very accommodating to the situation as it is the final week of semester, so having so much stuff due, they gave me a little leeway so I could focus on organizing the vigil." Waleed was moved by the compassion of the the Carleton community and grateful for the presence of representatives from the Palestinian and Indian Students' Associations and the messages of condolence he received from several other students' associations.
Given that this attack seemed to be particularly targeting Pakistani Christians, Waleed also felt that coming together across religious differences was an important aspect of the vigil. "We might not be as old as Canada, but Pakistan recently moved towards declaring minority holidays as National Holidays and I think this was a real big victory for religious tolerance," he shared, "So I do believe religious tolerance should be promoted both in Pakistan and Canada and should be promoted regardless of which faith is being targeted. It should be promoted from all sides."
The Pakistani Students' Association at Ryerson University and the Pakistani Students Association of McGill also organized vigils in their respective cities.
The Canada Pakistan Association will be organizing a Vigil on April 2nd at City Hall.
Photos courtesy of Jasmine Cousineau
This article was produced exclusively for Muslim Link and should not be copied without prior permission from the site. For permission, please write to info@muslimlink.ca.