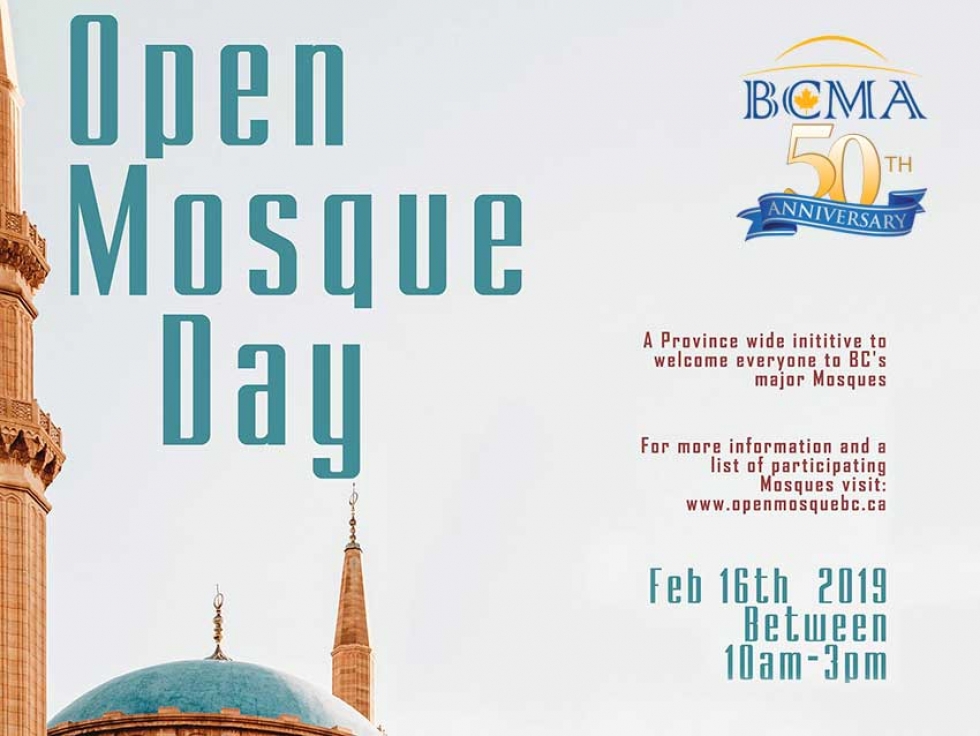 Open Mosque Day will take place on February 16th, 2019 at mosques across British Columbia.
27
December


2018
Mosques in British Columbia Will Hold Open Mosque Days Across the Province in February
Written by Open Mosque Day BC
"Open Mosque Days" have become a great way of bridging the gap between Muslims and non-Muslims around the globe.
In BC, many Mosques have regularly welcomed people of the wider community.
For the first time, we have united major Mosques across BC to host a province-wide "Open Mosque Day" on: Saturday, February 16th, 2019, from 10 am to 3 pm.
What can you expect?
Besides delicious snacks, friendly faces and wonderful conversations, our volunteers will help you with a tour of the Mosque and a display of various themes surrounding Islam and Muslims. There will be henna tattooing and Hijab tryouts for kids and women. So, we encourage everyone to find the closest participating mosque near you and visit it with your friends and family.
Do you have to register?
There is no registration. You can visit any participating Mosque between 10am and 3pm. If you wish to witness the Islamic congregational prayer, we encourage you to plan your visit between 12:30 AM - 1:00 PM.
Is there a specific dress code?
Modest clothing is encouraged.
Head covering is not compulsory but is appreciated. We also have a 'hijab try out' activity planned at the open mosque.
Are specific etiquettes to be observed when visiting a mosque?
Mosques are not just places of worship, but also community centers where people gather to unite and bond. Most mosques require shoes/slippers to be taken off when entering the main prayer areas that are carpeted.
Are kids allowed?
The event is family friendly and we encourage you to bring your kids.
The following are some of the mosques that are participating:
Vancouver
Surrey
Burnaby
Richmond
Abbotsford
For other mosque locations and to learn more about this initiative, click here
Follow Open Mosque Day BC on Facebook here