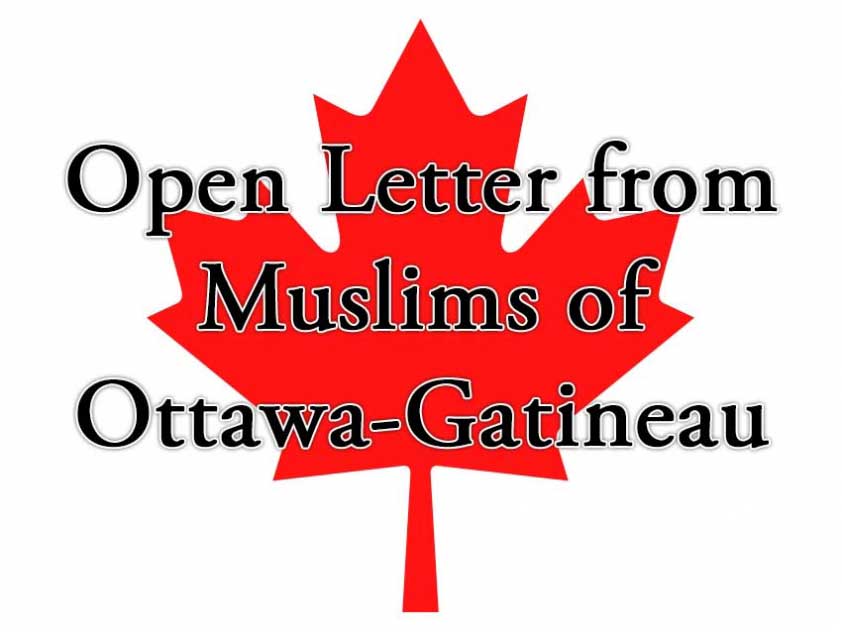 22
Oct


2014
Open Letter from Muslims of Ottawa-Gatineau
Written by Staff Writer
On Wednesday evening, leaders of local mosques and Muslim organizations came together to draft a statement in response to the recent tragic events which took place in Ottawa and St. Jean-sur-Richelieu.
Wednesday, October 22, 2014
Open Letter from Muslims of Ottawa-Gatineau
Dear Fellow Canadians,
The recent attacks in Ottawa and St-Jean-sur-Richelieu have shocked and horrified Canadians from coast-to-coast-to-coast.
Our deepest sympathies and condolences go out to the families and friends of those killed and injured.
Muslims in Ottawa-Gatineau and across this country, along with our fellow citizens, are deeply saddened and grieved at this senseless loss of life.
We stand shoulder-to-shoulder with our fellow citizens in unequivocally condemning these heinous and cowardly acts which affect all of us. We will continue to do our part to ensure our shared security.
We must not allow these attacks to divide us and we call on all Canadians to join us in working to preserve the safety and freedoms upon which this country was built.
Sincerely,
The Muslims of Ottawa-Gatineau
****
Lettre ouverte des Musulmans de Gatineau-Ottawa
Chères concitoyennes Canadiennes et chers concitoyens Canadiens,
Les plus récentes attaques qui ont lieu à Ottawa et à St-Jean-sur-Richelieu ont choqué et horrifié les Canadiens d'un océan à l'autre.
Nos plus sincères condoléances vont aux familles et aux amis de nos concitoyens tués ou blessés.
Les Musulmans de Gatineau et d'Ottawa ainsi que dans tout le pays, avec nos concitoyens, sont profondément attristés et affligés par cette perte de vie innocente.
Nous sommes coude à coude avec nos concitoyens pour condamner sans équivoque ces actes odieux et lâches qui nous touchent tous. Nous continuerons à faire notre part pour assurer notre sécurité commune.
Nous ne devons pas permettre à ces attaques de diviser les Canadiennes et Canadiens et nous invitons tout le monde à se joindre pour travailler à préserver la sécurité et les libertés pour lesquelles ce pays a été construit.
Cordialement,
Les musulmanes et musulmans de Gatineau- Ottawa
This article was produced exclusively for Muslim Link and should not be copied without prior permission from the site. For permission, please write to info@muslimlink.ca.