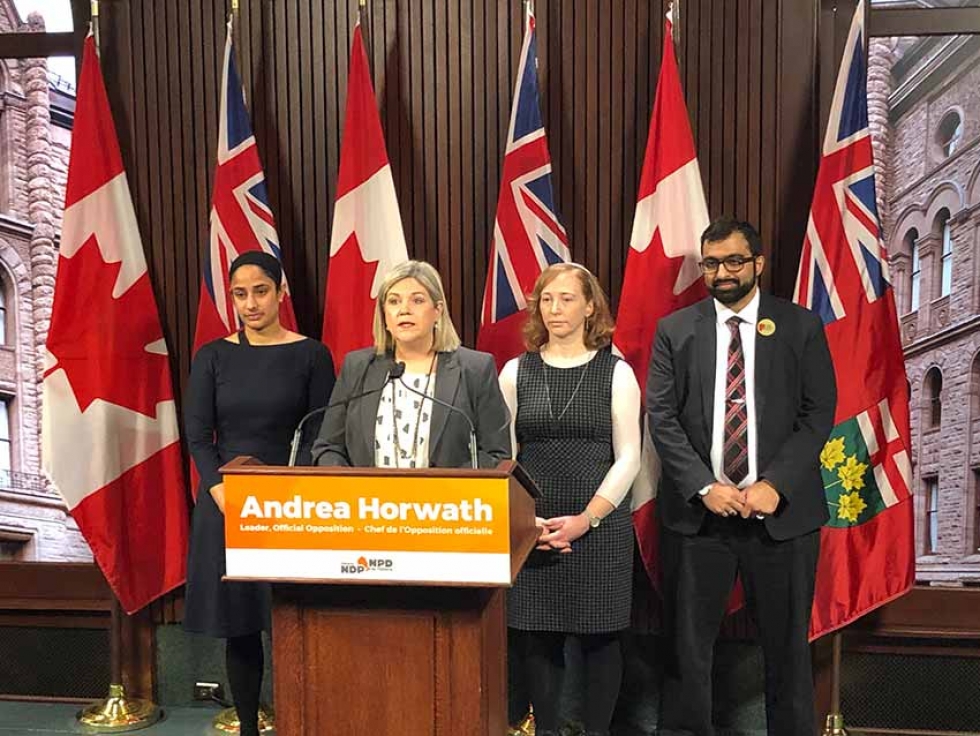 Leader of the Official Opposition Andrea Horwath and representatives from organizations opposed to Quebec's Bill 21.
Andrea Horwath's Twitter
27
November


2019
Ontario NDP calls for Doug Ford to take action on Quebec's Bill 21
Written by Ontario NDP
Official Opposition NDP Leader Andrea Horwath tabled a motion for debate in the Ontario legislature that explicitly condemns Quebec's Bill 21 and calls on Doug Ford to take action.
"Quebec's ban on religious symbols – Bill 21 – is bad legislation. It is discriminatory and undermines religious and cultural freedoms in Canada. I believe we in Ontario must stand up and speak out as Canadians against any form of racism, prejudice and intolerance. Silence is not an option," said Horwath.
The motion explicitly and unequivocally condemns the passage of Bill 21 and calls on Doug Ford to formally request that the Premier of Quebec immediately repeal this discriminatory law. It also makes a commitment to intervene on behalf of Ontarians if this matter goes to the Supreme Court.
"I am calling on Doug Ford to uphold the values of our province in his words and in his actions. His continued silence on this issue is indefensible. Now is the time to show leadership," said Horwath.
Horwath's motion was debated Monday, November 25th.
Andrea Horwath issued the following statement following the unanimous passing of her motion against Quebec's discriminatory Bill 21: "New Democrats welcome unanimous support from the government and independent members for our motion calling on the Ontario government to take action against Quebec's discriminatory Bill 21. Words are not good enough, especially when it comes to standing up for Canada's Charter of Rights and Freedoms. Leadership is about taking action. Premier Ford must now commit to making the case for a full withdrawal of Bill 21 when he meets with Premier Legault in a week's time. He must also commit Ontario to intervenor status in the likely eventuality of a Supreme Court challenge of this discriminatory piece of legislation. This is about protecting the rights and freedoms of every Canadian."
Quotes from community organizations supporting the NDP's motion.
"Bill 21 means that Quebecers who wear turbans, kippahs, or hijabs no longer have the same rights as everyone else in Canada. We stand with all political leaders who speak out against Bill 21. We thank Ontario NDP Leader Andrea Horwath for taking another step to condemn Bill 21. This builds on the important motion passed by the Ontario Legislative Assembly that affirmed the importance of freedom of religion and the constitution in the context of Bill 21 with the support of all parties. Religious freedom is a non-partisan issue. We appreciate that all sides of the political spectrum in Ontario are supporting this fundamental principle."
Mustafa Farooq, Executive Director, National Council of Canadian Muslims
"Quebec's Bill 21 presents terrifying constructs that, if not challenged, normalize a sense of distrust for people who look different and lead to the validation of intolerance. This is our opportunity as Canadians to firmly take a position against laws that create a space for intolerance and to keep this conversation relevant. We hope that this motion will be supported by all parties in the legislature."
Sharanjeet Kaur, Vice President for Ontario, World Sikh Organization
"The expression of one's private religious commitments through religious garb should never bar a person in Canada in 2019 from being able to serve in a job for which they are qualified. We strongly oppose discrimination against religious minorities for their beliefs and attire and we support this motion, in order to build a Canada in which all may believe and work as they wish."
Rabbi Appel, Secretary, Toronto Board of Rabbis