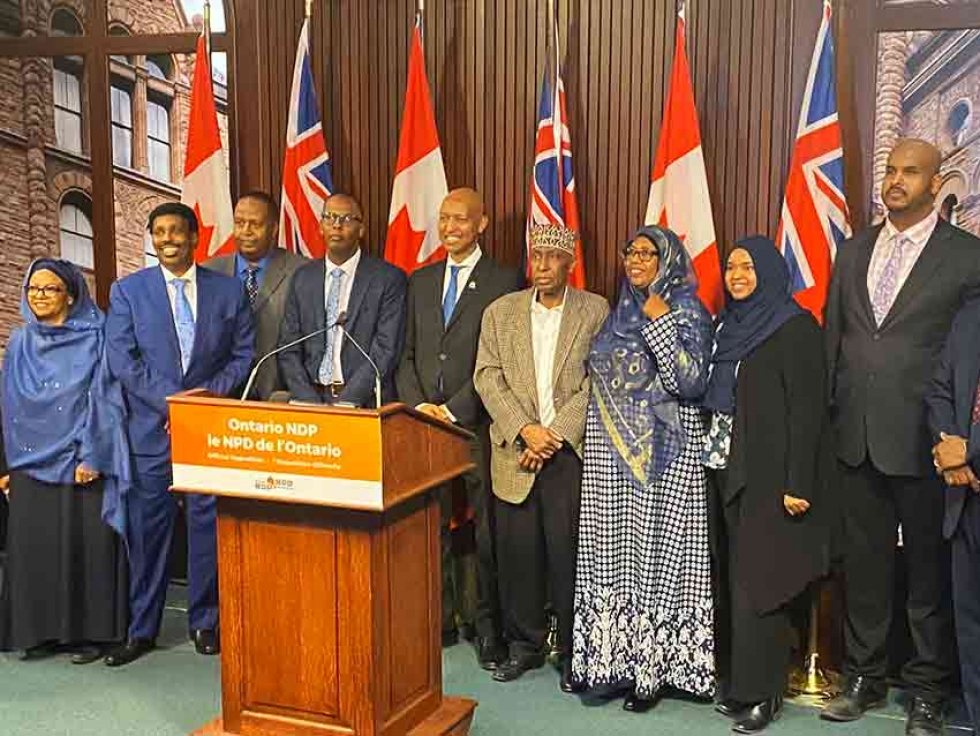 NDP MPP Faisal Hassan and members of Toronto's Somali community at a press conference on March 10, 2020
Faisal Hassan Twitter
10
Mar


2020
NDP MPP Announces Bill to Recognize Somali Heritage Week in Ontario
Written by Ontario NDP
The week of June 25 to July 1 holds significance for people with Somali heritage because it coincides with Somali Independence Day.
"Whether Ontario has been your family's home for generations, or you are the first Ontarian in your family, the Somali-Ontarian community has so much to take pride in," said Hassan. "That's why I'm asking the provincial government to proclaim June 25 to July 1 of each year Somali Heritage Week.
"Doing so would create an exciting opportunity to celebrate the beautiful culture, language and history, and to recognize the many contributions of Somali-Canadians in Ontario."
Notable Somali-Canadians include musician K'Naan, model Yasmin Warsame and Olympian Mohammed Ahmed. Hassan himself holds the distinction of being the first Somali-Canadian elected to provincial office.
"I hope to see all Ontarians come together and celebrate the culture and contributions of Somali-Canadians in our province," said Hassan. "The provincial government can do its part by formally recognizing June 25 to July 1 as Somali Heritage Week each year."
Ontario would be in good company, with the Toronto District School Board already celebrating Somali Heritage Month in October.
QUOTES
Abdi Yusuf, Somali Workers Network
"Somali Heritage Week would mean a lot to me and the Ontarians who are originally come from Somalia and their children. It is a continuation of celebration of the contribution that the Somali Canadian made to the province. It will also give a sense of belonging and will boost the moral of future generations."
Shukri Abdullahi, Journalist and Community Leader
"Ontario's opposition party, the NDP, recognize and are tabling to have Somali Heritage Week ending on July 1, Canada Day, which is also Somali's Independence Day. We invite you to come and see what makes up our rich culture. Which helps explain the process of finding and incorporating cultural identity into our lives.
As Ontarians, since diversity is our strength, by implementing productive policies supporting one's heritage and identity, we can all have a more inclusive and prosperous Ontario."
Abdullahi Barre, Community Organizer
"The Somali Heritage Week Private Member's Bill is very important for our community. Once the Bill is passed, we would be able to show Canadians our way of living from generation to generation, including our customs, practices, places, arts as well as our overall values."
Farah Issa, Lawyer
"I support the bill because it aides in the recognition of the significant contributions that the Somali Community has made in all spheres of Canadian society. The Somali community has a strong presence in Ontario, particularly in the GTA and Ottawa region. As a large ethnic minority group, the Ontario government should recognize the culture and the role that this entrepreneurial community plays in our society. I believe that this bill will help in this regard."
Maryama Ahmed, Student Leader
"As a Somali, I would benefit from a Somali Heritage Week because it would instill a sense of pride in myself, and it would foster more connection with the Somali community. As an Ontarian, Somali Heritage Week would add more values, traditions, and aspirations to Ontario's diverse provincial identity."
Dr. Ahmed Ilmi, Academic
"Somali Heritage Week in Ontario firmly recognizes the important contributions of Canadians of Somali descent in Canadian society, and celebrates a unique heritage with roots in Somali but that is distinctly Canadian. Somali Heritage Week not only tells a story of arrival, but it also tells a larger story about community hopes and dreams."