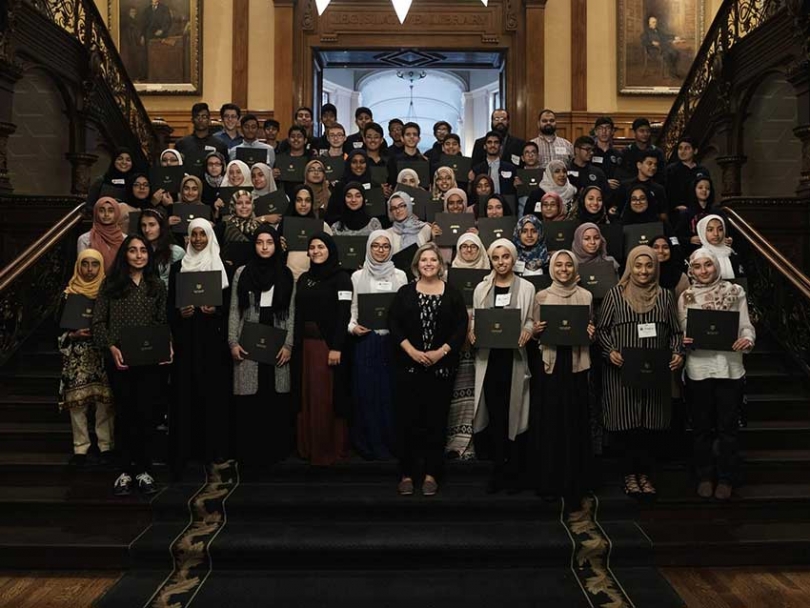 Ontario NDP hosts Muslim youth for Islamic Heritage Month
24
October


2017
NDP Hosts Muslim Youth for Islamic Heritage Month
Written by Ontario NDP
On October 6, Ontario's New Democratic Party celebrated Ontario's second annual Islamic Heritage Month by hosting an education and discussion day for Muslim youth at Queen's Park. Nearly 70 high school students from two GTA schools came to learn more about how provincial politics work, and to have a chance to discuss current issues with NDP politicians and staff, including Ontario NDP Leader Andrea Horwath.
"Every person – especially every young person – should be able to watch the legislature on TV and see someone that looks like them – someone who is a woman; or is wearing a hijab; or is a person of colour. Having members of the Muslim community in positions of leadership – and elected to public office – is absolutely critical to ensuring we build a fair, inclusive Ontario that represents everyone," Horwath told the students.
The students had a chance to tour the legislature, and participated in a number of specially planned sessions throughout the day. Speakers included London-Fanshawe MPP Teresa Armstrong, who spearheaded legislative efforts to create Islamic Heritage Month; Federal NDP candidate and JS Woodsworth award-winner Farheen Khan, who was the only hijab-wearing candidate to run in the last federal election; as well as NDP staff and volunteers offering unique perspectives on the political process in Ontario.
Horwath joined the students for the final session of the day, to discuss the role and challenges of being a party leader, as well as to hear from the students about the challenges they face, and their hopes for the future. This afternoon, she rose in the legislature to highlight the visit and to thank the students for coming.
"I have to say, these young women and men I met with were phenomenal. They are smart, enthusiastic young leaders. They are engaged in their communities, and they are eager to make a difference," said Horwath while discussing the visit in the legislature this afternoon.
"As part of Islamic Heritage Month, I hope this visit empowers and encourages the next generation of Muslim Ontarians to become involved, and take pride in their heritage and culture. They deserve to see themselves represented in government, and in our community and culture at large. And they should know that they are welcome in the halls of Queen's Park, and everywhere across the province."
Horwath linked the visit back to the larger goals of Islamic Heritage Month, saying:
"We must always confront Islamophobia and hate. But we must go further. We need to encourage the next generation of Muslim Ontarians. We should remind them of their power and potential, and do what we can to help them build a better world for all Ontarians."