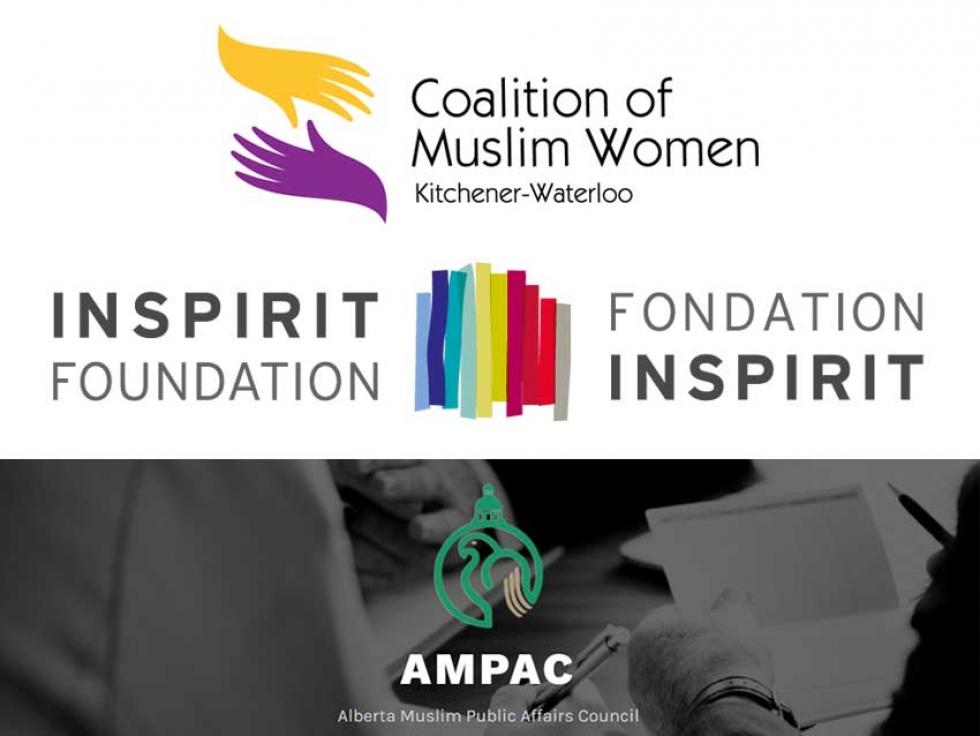 The Alberta Muslim Public Affairs Council (AMPAC) and the Coalition of Muslim Women Kitchener-Waterloo have received 2018 Core Grants of $150,000 each from Inspirit Foundation.
19
Feb


2019
Muslim Canadian Organizations Receive Funding to Address Islamophobia
Written by Chelby Daigle
Two Muslim Canadian organizations have received funding from the Inspirit Foundation to help address Islamophobia.
The Alberta Muslim Public Affairs Council (AMPAC) and the Coalition of Muslim Women Kitchener-Waterloo (CMW-KW) have received 2018 Core Grants of $150,000 each.
Core Grants support organizations developing innovative institutional, systemic, or interpersonal solutions addressing Islamophobia or reconciliation, while increasing the capacity for Muslim and Indigenous communities to address these issues.
This fund provides multi-year, unrestricted grants of up to $150,000 ($50,000 per year up to 3 years) to support Indigenous-led or Muslim-led organizations engaging in promising and high impact models and approaches. Applicants must also have a clear sense of their organizational challenges and needs, as well as how this funding might help address those needs.
Inspirit Foundation is a public foundation based in Toronto, Ontario. The asset base for the Foundation comes from the proceeds of the sale of Vision TV, a multi-faith, multicultural television channel licensed in 1987. At the time, Vision TV was the world's only multi-faith network.
Inspirit's assets are invested in both public and private investments. The Foundation relies on the financial returns earned through the investments to fund our granting, programming, and operations.
Inspirit has charitable status and is governed by a Board of Directors, with a majority of members at arm's length from one another.
According to Inspirit Foundation, the Alberta Muslim Public Affairs Council (AMPAC), based in Edmonton, Alberta, will champion engagement and anti- racism efforts in Alberta, with a special focus on Islamophobia through educational workshops and special events to build bridges between Muslim communities and other communities.
AMPAC's goals for the next three years focus on strengthening current programs including the Islamophobia hotline, program monitoring, and developing staff and board infrastructure to support enhanced policy work.
To support this, AMPAC will increase its staff capacity and initiate AMPAC's organizational structural transition from an operational board towards one focused on strategy and governance in order to support current programming and develop plans to expand further across the province.
The Coalition of Muslim Women of Kitchener-Waterloo (CMW-KW), based in the Kitchener-Waterloo region in Ontario, began when over 50 Muslim women, concerned about the potential negative impact of the proposed Bill 94 in Quebec, organized a community forum titled "Let Us Talk" on April 26, 2010.
According to Inspirit Foundation, with the help of this Core Grant, the Coalition of Muslim Women of Kitchener-Waterloo will continue the organization's primary mission of building understanding between Muslims and the broader community and strengthen the voices of Muslim women in the Kitchener-Waterloo region. This includes developing a pool of Muslim women leaders of diverse backgrounds and ages to serve on the board and committees, hiring a coordinator for an Islamophobia awareness project and securing additional resources to evaluate and document the CMW-KW model for scaling and replication.
In an article in The Philanthropist entitled "January 29: A Call to Action to the Philanthropic Sector on Islamophobia", Shazlin Rahman and Rudayna Bahubeshi, who have worked with Inspirit Foundation, explain that "[Inspirit Foundation] identified Islamophobia as a significant barrier to inclusion in Canada. Recognizing the urgency of this issue, we increased our focus on Islamophobia and funded research to understand the experiences of young Muslims in Canada. Addressing Islamophobia became one of two priority areas in our 2016–2021 strategic plan, alongside advancing reconciliation. While Inspirit Foundation is one of the only non-Muslim foundations in Canada focused on addressing Islamophobia, many organizations are tackling issues connected to racism and Islamophobia. There is a growing sense of urgency among foundations to address Islamophobia. Lacking across the sector, however, is the experience, including lived experience, necessary to inform anti-Islamophobia and anti-racist strategies that could help create systemic change."
This article was produced exclusively for Muslim Link and should not be copied without prior permission from the site. For permission, please write to info@muslimlink.ca.