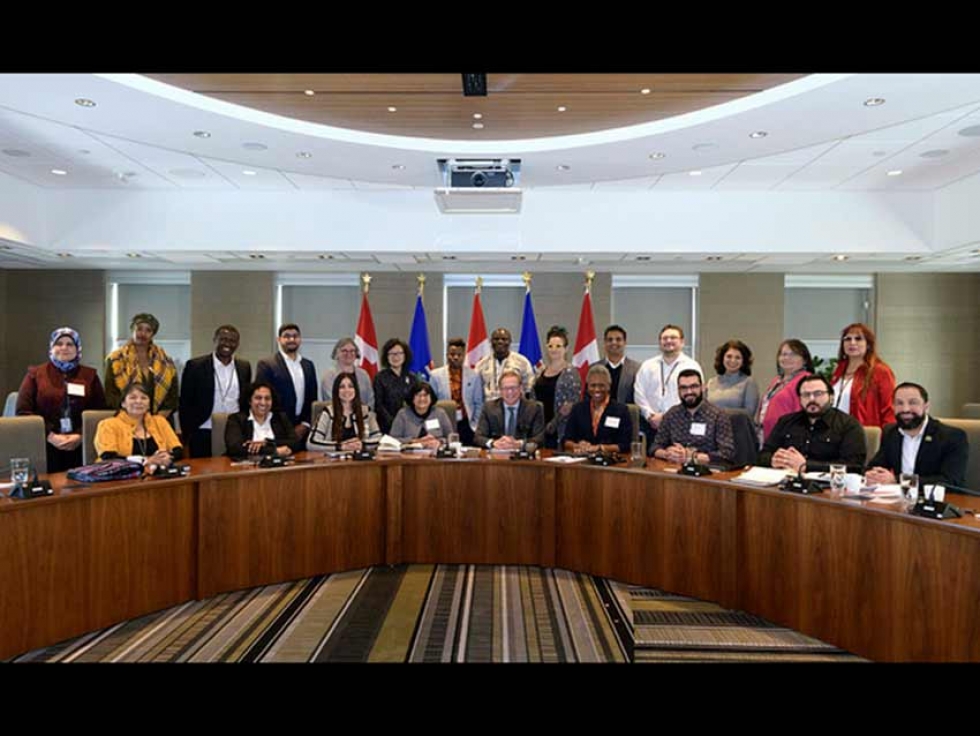 Members of Alberta's first council dedicated to combating racism
Government of Alberta
26
Feb


2019
Meet the First Anti-Racism Advisory Council of the Government of Alberta
Written by Government of Alberta
Alberta's first council dedicated to combating racism will bring expertise and experience to assist in government's commitment to end racism.
The Anti-Racism Advisory Council will represent Alberta's diverse community and have a voice in implementing the action items outlined in the Taking Action Against Racism plan that was released in June 2018.
Establishing the council is one of the first steps in implementing the action plan.
The council includes 24 members plus Education Minister David Eggen, who is responsible for government's anti-racism initiative. The council will advise government as it develops strategies to end racism and discrimination in Alberta.
This council is the first of its kind in the province.
More than 300 Albertans applied to participate on the council. Members were selected for their demonstrated leadership abilities and experience in advocating for diverse communities. The council includes people from various faiths and other diversities, and members represent regions across the province.
According to David Eggen, Alberta's Minister of Education, "Establishing the Anti-Racism Advisory Council is an important part of our government's efforts in fighting racism in this province. Each of the council's new members brings a wealth of knowledge and lived experience to our government's anti-racism work. I have a great deal of confidence in this new council and I look forward to working together to ensure all Albertans feel safe and respected. We will work together towards a common goal of ending racism in our province. We owe this to our future generations."
Minister Eggen will have two co-chairs on the Anti-Racism Advisory Council: Heather Campbell and Lucenia Ortiz.
Heather A. Campbell stated "I am extremely proud to share the leadership of the Alberta Anti-Racism Advisory Council (AARAC). Thank you, Minister Eggen, for entrusting me with this fundamental element of the government's plan to address racism. All Albertans will benefit from AARAC's inspired work developing community-based solutions to address racism and remove barriers, allowing everyone to thrive."
In an interview with CBC News, Campbell, an engineer from Calgary, stated ""If you can't perform in your role because you're targeted or marginalized, or you're experiencing systemic racism from the day of your birth, how is it that you have the mental strength and capacity to contribute to the Alberta that we want to see?"
Lucenia Ortiz stated "I am honoured to be selected as one of the co-chairs of the Alberta Anti-Racism Advisory Council. I look forward to working with the members of the Advisory Council who share a commitment to tackle racism and make Alberta a more welcoming and inclusive province."
The council will provide advice on ways to:
remove systemic barriers to accessing government programs and services
remove language barriers in accessing information
educate and inform Albertans to encourage acceptance and prevent future racism
connect with law enforcement agencies and communities to raise awareness and assist local collaboration across Alberta
identify strategies and actions to combat racism
To listen to February 25th news conference for the launch of the council, click here.
To connect with council members, ask questions or provide comments, contact This email address is being protected from spambots. You need JavaScript enabled to view it.
The following is a list of the council members with biographies:
Co-Chairs
Heather A. Campbell, Calgary
Campbell is a practising licensed professional engineer and procurement manager with the Alberta Electric System Operator. Campbell is a member of the advisory council for Western Engineering, sits as vice-president of the board of directors of Downstage Theatre and is a board member of Arts Commons.
Lucenia Ortiz, Edmonton
Ortiz is a planner with the City of Edmonton's Citizen Services. Ortiz is a founding member of the Edmonton Multicultural Coalition and a member of the Multicultural Health Brokers Co-op.
Council Members
Shan Ali, Calgary
Ali is the owner and publisher of Express Media Network Ltd. where he launched Weekly Canadian Express, one of Western Canada's largest South Asian newspapers, covering Calgary, Edmonton and Fort McMurray. Ali also publishes South Asian Xpress Magazine and hosts the Sangeet Studio Radio show. Ali is a board member for the Asian Heritage Foundation and the South Asian Canadian Seniors Society.
Sonia Aujla-Bhullar, Calgary
Aujla-Bhullar is a public school teacher in Calgary and a PhD candidate in the Werklund School of Education at the University of Calgary. Her current work centres on exploring multi-ethnic and multicultural community engagement within schools as part of present-day inclusive education measures. Her work with community organizations includes local and national initiatives within the Sikh community and she is a member of the South Asian Police Advisory Committee for the Calgary Police Service.
Melodie Bastien, Brocket
Bastien is the NorthStar parent connector at Opokaasin Early Intervention Society in Lethbridge. She provides one-on-one support, wraparound support services and cultural programming for families. Bastien participates in the Blackfoot Traditional way of life within the Blackfoot Confederacy.
Iman Bukhari, Calgary
Bukhari is a multimedia professional working as a planner in channel management for the City of Calgary. Bukhari is also an adjunct professor at Columbia College where she teaches human rights and diversity courses. She is the founder and CEO of the Canadian Cultural Mosaic Foundation.
Yic Camara, Edmonton
Camara is an integration and community liaison agent with Centre d'acceuil et d'etablissement of Northern Alberta, establishing and maintaining contact with French multicultural communities in Edmonton. Camara has been actively involved in the Guinean community and sits on the board of directors for Institut Guy-Lacombe de la Famille (Parent Link Centre) in Edmonton.
Nadine Eagle Child, Lethbridge
Eagle Child is a student counselor at Red Crow Community College. She is an executive member of the Apiistamiiks – White Buffalo Trail Blazers, a grassroots group fighting against racism, hate and discrimination in Southern Alberta. She has served as the co-chair of the Employment and Education subcommittee with the City of Lethbridge's Interagency Group, and chair of the Student Success and Retention working group under the Iniskim Education Committee at the University of Lethbridge.
Michael Embaie, Calgary
Embaie is a practising, licensed immigration consultant and has volunteered with not-for-profit local, provincial, national and international organizations for over 25 years, including as president and board member of the Southern Alberta Heritage Language Association and as founding member and president of the African Community Association of Calgary.
Sithara Fernando, Fort McMurray
Fernando is a community-based environmental monitoring instructor at Keyano College. Fernando formerly served as the secretary and chair of the governance committee for the Pride Centre of Edmonton and the vice-chair of Some Other Solutions crisis prevention centre. Fernando is a registered professional forester and a mental health advocate.
Nahla Gomaa, Edmonton
Gomaa is an associate clinical professor, researcher and educator at the faculty of medicine and dentistry at the University of Alberta. Gomaa serves as the Interfaith Portfolio chair in the Edmonton Council of Muslim Communities, contributes to the city's commemoration of Remembrance Day and organizes Islamic history month at city hall.
Adil Zaki Hasan, Edmonton
Hasan is the vice-president and chief operations officer at Hasco Development Corporation. Hasan is active in the community including as vice-president of civic engagement for the Alberta Muslim Public Affairs Council and board member for Al Mustafa Academy and Humanitarian Society.
Zahro Hassan, Edmonton
Hassan is a doctoral student at the University of Alberta. She has extensive community and youth development experience within several multiracial/multicultural immigrant communities in Toronto, Ottawa and Edmonton. Hassan is a board director at the Edmonton Social Planning Council and a former support staff for the Toronto District School Board Task Force on the Success of Students of Somali Descent.
Abdulghani Haymour, Edmonton
Haymour is a business manager who works closely with the Canadian Arab Friendship Association (CAFA) to assist community members in areas such as filing government documents, accessing government resources and facilitating events. Haymour attends CAFA board meetings as a guest member.
Bernadette Iahtail, Edmonton
Iahtail is co-founder and executive director of Creating Hope Society, a society founded for the survivors of the Sixties and Seventies Scoop of Indigenous children in care. Iahtail is an active member of the Edmonton Coalition for Human Rights, Aboriginal coalitions, the Edmonton Aboriginal Leadership Team and Stony Plain Wapekin Leadership Team.
Adebayo Katiiti. Edmonton
Katiiti is the founder and president of RARICAnow, an organization for all LGBTQ refugees in Canada. Katiiti advocates for the rights of refugees by creating awareness of their existence in Canada and ensuring that newcomers and refugees learn Canadian culture and get support in navigating the refugee and settlement process.
Feisal Kirumira, Edmonton
Kirumira is special advisor to the dean of international students at Augustana campus, University of Alberta. Kirumira chairs the International Student Engagement Committee and participates on the Bridging Program Advisory Committee and the International Week planning committee.
Omar Najmeddine, Edmonton
Najmeddine is the executive director of the Al Rashid Group and leads all corporate functions for the organization. He is a board member with the American University of Beirut Alumni Foundation and a former board member with the Red Cross, and Community Interest Companies Association.
Roy Pogorzelski, Lethbridge
Pogorzelski is the director of Indigenous Student Affairs, an instructor for the Dhillon School of Business at the University of Lethbridge and owner and operator of three business. Pogorzelski is a member of the U of L senate, board member with the YMCA of Lethbridge, president of the Rotary Club of Lethbridge Mosaic and board member of the chamber of commerce. Pogorzelski is also an appointed director for the Canadian Race Relations Foundation (CRRF) and sits as the CRRF advisor to the National Canadian Coalition of Municipalities Against Racism and Discrimination committee.
Tasneem Rahim, Calgary
Rahim is the director of fund development and alumni engagement at Bow Valley College. Rahim serves as a member and manages community relations on the Aga Khan Council for the Prairies, and is the communications member of the Management Committee for Generations: Multi-Generational Housing and Community Centre Campus Calgary.
Judy Shapiro, Calgary
Shapiro is the former associate executive director of the Calgary Jewish Federation, overseeing all of its programming areas. She is a member of the Calgary Interfaith Council and a regular volunteer at the Calgary Interfaith Food Bank. Shapiro is a past board member for the Calgary Council of Christians and Jews and the Committee on Race Relations and Cross-Cultural Understanding.
Pavit Sidhu, Calgary
Sidhu is the WiseGuyz program facilitator and sexual health educator at the Centre for Sexuality in Calgary. Sidhu served as a member of the University of Calgary senate in 2013 and as an appointee of the students' union representing the undergraduate student body.
Delainah Velichka, Worsley
Velichka is a school board trustee with Peace River School Division No. 10. Velichka's portfolios include Administrators' Association, Teacher Board Advisory Committee, Transportation Liaison Committee, Audit Committee, Alberta School Boards Association Second Language Task Force, Clear Hills Trades Training, Council of School Councils Liaison Committee, Discipline Committee and the First Nations, Métis & Inuit Liaison Committee.
Teresa Woo-Paw, Calgary
Woo-Paw is owner and principle of Teresa Woo-Paw & Associates Ltd. Woo-Paw is a member of the board of directors for the Calgary Arts Foundation, board president of Action Chinese Canadians Together Foundation and is a founding member and current co-chair of the Asian Heritage Foundation.