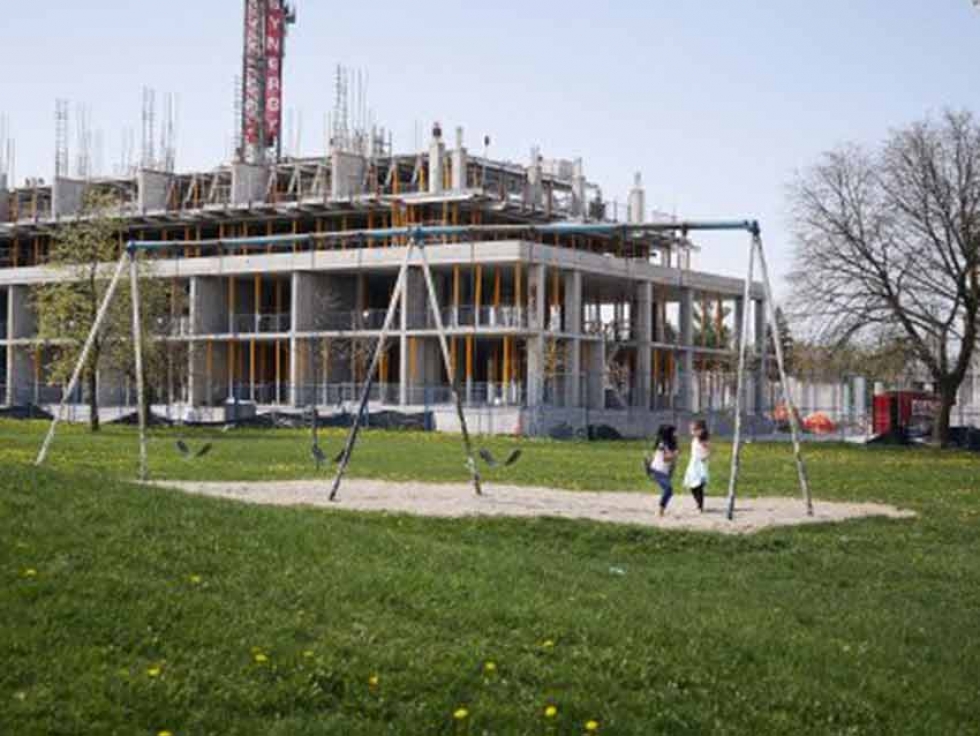 Muslims facing eviction in Ottawa neighbourhood hope you will stand up for them and for affordable housing
31
May


2018
Muslims facing eviction in Ottawa neighbourhood hope you will stand up for them and for affordable housing
Written by Mumina Egal
Herongate is located where Heron Rd emerges from Walkley Rd in Ottawa's southeast. It is the most diverse neighbourhood in Ottawa. It is also one of the poorest. The neighbourhood has a significantly large and multigenerational Muslim community.
The north side of Herongate is owned almost entirely by one company, Timbercreek. The Toronto-based corporation acquired housing in the Herongate area in 2012 and 2013.Many tenants feel that Timbercreek has purposefully neglected the houses in Herongate because they knew they intended to evict the tenants, demolish the houses, and build housing that is targeted towards higher income tenants. Explore this process of neglect in pictures online here.
Now, Timbercreek has issued eviction notices to 105 residents, a process they undertook in 2015, at that time evicting 53 families. They must try to find housing before September 30th, despite the reality that Ottawa is facing an affordable housing crisis.
Some tenants are organizing to stop or at least delay the evictions through groups like the Herongate Tenants Association. They also hope to raise awareness about the lack of affordable housing in the city and how corporations are buying up and demolishing neighbourhoods, with no commitment to include more affordable housing in their redevelopments.
The waiting list for subsidized housing was at over 10,000 in 2016, and often takes more than 5 years. New affordable housing being built in the city is not growing at the rate of need.
We are sharing the story of Fatima (not her real name for safety reasons), who represents the situation facing many of the tenants being displaced by Timbercreek. Muslim tenants like Fatima hope that their brothers and sisters in Ottawa will support them and do more to address their struggle at the municipal and provincial level.
Fatima hopes that readers like you will reach out to her community and take action.
Tell us about yourself
Fatima: I am a Somali Canadian mother to 6 children and a grandmother to one grandchild; we all live in one home. I have lived in Canada for more than 20 years, and in this community for almost 20 years where I have built many long lasting relationships. I am also an active member in the community and work with some non-for- profit organizations across the city.
Tell us about your experience losing your home twice because of Timbercreek's evictions.
Fatima: In 2015, I started to hear rumours about how Timbercreek was going to demolish a part of our Sandalwood neighbourhood, where I had been living for more than 10 years. So, out of fear, I moved out 2 months before the official announcement was made; we found housing on our own. I heard they offered the same thing they are offering to us now to the tenants then.
Losing my house was less important than my fear of losing my community. I was able to move just up the street to another Timbercreek neighbourhood.
Just few years later, in my home just down the street, I got word that there would be a meeting in the neighbourhood so I attended thinking we would be about how to improve our neighbourhood. We met with City Councillor Jean Cloutier and Timbercreek where they said they wanted to make the neighbourhood better. At the meeting they gave us a big envelope with a bunch of papers containing the moving date and what was being given to us by Timbercreek. Councillor Cloutier was asking people what they thought about what was happening but he is doing nothing to help us keep this neighbourhood.
We thought we would at least have a year to move but we are just learning about this now, this is nowhere near enough time. This is especially not enough time for people with children and homes with single parents; there is so much stress that comes with moving, let alone finding housing you can afford. This is not enough time to move your whole life around.
Timbercreek thinks because we are a majority immigrant community, they can take advantage of us and because we are mainly low-income families that we do not know our rights, but they are wrong.
Have you and the other tenants you know been able to find affordable housing you can move in to when you are evicted?
Almost no one has found anything. Everyone has been consistently connecting with everyone to find out if they've been able to find housing. Finding affordable and homes with enough space in this area of the city is very difficult for low income families which is why these evictions are so tough to stomach; it is next to impossible to find housing in this area. Some waitlists for housing are up to 12 years!
Also, some of us have jobs in this area and will be losing our employment if we have to move!
One of my friends runs a home daycare and almost all her clients live in this area so since she is being kicked out of her home, she will lose her job.
For families with children, they will have to change schools and afterschool programs.
Timbercreek hasn't reached out to me about any housing options. I don't think they want us to stay in this area. The new apartments they are building in my old neighbourhood are supposedly going to be 1-2 bedroom apartments and will cost much more than we pay for our homes now; that tells me they don't want us there. If they cared they would build homes we can afford to live in.
How did your neighbours respond to the evictions?
The first announcement was bad but at least I was ahead of all of the mess. However, to find out I was yet again going have to leave my home, I was in pure shock. Some of my friends in the neighbourhood have not slept properly since the news broke due to the stress.
One of the community members organized a meeting and we came together. Since that weekend, we have been working very hard to get into contact with professionals who can help us stop Timbercreek from this unjust act!
What do you want the city to do about this situation?
It is very important that the city do SOMETHING. They need to push Timbercreek to build affordable housing. We also need the support of our mayor Jim Watson. He can do something about this and we need his help! Many politicians rarely meet with us behind closed doors to really hear from us. They just meet with us to say they are doing something when the media is around but then they are gone. These very politicians who are in our neighbourhood everyday trying to buy our votes need to show us what they can do! Right now, it looks like none of them really care.
What do you want to see Muslims in the city do about this situation?
Many of the people who live in this community are Muslims so it is important that all the mosques and religious organizations support our fight. The Muslims and non-Muslims in our neighbourhood are people in need and this is Ramadan so it is a time to be charitable.
Please speak about our situation in your mosques and spread the world.
This is an injustice.
To learn more about the situation facing the tenants of Herongate, click here.
To learn more about the sit-in for Affordable Housing taking place on Saturday, June 2, click here
This article was produced exclusively for Muslim Link and should not be copied without prior permission from the site. For permission, please write to info@muslimlink.ca.