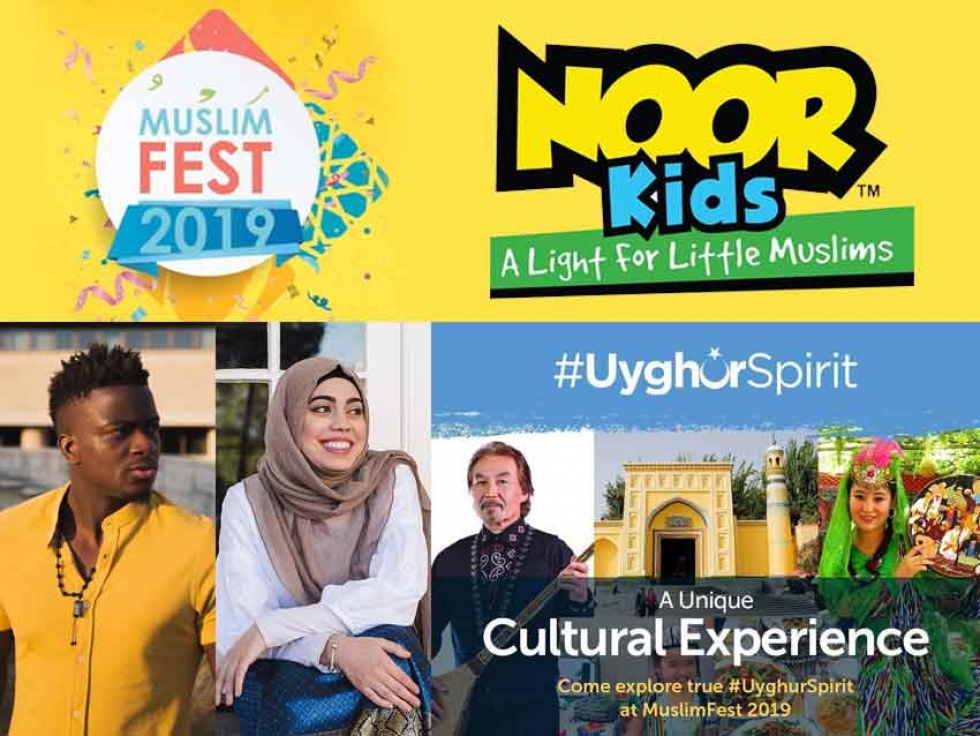 26
August


2019
North America's Largest Muslim Arts Festival is Back This Labour Day Weekend
Written by Chelby Daigle
The Muslim Arts Festival runs from August 30th to September 1st in Mississauga and begins this year on Friday, August 30th with a special Jummah Prayer event and Food Festival at Mississauga Celebration Square!
Muslim Link interviewed Tariq Syed, MuslimFest's Event Director, about what we can expect from this year's festival.
Last year was the Muslim Arts Festival's 15 year Anniversary! How has the MuslimFest team been working over the past year to maintain this annual Mississauga tradition?
MuslimFest's journey has been a powerful one. Starting as a small festival that not only promoted Muslim arts and culture, but putting Muslims in the spotlight in a public venue during uncertain times, it gave the community a positive platform to communicate its stories in a language that's universal: art. With the help of the community, sponsors and partners, MuslimFest was able to grow to support artists and youth, and create an international platform that would highlight Canadian Muslims and the vast diversity of cultures that exist under the banner of Islam.
With the passionate and dedicated team we have, I don't think there's a time where there isn't someone working on the next MuslimFest. After we celebrated our 15th anniversary, our team worked on reconciling all aspects of the event while we planned for our volunteer appreciation brunch. We had team members already planning and brainstorming ideas for the coming year and completing reports for 2018. From there we began working on the skeleton for MuslimFest 2019 and slowly started on-boarding our officers and coordinators to help with the planning and executing of the event.
This may surprise you but MuslimFest doesn't run itself (insert gasp here!). North America's Largest Muslim Festival is planned and executed by our incredible volunteer team.
They operate on the people power of 7 Officers, 35 Coordinators, and over 230 Volunteers.
Each one of them draws from their own unique experiences and contributes their skills in making MuslimFest successful year after year.
We also would like to thank SMILE and Deen Support Services, both organizations that work with Muslims living with disabilities, for assisting in building MuslimFest into an accessible event and supporting our commitment to become barrier-free once again this year.
We also thank all of our sponsors, including Zabiha Halal which has supported MuslimFest for all of these past 16 years.
This year your cultural pavilion will showcase Uyghur culture. Why was it an important choice for MuslimFest to highlight this community this year? How has MuslimFest worked with the Canadian Uyghur community to make this cultural pavilion possible?
Since launching the cultural pavilion in 2015, we've made it a point to highlight a special community every year and give them the space and resources to create their own exhibition at our festival. We were contacted by groups within the Uyghur community looking to participate and we knew that this would be the right platform for them to be able to showcase their story. In addition to the pavilion, we have Shohrat Tursan from Australia who will be performing traditional Uyghur music. There's also a special food vendor that will be selling Uyghur cuisine at the event.
Who are some of the international artists and performers who will be taking part in the festival this year?
We're really excited for this year's line-up of international artists - some artists we will be showcasing include: Preacher Moss from the US, Karim Jabbari from Tunisia, Iman Farrar from Australia, Khaled Siddiq from the UK, Faisal Latif from the US, Yahya Hawwa from Syria, Mustafa al-Azzawi from Iraq, and Muad from the UK.
Who are some of the Canadian artists and performers who will be taking part in the festival this year?
We're definitely bringing back some fan favourites for this year including Dawud Wharnsby from Abraham Jam, Mustaqeem, Jae Deen, and Boonaa Mohammed, who is premiering his third film Righteous Sinner at MuslimFest. 
We will also be screening the documentary Prairie Mosque about the history of Winnipeg's first mosque by Muslim Canadian documentary filmmakers and sisters Saira and Nilufer Rahman. 
This year, MuslimFest will also be honouring Somali Canadian journalist Hodan Nayaleh who was killed last month in a terrorist attack in Somalia. Could you tell me more about why it was important to MuslimFest to commemorate her memory?
On Friday, August 30th MuslimFest will be organizing a special tribute to the memory of Hodan Nayaleh. 
Hodan first worked with MuslimFest in 2015, where through Integration TV, we were able to connect with and understand the Somali-Canadian better. Her vibrant personality clicked immediately with so many of our young volunteers, artists and all whom worked with her through MuslimFest. She was so talented at story-telling and making everyone feel like their stories and journey mattered.
Hodan is remembered as an inspirational and enthusiastic story-teller who shared her love and experiences of art, culture, and life for us all to enjoy. She was passionate about showing the world the beauty of the history and people of Somalia through the stories she cultivated through the power of social media. She is known best for the incredible coverage she provided through Integration TV of the life of Somalis living in diaspora and was also a humanitarian.
Shortly after hearing the news of her passing, MuslimFest started a legacy fund through LaunchGood.com. We are in touch with Hodan's sister and family and will be giving the full proceeds to them to help with the costs of raising Hodan's now-orphaned children.
What are some highlights for children aged 10 and under?
For the first time at MuslimFest, we will have Nayla Media performing it's Jamil and Jamila concert series throughout the weekend which will be really exciting for the kids. We also have a lot of arts based activities for them to do where they'll get to create pieces they can take home and of course, a series of inflatables for them to play with.
We also recommend that families get out Noor Kids! Amin G. Aaser, is a master storyteller and author of Noor Kids, a Harvard-supported Muslim children's edutainment program that seeks to raise confident Muslim. He has been featured on NPR, BBC, The Huffington Post, The Boston Herald, and The Christian Science Monitor, among a host of other media outlets. Amin developed his expertise in storytelling under the tutelage of Arina Isaacson, an internationally recognized, and award winning, theater director actress, master storyteller and visual artist. Today, Noor Kids represents one of North America's fastest growing Islamic children's programs with titles in over 250,000 homes across 25 countries. Each week, Amin hosts a LIVE storytime khutba for kids that you can learn more about at NoorKids.com. 
Noor Kids has paired up with Muslim Fest 10-day Story Tour We're excited to announce that Amin Aaser, the award winning author of Noor Kids, will be at Muslim Fest! We've organized a FUN-tastic 10-day Storytelling Tour around the GTA.
What is there to do for youth?
A lot of the artists that we've brought on for this year are actually younger and some are new artists to MuslimFest - we were definitely aiming on providing performances and experiences that youth can connect with because they're represented on our stage. We also have some great workshops lined up as well as a diverse bazaar that anyone will want to shop through.
Tell us about this year's workshops.
I feel like the workshops are the best part of the event sometimes - part of our work with the artists is asking them to host workshops within the discipline they practice as an opportunity for attendees to not only meet these artists, but learn directly from them. The workshops cover everything from how to write light calligraphy with Karim Jabbari to character writing with Youssef Kromah to creating harmonies and tunes with Abraham Jam to painting with Jaime Brown. The workshops are completely free for attendees to sign-up for and take part in and will be hosted throughout Saturday, August 31 and Sunday, September 1 on the 2nd floor of Central Library.
Tell us about your Single Muslim Event. Why is MuslimFest an ideal venue for a Muslim Matrimonial Program?
MuslimFest brings together people of many backgrounds and ages and is an ideal venue for people to meet. For the past few years, we've been requested to provide space and a platform for a matrimonial program to be hosted and so we partner with ThinkNikah and Ummah Events to help like-minded individuals meet.
It's an election year and often Canadian politicians visit MuslimFest. Which political figures will attendees have an opportunity to hear from this year?
Like every year, MuslimFest is invited various dignitaries and officials from all three level of government and we hope to see most of them at this year's MuslimFest. A very special invite was also sent to Peel Police Chief Christopher McCord, who will be present at event with his team on Friday, Aug 30th. Peel Regional Police created a great video about Ramadan with the Chief and some of the Muslim members of this service this past Ramadan.
For people coming out of town for the event, what recommendations would you make for parking, accommodations?
Parking: Celebration Square is a great venue because there is free parking underground throughout the weekend of the event and many lots around the venue that also offer free parking.
Accommodations: The closest hotel to the venue is Novotel Mississauga which is within walking distance, however, given that it's a long weekend, there are other hotels in Mississauga that people can stay at. We also recommend Holiday Inn & Suites and also Holiday Inn Express but Mississauga has everything from the Radisson to the Hilton Suites based on people's preference.
Is there anything else you would like to add?
The MuslimFest this year will start with Public Jummah Khutbah at Mississauga Celebration Square and we are expecting close to 5000 people to join us for the prayer and food festival on Friday afternoon.
Also, this year we've expanded our food selections and have created a FOOD DISTRICT that will have benches, patio furniture and umbrellas set-up alongside a line-up of some really delicious food trucks. We recognize how busy our event can get with all our programming and attendees coming through, so we decided to dedicate an area that is family-friendly and has a different pace to allow for some of that relaxed time.
To learn more about MuslimFest, visit the MuslimFest Website and Facebook Page.
This article was produced exclusively for Muslim Link and should not be copied without prior permission from the site. For permission, please write to info@muslimlink.ca.