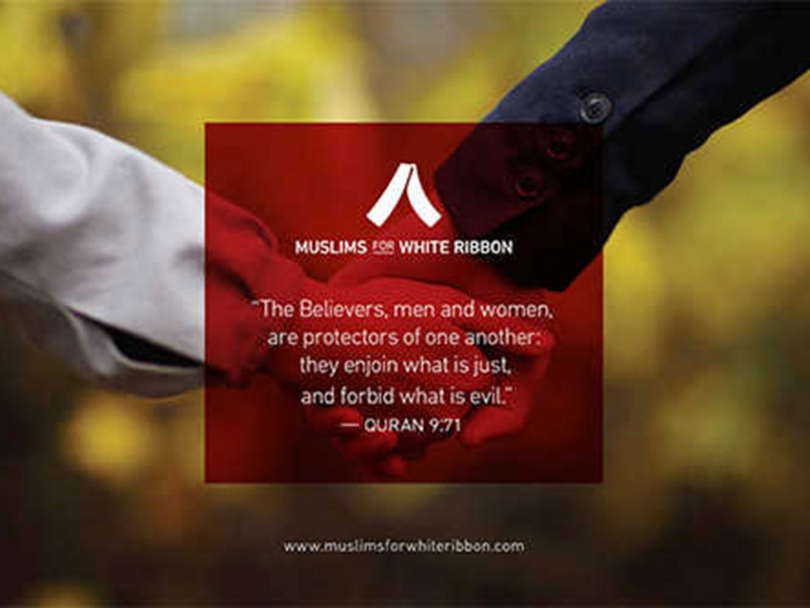 05
December


2013
Muslim men working to end violence against women
Written by Mohamed Suleman
Inspired by the highly successful White Ribbon Campaign, Muslim communities around Canada have kicked off the third annual Muslims for White Ribbon Campaign, a similar initiative that aims to put an end to violence against women.
The White Ribbon campaign is the largest organized movement of men in the world taking a stand and working to end violence against women.
Similarly, the Muslims for White Ribbon Campaign seeks to break the silence when it comes to violence against women in the Muslim community. The month-long campaign starts on November 25, the International Day for the Elimination of Violence Against Women, and culminates at the Metro Toronto Convention Centre where the Reviving the Islamic Spirit Convention will take place December 27-29.
Spearheading the campaign in Ottawa is 30-year-old Omar Mahfoudhi, a father of three who works at the Islamic Care Centre. 
He says that the campaign, which strives to involve and educate men especially, revolves around three core tenets - to never commit, condone, or remain silent about any kind of violence against women and girls.
"We feel it necessary that Muslim men should identify it and show that they themselves will not perpetrate that violence, they will not condone it when someone else does it, and they won't remain silent when they hear about it," Mahfoudhi says.
"That is what we hope that Muslim men will accomplish through this campaign."
Based on his work at the Islamic Care Centre, Mahfoudhi says that domestic violence is a bigger issue than many people think it to be.
"We do see that a lot of the concerns that do come up are related to some kind of violence, whether verbal, psychological or actual physical abuse," he said.  "Unfortunately it does take up a large portion of the cases that we deal with."
Mafoudhi acknowledged the fact that while mosques and Islamic centres around the city are doing their best to address the issue of domestic violence with the resources they have, more needs to be done to raise awareness about this ongoing problem.
"I certainly believe we can do a lot more," he said. "We need to ensure that our imams have the proper training and know how to address these concerns when people address it to them."
Mafoudhi added that while religious leaders are familiar with the Islamic perspective of domestic violence, they should also be trained to know the psychological and physical aspects of it.  
Another key part of the Muslims for White Ribbon Campaign is the National Khutba Campaign on Violence against Women. Muslim men and women across Canada are urged to ask their local khatheebs (leaders of the weekly communal Friday prayer that also deliver the sermon) to condemn violence against women in their December 6 sermons and to speak out about the need to end it.
"We know that Islamically when we see something wrong happening, we should try and change it, if not with our hands then with our tongues, and if not then at least with our hearts," he said.
Furthermore, anyone interested is encouraged to sign a pledge that Mafoudhi says serves as a reminder of their responsibility to educate themselves and realize their need to control their desire, for example, to lash out at somebody.  The pledge also makes them come to the realization that to stay silent when they see other people displaying violence in any form against women is wrong as well.
For more information, visit:
http://muslimsforwhiteribbon.com/
https://www.thunderclap.it/projects/6553-muslims-for-white-ribbon
This article was produced exclusively for Muslim Link and should not be copied without prior permission from the site. For permission, please write to info@muslimlink.ca.