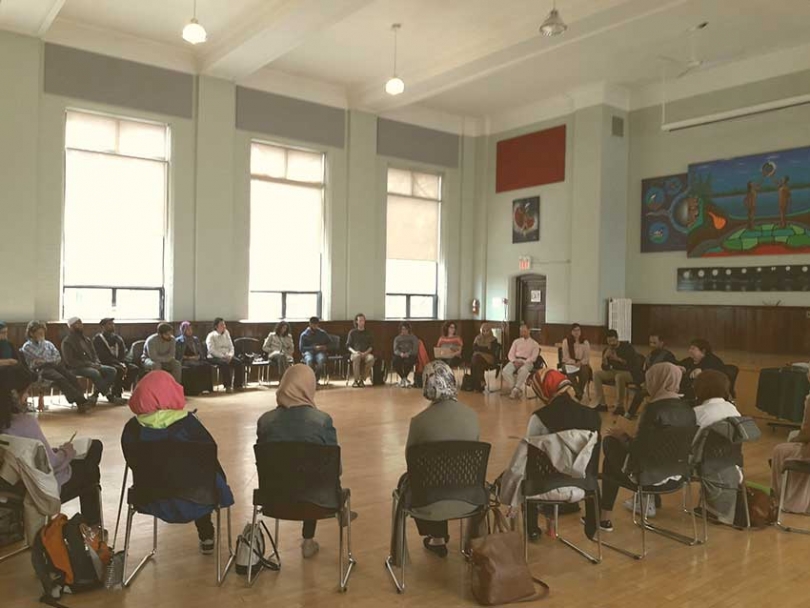 DawaNet hosted Know One Another: Where do (settler) Muslims begin? at the Native Canadian Centre of Toronto with Elder Joanne Dallaire
Courtesy of DawaNet
09
May


2017
Learning about the role of settler Muslims in reconciliation with Elder Joanne Dallaire
Written by Sanaa Ali Mohammed
"We [Indigenous Peoples and Muslims] come at life from a place of peace... from a place of honouring and recognizing the importance of our spiritual and religious practices...We have so much in common." - Elder Joanne Dallaire
On April 29, 2017, DawaNet, a leading Canadian Muslim organization in the GTA, hosted Know One Another: Where do (settler) Muslims begin? at the Native Canadian Centre of Toronto. The event was planned in response to a growing consciousness among many settler Muslims about the importance of responding to the calls to action of the Truth and Reconciliation Commission, especially those that pertain to education. Organizers hope that this will be an ongoing conversation hosted in different parts of the GTA to help promote awareness within our communities.
The event featured a keynote address by Elder Joanne Dallaire, Elder at Ryerson University, is a leader in transforming relationships between Indigenous and non-Indigenous Peoples. Elder Dallaire is Cree Omushkego with ancestry from Attawapiskat, Ontario. She continues in her role as Traditional Counselor for Ryerson Aboriginal Student Services.
Elder Dallaire's talk was followed by jeewan chanicka, Central Coordinating Principal, Equity and Achievement at the Toronto District School Board (TDSB), reflecting on his experiences building relationships and upholding the Islamic concept of "adl" or justice, throughout his work.
One of the most powerful moments of the event included Elder Joanne's emotional recognition of the judgement, hate and violence that visible Muslim women (and Muslim men) experience because of what we wear and what we believe. She described how many Indigenous People share and understand this pain, and how the human experience can bring people
Below are some of the principles for dialogue and relationship building that Elder Joanne shared with the group:
1. Know the treaties made on the traditional territories you occupy.
2. There is a history of Indigenous nations being told what to do by outsiders, and this is something that settler Muslims and other well-meaning people who wish to engage need to resist. The best way to go about supporting communities is to list strengths and expertise and ask Indigenous organizations and groups how they would like to use your skills.
3. Before asking, it is important to give. So give gifts when trying to build relationships.
4. Find out what protocols you should know, as different nations have different protocols.
5. Seek the advice of elders and leaders from the nations you hope to work with and build relationships with them before trying to work with the rest of the community.
6. Think about how you would like your community to be treated in similar circumstances and use this to inform how you act.
7. Don't get caught up in what the engagement should look like, as this can prevent you from acting. But if you make a mistake, own it right away.
8. The best way to know and understand one another is to share stories. [Muslims and Indigenous Peoples] need to remind ourselves of our similarities when engaging with one another as this brings us together and makes us stronger.
9. Always think about how you can leave an individual or community better off through your work.
10. Plant good seeds. You have the power to change someone's life in an instant, through good words and actions.
Want to be part of the conversation? Tweet using #KnowOneAnother.  
This article was produced exclusively for Muslim Link and should not be copied without prior permission from the site. For permission, please write to info@muslimlink.ca.