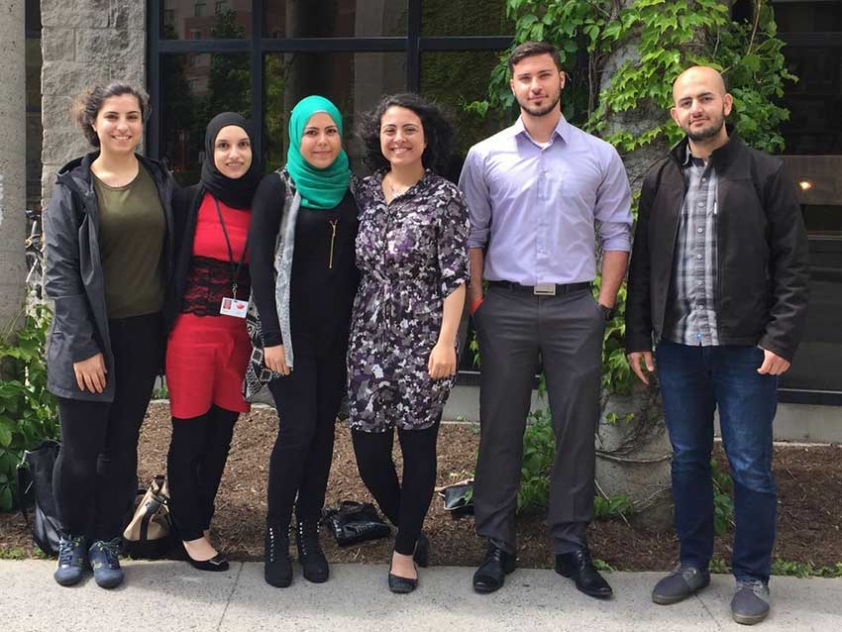 Members of the University of Ottawa's Social Wellness Club
20
Jun


2016
Making a Difference for One Syrian Family: The University of Ottawa's Social Wellness Club's Crowdfunding Campaign
Written by Muslim Link
Tell us about the purpose of the University of Ottawa Social Wellness Club
The University of Ottawa Social Wellness club was founded in 2013 by a group of eight students. Our club's mission is to get directly involved in our community by striving to make a difference in as many lives as we possibly can. Our goal is to lend a helping hand to each unique member of the community, especially when it comes to coping with different issues and emergency situations.
In order to achieve this, we structure our approach in ways that will help us meet the needs of different demographic populations, while simultaneously meeting time constraints. Current club members are:
Nour Khalaf who is Syrian and studies Nursing;
Salih Abouassali who is Lebanese and studies mechanical engineering with computing technology;
Jawdat Saleh who is Lebanese and in Law School;
Nadim Taha who is Lebanese and just graduating from Accounting;
Tuba Yousuf who is Pakistani and studies Biochemistry and Psychology;
Seyma Uran who is Turkish and studies Health Sciences;
Lina Ghandour who is Lebanese Brazilian and studies Health Sciences;
Nora Abdalaal who is Egyptian and studies Health Sciences.
Why did you decide to sponsor a Syrian refugee family?
We have decided to help sponsor a Syrian refugee family because we, as a club and as members of this community, have a duty to help those in need. There are endless numbers of causes that we could target and this initiative is just one step in the right direction. The Syrian refugee crisis is undeniably one of the worst humanitarian crises of our time. As fortunate and privileged students in Canada, turning our backs and doing nothing to help is definitely not an option. Although we are not able to help every single individual as we would like to, we can certainly do our part by helping those we can. If we could at least reach out to one family and do what's in our power to bring them to safety, then that would be a giant leap in the right direction.
How did you identify the family you are hoping to privately sponsor?
The family was identified by one of the members of our club, Nour Khalaf. With her involvement in the Syrian community of Ottawa, Nour was told of the rather distressing situation that this family faces. As a result of the war, the family was forced to flee their home to find refuge in Lebanon. Nevertheless, with the large influx of refugees to Lebanon, many are left without the care or resources required to obtain minimum living standards.
In addition to their suffering from hunger and poverty, the family has not been able to find help for their daughter who requires immediate medical attention. Upon discovery of this family's tragic and horrific situation, we decided that this is not something that we could ignore. We could not have simply turned our backs on this family during such a devastating time.
The family in question is being sponsored using the "Groups of Five" sponsorship option that is made available by the Canadian government. This type of sponsorship usually requires that a minimum of five adults provide emotional and financial support to the refugee(s) for the full sponsorship period, which is usually one year. Working closely with these five other community members, we have decided that we would join forces and support their efforts by raising $5,000 that we can contribute to this great initiative. Nevertheless, we are confident that we will surpass our goal and collect even more funds to help this family in such great need.
To contribute to the sponsorship of this family click here
This article was produced exclusively for Muslim Link and should not be copied without prior permission from the site. For permission, please write to info@muslimlink.ca.