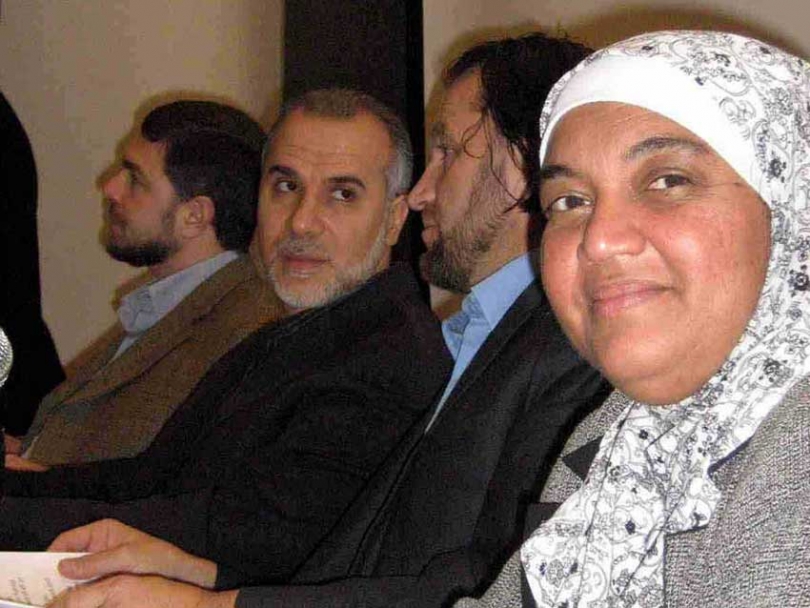 Panelists at the recent "The Rise of Islamophobia: A Rational Approach to Irrational Fears" event.
Photo credit: Sakina bint Erik
14
Nov


2010
The mood was sombre inside the University of Ottawa's Marion Auditorium on Nov. 7 as speakers frequently tossed about words such as "fear", "blame", "solution" and "involvement".
The hall held Muslims and non-Muslims who had gathered to hear the opinions of a panel of community members at the event entitled: "The Rise of Islamophobia: A Rational Approach to Irrational Fears".
The first panelist was Imam Dr. Zijad Delic. He spoke on "Islam and Phobia". Beginning with the definition of a phobia as an irrational fear, Imam Delic offered the example of how sometimes, when Muslims want to take up their civic and communal duties as Canadian citizens they are prevented from doing so by those affected by this fear. The recent speech ban imposed on Imam Delic's by Defence Minister Peter McKay is one example of this irrational fear.
"Islamophobia is a collective term of the most dangerous and sinister array of obstacles that Muslims face from without," he said, "It is born out of fear of the other."
Imam Delic noted that this phobia if unchecked, could cause much damage. Ottawa's xenophobic tendencies have already cost Canada a much-coveted seat on the UN Security Council.
Author Sheema Khan spoke next, addressing the issue of "Islamophobia and Gender". She reminded the audience that Islamophobia is not new to Muslims. In fact, prejudice against Muslims has existed right from the birth of Islam.
"I think the best way to deal with Islamophobia is to do what's right, and when there is criticism, acknowledge it. And when there isn't, argue in a good way," she said.
She went on to state that her opinion was that gender will be the focus of Muslims and the media in future. A couple of high-profile cases about honor killings in the media have drawn a lot of negative impressions towards Canadian Muslims. She urged community members to speak openly about domestic abuse and the use of violence to control women. In this way, with open dialogue, we will know what to answer when we are asked, "Is this part of your religion?"
"What Canadians are looking for," she said, "is strong condemnation, not silence, not 'it's the media's fault'."
Local speaker Ehab El-Komy talked about "Islamophobia and the Youth". His discussion drew on a meeting he had had with an elderly community member at the mosque. The elderly man had pointed out that it takes a very powerful natural phenomenon to change another one. Water only flows downward, but it takes the sun to make it flow upwards. Mr. El-Komy praised the profundity of those words and stressed that the youth could be the phenomenon that would alter the effects of Islamophobia.
He noted however that as Islamophobia becomes prevalent, youth in Canada are becoming more marginalized and isolated from society. While our social situation is not identical to that of European Muslims, Mr. Al Komy pointed out the similarities between the two.
Islamophobia itself, he believes, is not the real problem. "It is the mainstreaming and institutionalisation of Islamophobia that concerns people." he said.
As Mr. El-Komy went on, he emphasized the role of youth in bridging ideas and creating dialogue between the Muslim and non-Muslim communities. The youth, he said, are our best arsenal against Islamophobia.
The topic of "Islamophobia and the Security Apparatus" was then delved into by Maher Arar. He spoke about how the situation for Muslims in North America had changed following the 9/11 attacks.
He gave an example of a Somali business man who ran a money transfer establishment. Following 9/11 he was accused of funding terrorists and was put on the United Nations terrorist suspect list. It was later discovered that he was innocent of all charges but it took over two years for his name to be removed from the black list. By then his life and business was ruined.
His case is one of many. As Mr. Arar pointed out, although the words "suspect" and "convict" oppose mean different things, when used with the word "terrorist", they have the same impact in the media and in society, leading to the same detrimental effect on the life of the individual.
The binary vision of former President George Bush's "You're either with us, or with the terrorists" policy was propagated and promoted by right-wing neo-conservative media outlets who have continued to nurture this idea of "the enemy within". This is what creates fear in the Muslim community, and as Mr. Arar noted, nine years after the 9/11 attacks, Muslim organizations and agencies continue to respond defensively; from a position of fear.
Following an intermission participants returned for a question and answer session. The session was more of a discussion, with many community members contributing ideas, complaints and ideas for how to move forward. Panelists offered answers where they could, but, as in the case of one audience member who confronted the panel about putting their advice to action, the questioner was called upon to take action himself. All panel members encouraged community members to consider themselves part of the change, and not to wait for a particular organisation or outside force to solve these issues.
A feeling of excitement pervaded the audience as they left the venue armed with future plans for community involvement and creative ideas for integration into Canadian society. The forum left us with the feeling that although Islamophobia is gaining momentum, we have the power to create a stronger opposing force that would make our place in Canadian society more secure, peaceful and beneficial to our great country.
This article was produced exclusively for Muslim Link and should not be copied without prior permission from the site. For permission, please write to info@muslimlink.ca.