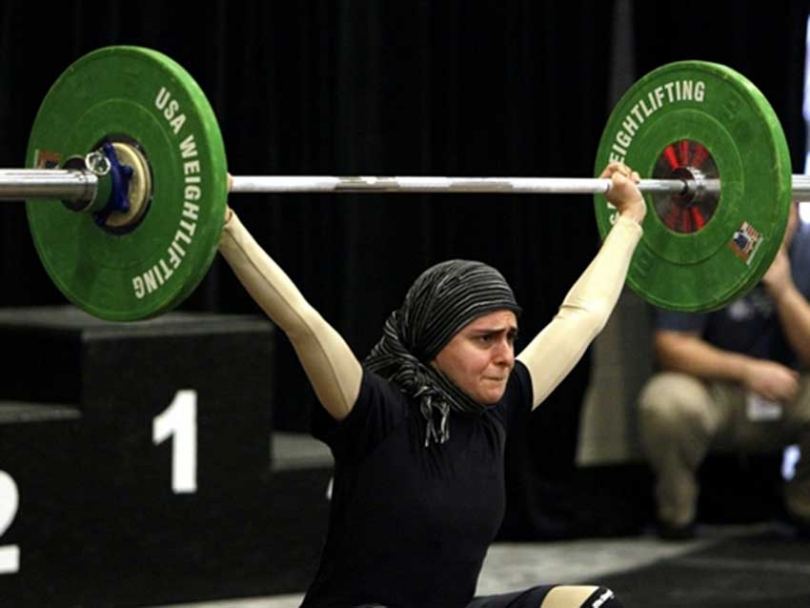 Muslimah weightlifter Kulsoom Abdullah at the USA National Weightlifting Championships last summer.
Photo credit: http://msnbcmedia.msn.com
12
February


2012
In conversation with hijabi weightlifter Kulsoom Abdullah
Written by Staff Writer
Weightlifter Kulsoom Abdullah was on the brink of qualifying for the American Open tournament last year when she was eliminated. It was not her training regimen, muscle strength or weight that kept her from competing. It was her clothes.
After qualifying for a national tournament, the computer engineer with a Ph.D. from Georgia Tech and a black belt in taekwondo was told she could not compete because the modest athletic attire she wears might be dangerous or give her an unfair advantage because the long-sleeved garment would prevent judges from seeing if her elbows were locked.
With help from the Council on American-Islamic Relations, Ms. Abdullah waged a personal crusade with both the U.S. Olympic Committee and USA Weighlifting to push reform of the uniform law. As a result, on July 15, 2011, Ms. Abdullah became the first Muslim woman to compete in America's most prestigious weightlifting competition -- the USA National Weightlifting Championships -- while wearing clothing that covered her legs, arms and head.
Ms. Abdullah took time out of her busy schedule to talk to the Muslim Link about what it was like to make history.

You were allowed to compete fully covered at the USA National Weightlifting Championships last summer. What was it like to compete at that level?
It was great.  It was the culmination of all the efforts and time spent. The boundaries were officially broken.

It was the first time a woman covering her hair, arms and legs was permitted to compete. Why was it important for you to be allowed to participate?
For me personally, (it was important) to be able to compete at the highest level I was capable of and qualified for. For the big picture, getting more female participation in this sport and hopefully others.

What sort of feedback did you receive from other competitors?
Those who were not happy about it -- I believe not that many -- did not say anything to me.  I would say generally many were neutral and a good number were supportive and happy about the rule change because it would allow more (female) participation in the sport.

Your request to compete in a way that you felt would fulfill your faith requirements drew some media attention. How did you cope with that?
I tried my best to organize my time so that I could talk and answer any media outlet that wanted to interview me or ask questions.  The interest in my story would peak around key events -- beginning, IWF ruling, 1st national competition -- so I would take breaks and then go full time when interest peaked.

How have your family members viewed this issue and how did they respond to the attention?
They were as surprised about the media attention as I was.  They tried to help me because I was so busy, and were supportive. My extended family in Pakistan, and some of my immediate family, knew I lifted, but they did not know how much or to what extent. They think it's cool. They just get worried I might hurt myself or break my back.

There aren't many Muslim women who compete in weightlifting. How have Muslims reacted to your story?
I have been told about the Turkey and Egypt weightlifting teams. They do have women on them and they wear the traditional singlet attire when they compete. They were pointed out to me by the few who didn't want the rule change to happen, basically saying, "Look, (those women) are complying. Why don't you take your hijab off too."  Of course, this is not logical. I am my own person, I don't know those ladies, and this is not a judgment contest about how ladies dress.

Amna Al Haddad (an Emirati female weightlifter) recently started went public with crossfitting and she wants to compete one day in Olympic weightlifting. She told me my story helped her get started. She wears hijab.

What's your reaction to what you have heard from within the community?
Those who actually communicate and speak to me are very supportive. Very few send me emails, If anyone is judgmental (Muslim, non Muslim, whatever) they write on commentaries or message boards. There are a bunch of "experts" who have their two cents on my issue and decisions.

How do you feel you have challenged common perceptions of Muslim womanhood?
At least with stereotypes, I have probably broken a lot. Even outside the community, many still view weightlifting as something only men do or that it is masculine. It is a male dominated sport, but there are many strong female athletes, and (the number is) growing.

Do you think more Muslim women will join this sport?
I don't know. I am sure it will be slow. I think (weightlifting) could at least be used as a support for other sports. It's good for conditioning, strength, speed, power and skill transfer. So then the question is, how common will it be for Muslim women to join any sport?  There has to be more support for sports in our communities, acceptance and hopefully more role models.

Why or why wouldn't you encourage women to take this up?

I would not discourage it.  At least I can't think of any reason (to discourage it). Weightlifting is good for health, even if you don't want to be competitive. As we get older, we need to keep bones strong and keep our muscle mass, because we lose it over time.

What's next for you insha Allah (God willing)?
USA Senior National Championships March 2-4 in Columbus, Ohio. And the 2012 Asian Weightlifting Championships (during the Asian Games in Pyeongtaek, South Korea) from April 23""30.


To learn more about Kulsoom Abdullah's journey, visit: liftingcovered.com
This article was produced exclusively for Muslim Link and should not be copied without prior permission from the site. For permission, please write to info@muslimlink.ca.