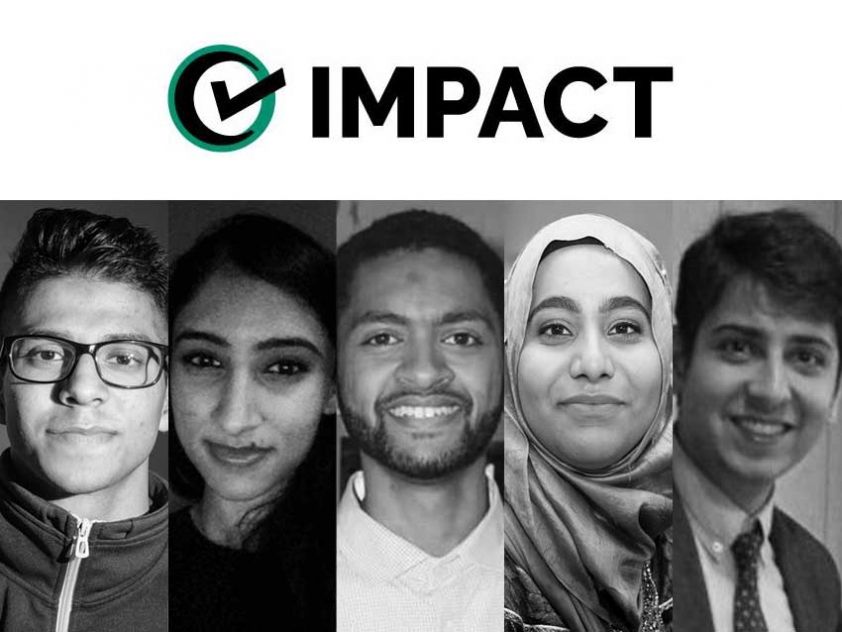 The people behind the IMPACT Fellowship: Asad Siddiqui, Asma Farooq, Abbas N. Ali, Rana Fatima, Mateen Manek
Courtesy of IMPACT, Edited by Muslim Link
21
Jul


2015
IMPACT Fellowship in Toronto: Educating Canadian Muslim Youth in the Political Process Application Deadline July 22
Written by Muslim Link
The IMPACT initiative is multi-partisan, grassroots project based in Toronto, whose aim is to educate Canadian Muslim youth in the political process and its vital importance, provide training in how to get involved on-the-ground, and empower them to recruit and lead their own team of volunteers.
The deadline for their fellowship for Canadian Muslim youth between the ages of 16 to 25 who wish to be involved during the Federal Election is Wednesday, July 22nd. You can apply online here.
Muslim Link interviewed the people behind IMPACT to find out more about the fellowship and what they hope to achieve.
1. Who are you? How did your group form? How do you all know each other?
Rana: We're a group of Canadian Muslim youth all from different educational, denominational, and ethnic backgrounds. Our team has a large group of volunteers, headed by us five: Abbas N. Ali (4th year, UTSC, City Studies), Asad Siddiqui (3rd year, UOIT, Nuclear Engineering), Asma Farooq (3rd year, UGuelph, Political Science), Mateen Manek (4th year, YorkU, Communications), and Rana Fatima (4th year, UWaterloo, Science and Business). Originally, I (Rana) was speaking with Asad as we had worked together at MIST Toronto about our frustrations of the lack of Muslim involvement in politics. After looking around at existing organizations, we found that there was nothing to help train up young Muslims looking to become active participants and volunteers in campaigns. Speaking to a few other politically-minded people, I met Abbas and Mateen who are active leaders in several social initiatives as well. The more people we spoke to, the more we found the need for this organization. We have been watching the increase of polarization in Canadian politics with increasing concern. This past year has made that concern real.
2. Your group identifies as multi-partisan, does that mean you have supporters of all major parties involved on your team?
Asad: Yes, we do! Multi-partisan refers to people from our group supporting different major political parties on federal and provincial levels of government. We believe that our voice as Canadian Muslim youth are advanced when we connect with ALL political parties - hopefully, with the skills we offer in our IMPACT Fellowship (application deadline by July 22nd!) we can help youth supporters connect with their parties in more effective ways and voice the issues they care about.
3. Why do you think it is important to train young Muslims on political campaigning?
Asma: As citizens of this country, we have the privilege of having a voice in politics. There have been many obstacles hindering our ability to effectively have our voices heard; from past generations distrust with the government, to current barriers of apathy or disengagement among our younger populations.
There seems to also be a rising unease shown towards the Canadian Muslim community - that we have special interests, that we don't care about our country, and we're the 'other', somehow different and separate. Why would any Muslim youth want to get involved in that toxic environment? That's why, we think, great initiatives like the Canadian-Muslim Vote have emerged to encourage our Canadian Muslim community to exercise that voice.  Politics though is not just a system that responds to the initial vote. Authentic political engagement is one that is built up through a relationship between our representatives in government and us, the constituents and stakeholders.  To do this, voting is just one step in the right direction. Training young Muslims on the topic of political campaigning allows for the engagement to rise in a meaningful way and for us to communicate to our ridings and politicians that we do care, we matter, and we can make a difference. Insha'Allah, with everyone's help, this initiative will mature so that can achieve this ambitious goal."
4. How is this initiative being funded/supported?
Rana: The initiative is currently a volunteer effort. However, this project will need funding in order to succeed and achieve tangible progress. We are seeking the Canadian Muslim community's help in this to fund the Fellowship program. As with every initiative, there are costs to cover and we hope the community will recognize the importance of IMPACT's mission, and join our efforts with your financial support. You can contact us for more information at This email address is being protected from spambots. You need JavaScript enabled to view it..

5. How are you structuring this training? What will the fellows be learning and who from?
Abbas: IMPACT's core team has been working on an intensive curriculum over the past few months, curated from advice from community leaders, political candidates, political campaigning staff and personal experiences from other organizations. We learned that many pre-existing youth volunteers in the political stratosphere were fairly unaware of the Canadian political process or the issues that different Canadian Muslims currently face while living in the country. As such, we structured the training in small learning blocks - a broad one on understanding the Canadian government and voting system, each major political party's core philosophies, and then on to the good stuff. How to campaign and really recruit their peers to engage in the local riding of their choosing.  This will prepare Fellows not only on the intricacies of campaigning but also the broader transferable skills of project management, volunteer recruitment, and skilled communication.
6. You are training fellows on how to recruit and lead their own teams of volunteers? Why is this an important skill to develop?
Mateen: Volunteer recruitment and management is the core of many non-profit organizations. However, the founders of IMPACT have found that, through their varied personal experiences, volunteer recruitment is always the weakest link in non-profits, especially in Muslim organizations. Without the volunteers, or the means to organize and execute their potential, many initiatives fail before even beginning. As such, we found it imperative to include volunteer management and recruitment as part of our basic curriculum. Our Fellows, upon graduation, will be able to successfully persuade and recruit members of the community to volunteer, not only for this initiative or the campaign they're working on, but for any initiative that they wish to run in the future - through social media, person-to-person, phonebank, email lists, and the list goes on.
7. What are the type of campaigns you are hoping that young Muslims take on after they are trained?
Asad: After being trained on how to campaign and get involved, we'll be asking our IMPACT Organizing Fellows to integrate into their local federal campaigns.  There are only 90 days left until the election and so these campaigns are the greatest learning opportunities and training grounds on getting involved politically!
8. Who are some of the Muslim professionals IMPACT fellows will be networking with?
Abbas: The IMPACT Organizing Fellows will have the opportunity to speak with and network with many involved Canadian Muslims from public facing fields, including journalism, campaign management, government, policy development, and public advocacy. We have already spoken to a few of these professionals and we're really excited about the opportunity to work with them! We have a ton of top-tier Muslim professionals in these underrepresented fields - now it's about connecting them with the next generation.
9. Muslims in Toroto and the Greater Toronto Area (GTA) are a very diverse community ethno-culturally, socioeconomically, and denominationally, which can be seen by the fact that you have people from Muslim Backgrounds from Arab, Somali, and South Asian communities running for election in the region. How are you reaching out to ensure that you will have fellows that also represent the ethno-cultural, socio-economic and denominational diversity of the GTA's Muslim communities?
Mateen: We're all about the grassroots. To ensure we have proper representation from all of our ethno-culturally, socioeconomically, and denominationally diverse communities across the GTA, we've been in our communities during Eid celebrations and in our campuses spreading the word, face-to-face. By talking to people about the importance of political activism in person, we've been receiving interest from a diverse cross-section of our community. Our aspiration is that as this initiative matures and grows through the next provincial, municipal, and federal elections, we'll be able to engage more and more pockets of our community and ensure that we are truly representative of the Canadian Muslim youth experience.
This deadline for the IMPACT Fellowship taking place in Toronto is Wednesday, July 22. Fill out the application online here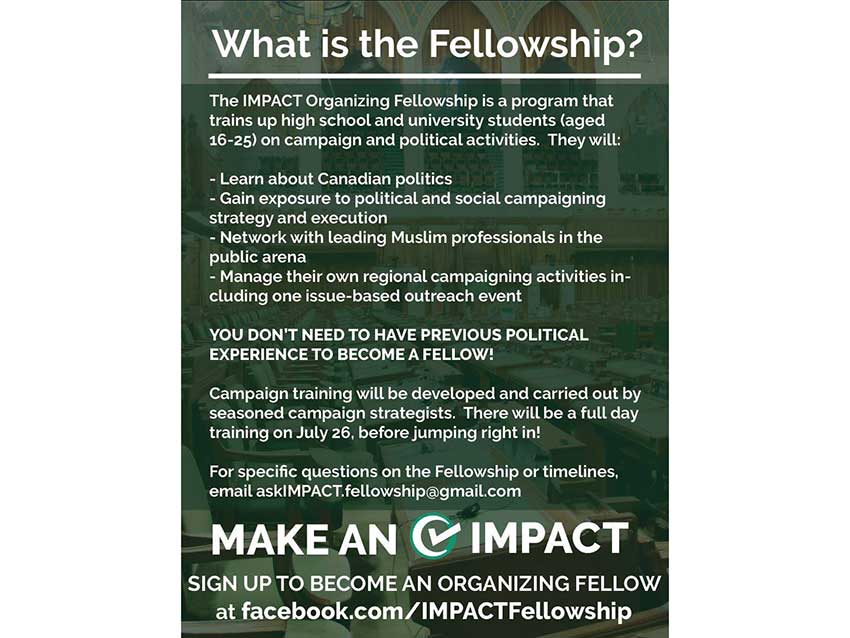 This article was produced exclusively for Muslim Link and should not be copied without prior permission from the site. For permission, please write to info@muslimlink.ca.