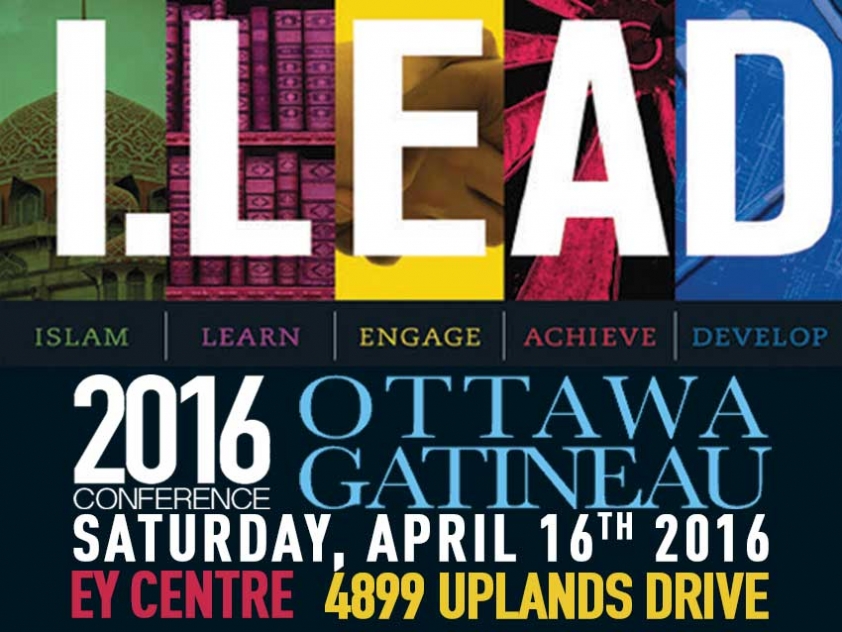 Muslim Link is proud to once again sponsor this year's I.LEAD Conference which is taking place Saturday, April 16th.
21
Mar


2016
Muslim Link is a Proud Sponsor of the 2016 I.LEAD Conference
Written by Muslim Link
Once again, the conference has been organized out of a collaboration between the Assunnah Muslim Association, the Mosque of Aylmer, the Outaouais Islamic Centre of Gatineau, the Islam Care Centre, Masjid Bilal, the Islamic Society of Gloucester, Masjid Jami Omar, the Kanata Muslim Association, the Muslim Association of Canada (MAC) Ottawa Chapter, the Ottawa Muslim Association (OMA), the South Nepean Muslim Community (SNMC), with the support of the Muslim Students' Association of the University of Ottawa and the Muslim Students' Association of Carleton University.
The conference's Platinum Sponsor this year is Islamic Relief Canada.
This year's theme is Living the Legacy: Those Who Believe and Do Righteous Deeds.
According to the organizers: "The theme for the I.LEAD 2016 conference is about learning about the Companions ( رضي الله عنهم)  near to the Prophet (ﷺ), what faith meant for them and how they implemented that faith into their daily lives. Once we return to the beacons of light such as the Quran, the Prophetic way, and the legendary Companions,  (رضي الله عنهم)   our faith will be empowered and strengthened. Once nurtured, the soul gains motivation to do good deeds to please its Creator in an attempt to emulate those who left this legacy before us. In this way, we become better Muslims and better human beings. This conference will offer the attendees with the essential combination of knowledge through beneficial lectures and action through interactive workshops. I.LEAD 2016 seeks to ignite our spiritual sensations, connect us to a pure tradition and make sense of it all in the 21st Century.   It will be a beautiful day filled with hope, tears, joy, inspiration and motivation to leave the conference with a practical plan to make this world a better place for all."
I.LEAD Matrimonial Service
For the first time, I.LEAD will be offering a Matrimonial Service. The deadline to apply is April 10th. For details visit here
Who Will You Be Learning From?
Selected Speakers' Biographies Taken From the I.LEAD Conference Website. For a full list visit here.
Br. Baba Ali takes a lighthearted approach toward Muslim-based entertainment.   His videos have been broadcast to millions of people all over the world and his work has been covered by the NY Times, USA Today, and the BBC.  In 2010, he started a unique matrimonial project to help Muslims find their other half.  His project, Half Our Deen, has resulted with over 800+ success stories.
Dr. Jamal Badawi is "Professor Emeritus" at St. Mary's University in Halifax, Nova Scotia, Canada, where he served as Professor of both Management and Religious Studies. During its May, 2008 Convocation, Saint Mary's University granted him an Honorary Doctorate of Civil law. The university's citation made mention of his promotion of "a better understanding of Islam" and contribution to "civil society around the world".
Sr. Haleh Banani has a Master degree in Clinical Psychology with 18 years of experience working with couples and individuals. She was a featured expert on Al-Jazeera international, Huda TV, Islamic Open University, Mercy Mission and Bayinnah TV. Haleh is an instructor for Ilmflix and Qalam Institute. She was the first female to host a program for Al-Fajr TV called "With Haleh" which combines the principles of psychology and Islam to help people reach their full potential and overcome their challenges. She does skype therapy sessions with people from around the world saving marriages, building self-esteem & helping individuals in all their relationships.
Sr. Lauren Booth is an internationally recognized journalist and broadcaster with two decades media experience. She has worked for major UK national newspapers and magazines presenting flagship shows both for radio and TV. Internationally she is recognised as an effective and sought after public speaker on issues including current affairs, faith, Islamophobia, and the Palestinian struggle. !Lauren has worked in the charitable and human rights fields since 2005, fundraising and mentoring projects. She is a media consultant who advises charities and businesses on PR strategy. She travels between Qatar and the UK.
Shaykh Abdelfattah Mourou is a Tunisian scholar and sociopolitical activist. He is currently the vice president of the Tunisian Parliament. He is also a former judge and lawyer. Sh. Mourou has a degree in Islamic studies. He has shown an outstanding ability in reconciling the Islamic teachings with the daily life's challenges. Shaykh Mourou advocates and promotes the moderate and deep understanding of the Islamic teachings based on the aims of Islamic Jurisprudence.
Shaykh Abdullah Hakim Quick, PhD, has accomplished a lifetime worth of achievements spanning many continents while enlightening the lives of millions. He pursued his study of Islam at the Islamic University of Madinah in Saudi Arabia where he graduated and received an Ijaza from the College of Da'wah and Islamic Sciences in 1979, one of the first two students to do so from the West. He later completed a Masters Degree and a Doctorate in African History at the University of Toronto in Canada. Shaykh Abdullah has served as Imam, Da'iyah, teacher, counsellor and media consultant in the USA, Canada, South Africa and the West Indies, and is still going strong! Presently he is a Senior Lecturer with the Islamic Institute of Toronto (I.I.T.) and the Outreach Coordinator with the Canadian Council of Imams.
Imam Suhaib Webb is an American Muslim Scholar based out of Washington DC. He is a Graduate of University of Central Oklahoma with a background in Education & Azhar University from the College of Shariah (Islamic Law & Jurisprudence). He was named as one of the 500 Most Influential Muslims by The Royal Islamic Strategic Studies Centre, which is an international Islamic non-governmental, independent institute headquartered in Amman, Jordan. Imam Suhaib has over sixteen years of experience by serving various communities in North America and is currently managing an Institute for training American Imams in the Washington DC area.
Want to Get Involved?
Volunteers: If you would like to volunteer with I.LEAD Conference you may find more information here
Sponsors and Bazaar: If you would like to be an I.LEAD Sponsor or have a booth at the Bazaar contact This email address is being protected from spambots. You need JavaScript enabled to view it.
Buy Tickets
Tickets for I.LEAD may be purchased online here
To learn more about the I.LEAD Conference, visit the website.
This article was produced exclusively for Muslim Link and should not be copied without prior permission from the site. For permission, please write to info@muslimlink.ca.