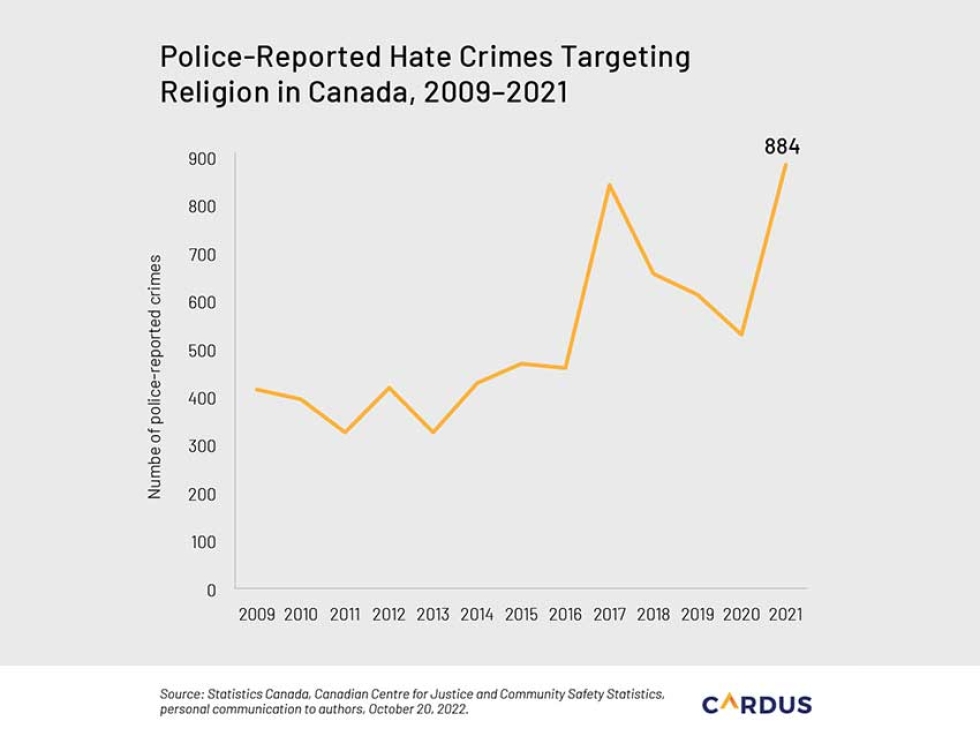 16
Mar


2023
Hate Crimes A Growing Problem For Canada's Religious Communities
Written by Cardus
Police-reported hate crimes against religious communities more than doubled between 2009 and 2021
OTTAWA, ON – Leaders at all levels need to do more to reduce hate crimes against Canada's religious communities. That call comes from Toward a Hopeful Future: Facing Down Religious Hate, a research brief by think tank Cardus. The brief notes that religious hate crimes annually reported to Canadian police more than doubled between 2009 and 2021—a statistic that correlates with "increasingly negative public attitudes" toward the contributions of religion and faith communities to Canada.
Fast facts on religious hate crime:
Annually police-reported crimes targeting religious persons or communities rose from 415 in 2009 to 842 in 2017 and set a new high of almost 900 crimes in 2021.
Jewish Canadians were the most targeted group for religious hate crimes in 2021.
Anti-Muslim saw significant increases between 2016 and 2017.
Anti-Catholic hate crimes more than tripled between 2020 and 2021.
The rise in religious hate crime comes amid increasingly negative public attitudes religion in Canada:
The proportion of Canadians who see the overall contributions of religious and faith communities as "very good" or "more good than bad" has fallen from 38% in 2017 to 31% in 2022, according to polling by the Angus Reid Institute in partnership with Cardus.
The proportion of Canadians who see religious and faith communities' contributions as "very bad" or "more bad than good" has grown from 14% to 22% in the same period.
Canadians who are religiously committed, regardless of their religion, overall view every religion except atheism as more beneficial than damaging to Canadian public life.
Non-religious Canadians tend to view every other religion as more damaging than beneficial.
Research brief co-authors Rev. Dr. Andrew Bennett, faith communities program director at Cardus, and Johanna Lewis, a public policy researcher, say religious hate crimes should concern everyone.
"As fellow Canadians, we can and will disagree in important ways," Bennett and Lewis write. "Yet when we cultivate mutual understanding, we will work together as neighbours to strengthen our common life and flourish together."
They also call for action from public, business, and civil-society leaders who should:
Deliberately cultivate understanding and appreciation of different ways of life in a pluralist, diverse society such as Canada.
Reinforce existing practices and policies that confront workplace religious discrimination.
Set the tone for religious inclusion by using their platforms to highlight the important contributions and services that faith communities provide and to speak out against religious hatred in all of its forms.