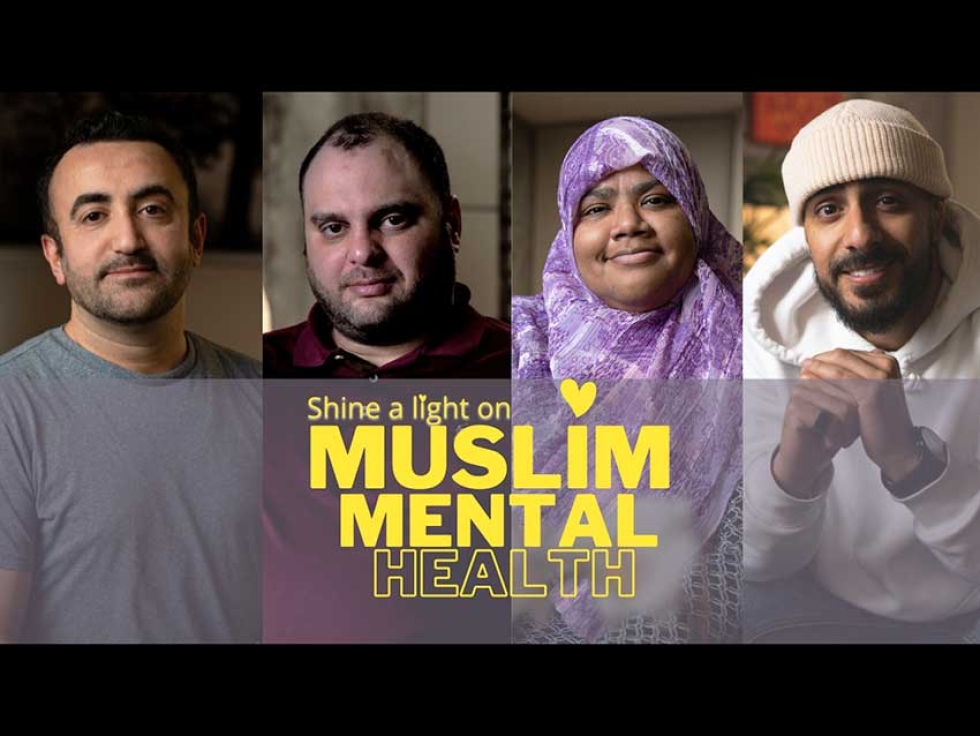 Team Behind the Project: Mohammad Dourou, Muslim Link Publisher, Bassem Elghawaby Grassroots Media, Chelby Daigle Muslim Link Editor in Chief, Husam Alaghbari, Filmmaker
Husam Alaghbari
01
May


2022
For Us By Us: Muslims Living with Mental Health Challenges Team Up To Create Video Series
Written by Chelby Daigle
Muslim Link has teamed up with Grassroots Media and filmmaker Husam Alaghbari to create a video series exploring the stories of Muslims living with mental health challenges.
They are currently running a fundraiser on LaunchGood.com to support the project (to support, click here).
Muslim Link interviewed the team members about the importance of the project and how readers can support it.
Tell us about yourself
Chelby: My name's Chelby Marie Daigle and I'm the Editor in Chief of MuslimLink.ca. I've been public speaking about living with mental illness since I was 15. I converted to Islam in my early twenties and have been Muslim now for almost 20 years. I'm also trained in Peer Support with the Canadian Mental Health Association (CMHA).
Husam: I'm Husam Alaghbari. I'm a Yemeni Canadian filmmaker and content creator. I struggled with depression, anxiety and PTSD over the last few years.
Bassem: My name is Bassem Elghawaby and I am the Founder of Grassroots Multimedia, which has partnered with Muslim Link to bring this project to life. I am a second generation male Canadian, from Egyptian descent. I was diagnosed with generalized anxiety and bipolar disorder more than 20 years ago, when I was 17. After a harrowing first 10 years battling these illnesses, I made great strides towards my own well-being, through delving more deeply into things like my Muslim faith, personal development (I have been certified as a life coach), and medical treatment that works for me. I am a mental health advocate, who uses poetry and spoken word along with other forms of media, like podcasting, to raise awareness and help others feel less isolated and more connected. I am also a founding board member of a non-profit called Pay What You Can Peer Support.
What has been your experience with mental health challenges?
Chelby: I live with what is commonly called chronic depression so my depression never actually goes away but there are times when it can worsen and I experience what is called double depression which carries an increased risk of suicidal behaviours. I have also lost relatives, including my mother to suicide. I also live with Post-Traumatic Stress Disorder (PTSD) related to childhood trauma which results in periods of extreme anxiety. Both these conditions dramatically impact my ability to function in daily life so I had to go on disability. I receive regular care from a psychiatrist and take medication for my condition.
Husam: Over the past few years I've lived with depression and anxiety. At first I didn't know about depression until I started looking more into it. I recall I would spend days and nights without eating, just folded in bed, fearful of the future, regretful of the past, unable to enjoy the present moment. It became so severe that I couldn't even speak to anybody about it. And in a Muslim Yemeni household that is something that is frowned upon. So when I tried to talk to family or friends about it, they would put me down and say 'Just focus on your prayers and relationship with God'. Faith is very important, but it doesn't replace seeking out treatment. So my biggest challenge was finding treatment and a therapist I could relate to. Although from time to time depression and anxiety kick in, not to mention PTSD, I've kind of navigated it and learned how to address it by myself by journaling and I've been journaling for the past five years. For the most part, I journal on a day-to-day basis and which allows me to escape my mind and develop and grow and express all of the emotions I was going through.
Bassem: I was diagnosed with bipolar disorder in 1997, and generalized anxiety around the same time. Four years before that, I was bullied by the same people I called 'friends' in an unhealthy environment that happened to be non-diverse and played against me greatly in this case, and I believe this exacerbated my mental illnesses. My first manic episode was right before my diagnosis at the age of 17, when I traveled to Egypt for the first time and felt an overwhelming amount of love and acceptance from relatives, in stark contrast to the prior few years in Canada. After my six week trip, for which the last 5 days I fell into a manic state, I was admitted to the Children's Hospital of Eastern Ontario (CHEO) for six weeks, and my real dealings with the mental health system began. In 2005 there was a great turning point when I went on the Hajj pilgrimage, which coincided with me attending more Islamic seminars as well as self learning, and first becoming involved as a consumer of personal development, that actually incorporated Islamic values in addition to contemporary mainstream processes and techniques that have proven to work well. But, I continued to suffer at times for following years, and despite my progress have had hard days until this day. The COVID pandemic was also a wake-up call in terms of how something like that can affect anyone negatively, and especially if you are prone to mental illness. I had my first panic attack ever near the start of the pandemic, and I know there are so many people that suffer with mental illness that have felt the effects of the pandemic very intensely at times. Overall, I am today immensely grateful for how far I've come, and that I can play any positive role in projects and simply by being there for others and speaking openly as someone with a lived experience with these challenges.
Why do you personally want to develop the Shine the Light Project?
Chelby: I think there needs to be more projects led by Muslims who themselves have actually struggled with mental health challenges, to whatever degree that may be. Sadly, the types of stories and even services offered to Muslims has been negatively impacted by the lack of equitable engagement even with us. Even some people who are "mental health advocates" in our communities can be quite ignorant about the reality of living with a mental illness and so spread as much misinformation as they raise "awareness".
Husam: While I was going through my depression and anxiety, being a filmmaker I often times would shed light on the subject matter through filmmaking and found that to be extremely powerful and liberating. The main reason why I want to develop the Shine the Light project is to help other Muslims, particularly Muslim men, who are suffering in silence and the Muslim community at large because this is such a taboo topic in our culture and in our religion and we just sweep it under the rug. As a filmmaker, I believe that I am suitable to bring this project to light because I have experienced depression and mental health challenges in the past, I've worked on documentaries and films revolving around this topic.
Bassem: I want to share with that person that was like me 10, 15, 20 years ago along his tumultuous journey with mental illnesses, that there are supports and things that may help, and that without wearing rose colored glasses, one's quality of life can steadily improve. I know it can be a wide spectrum, but even a little bit of feeling less isolated and alone, and knowing there are supports and others that have faced similar struggles can mean a lot. Muslims can often face a lot of misunderstanding and stigma when they share that they have a mental illness. Our faith is beautiful, and I want to show that comfort can be found there, that for me has been transformational in terms of my well-being, without discounting other elements that are very important and vary depending on different people's situations and diagnoses.
What role will you play in the project?
Chelby: I will be sharing my story and will be helping to do outreach for the project. I will also be ensuring that each video connects people to actual resources in their communities to get proper information, services, and support which is something that we can easily do through the MuslimLink.ca platform.
Husam: when it comes to this project I'll be directing and shooting it as well as editing each series. In addition to that I will be interviewing our subjects matters experts, I will build a connection with them through the interview to get to know their story, and figure out the story arc with them, build the story boards, and more importantly share their story. In addition, I want to make sure that the people interviewed feel that their story is honoured and that their dignity is respected, I want to keep that at the forefront. I want to give the audience a sense of hope, a sense of purpose and inspiration and to let the viewers know that you don't have to suffer in silence.
Bassem: I will be sharing my story, and be involved in the creative side, as well as implementing a plan to distribute and share the videos both to Muslims and Non-Muslims alike with the rest of the campaign team.
How will the project benefit Muslims living with mental health challenges?
Chelby: It is important for people to know they are not alone and that there are a lot of us out there and I think a "by us, for us" project does that best. Doing public speaking over the years, I have been able to connect to so many other people struggling like I am so I really know just how common these challenges are but also just how much people have to hide them in order to not be judged or shunned by family, friends, community (cultural and religious) as well as face problems with employment. I hope that this project takes a practical approach because we are sharing our personal journeys.
Husam: Through this production I want the viewers to be inspired and to know that they do not have to suffer in silence. I want these videos to create a sense of hope, a sense of light at the end of the tunnel for anybody who is watching this content.
Bassem: They will see that they are not alone, that there are other Muslims living with mental illnesses and sharing their stories in creative and engaging ways. When I have seen others sharing their own experiences with mental illness it has often made me feel more empowered to speak and share about my own, and I hope that this will be the case with other Muslims, as well as encouraging them to seek the resources and support they might need.
How can readers support this project?
Chelby: It would be great if we could meet our fundraising goal so we could complete the project so if you can afford to contribute please do.
Previously in late 2020, Muslim Link fundraised to make a podcast exploring similar issues during the pandemic but we didn't meet our funding goal. The funds that were raised are now going to this project.
Also, if you have experience and expertise in podcasting and are willing to help us we would still like to do a podcasting project to accompany this as it would allow for more stories from Muslims living with mental health challenges who cannot appear on camera.
Also, if you are a Muslim living with mental health challenges and/or a Muslim mental health service provider we would also love to hear from you about any ideas for the project and resource you think we should share on our platform.
Please contact me at This email address is being protected from spambots. You need JavaScript enabled to view it.
Husam: It would be amazing if we can raise the funds to complete this project. I really hope and wish that we can address topics like depression and PTSD within the community so it is no longer a taboo topic.
Bassem: We would appreciate readers contributing to our funding goals however they can, and also by spreading the word about the campaign to others in their extended networks.
We would also like to hear their feedback on the project's aims and on the finished profiles as we produce and release them.
For those Muslims living with mental health challenges and Muslim mental health service providers we welcome your input and ideas on how we can build on this important campaign and impact more people in need of hearing it's message.
I can personally be contacted at This email address is being protected from spambots. You need JavaScript enabled to view it.
This article was produced exclusively for Muslim Link and should not be copied without prior permission from the site. For permission, please write to info@muslimlink.ca.