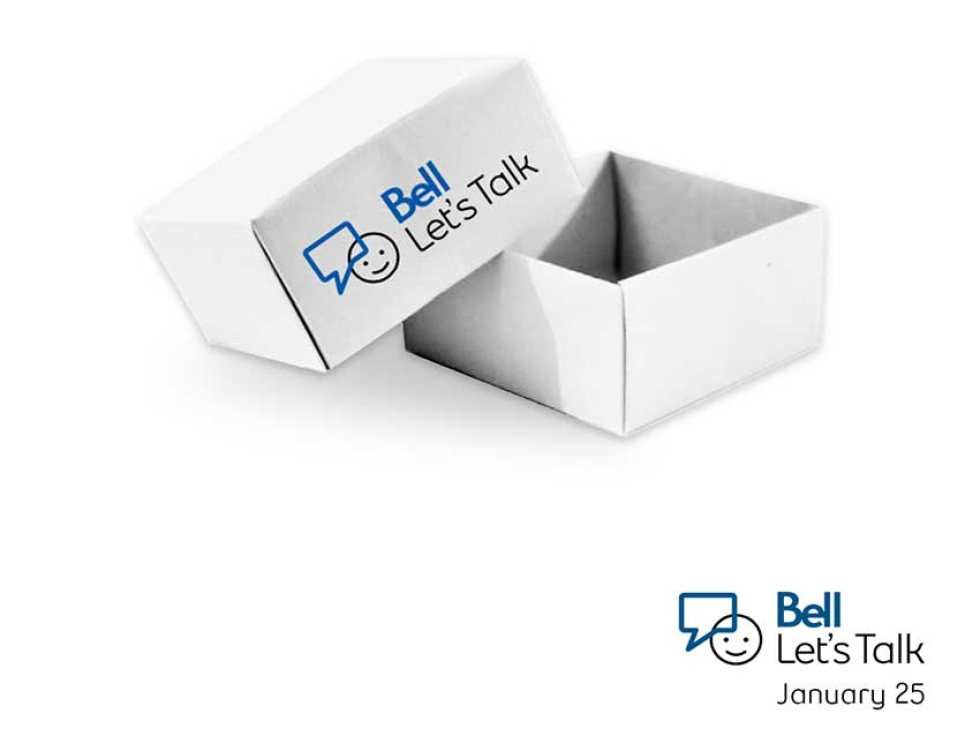 25
Jan


2023
Bell Let's Talk kicks off a new year of action for mental health on January 25
Written by letstalk.bell.ca
Bell Let's Talk starts the new year by committing an additional $10 million for mental health programs ahead of Bell Let's Talk Day and invites everyone to join Canada's national day for mental health on January 25.
Canada is experiencing a mental health crisis and the Bell Let's Talk Day campaign is starting the new year by putting a spotlight on the growing need for mental health services and change, inviting Canadians to take meaningful action for mental health on Bell Let's Talk Day and throughout the year. As part of Bell's own actions and to mark a new era for Bell Let's Talk, a fundamental shift is taking place in this year's campaign.
Today, Bell is announcing an additional $10 million towards our goal of $155 million for Canadian mental health programs. This action will replace the donation of 5 cents per interaction that Bell has made in previous years on Bell Let's Talk Day. This new funding of $10 million is more than Bell has ever committed on Bell Let's Talk Day and it will shift more emphasis on the day toward practical actions that we can all take throughout the year to create change. In addition, Bell Let's Talk Day will be putting a spotlight on mental health organizations across the country that are providing supports and services for Canadians experiencing mental health issues – organizations that Bell Let's Talk is proud to support.
Thirteen years ago, Bell Let's Talk set out to tackle the stigma around mental illness. Since then, Bell Let's Talk Day has become the world's largest conversation about mental health, increasing awareness and helping bring about real change. Still, more needs to be done. Anxiety levels are high, people who are struggling aren't getting the help they need, and people are dying by suicide. Mental health issues and substance use disorders will affect one in three Canadians in their lifetime. Now is the time to come together, to take action and show support for mental health in meaningful and impactful ways to help ensure all Canadians can access the mental health and addiction supports they need to flourish. This change starts with Bell Let's Talk's additional $10 million commitment to mental health organizations and initiatives to help fund vitally important projects all year long.
"As a country, we have made great progress in moving mental health forward, and changed attitudes and behaviours around mental illness, but despite these gains, we must all do more to address the mental health crisis in Canada. We are at a pivotal time when change is urgently needed, so I am pleased to announce that Bell will commit an additional $10 million to Canadian mental health initiatives and on Bell Let's Talk Day, we will put the focus on community organizations that are helping to drive this change and moving mental health support forward."
-Mirko Bibic, President and CEO of Bell Canada and BCE
"This year's campaign marks a bold new era for Bell Let's Talk. Together with our partners and organizations all around the country, we have helped increase awareness about mental illness and addiction and Bell Let's Talk is proud to invest in these organizations all year round. But bold action is needed more than ever. Too many Canadians are still struggling with mental health and addiction issues and not getting the care they need. Let's change this."
-Mary Deacon, Chair of Bell Let's Talk
The statistics are alarming:
More than 200 Canadians will attempt suicide every day; twelve will die
56% of people struggling in this country are not getting the help they need
One in four Canadians have been experiencing high levels of anxiety
The number of opioid overdose deaths in Canada went up more than 90% during the pandemic. It's now 20 per day
Let's change this. Take action on Bell Let's Talk Day and all year long!
On January 25 and every day throughout the year, we can all take meaningful action to create positive change. Let's change this asks everyone to play a role and provides practical examples of ways to create change in our homes, schools, workplaces and communities.
Here are some actions we can all take:
Choose a mental health organization to learn about or support
Help a friend struggling with their mental health by learning how to support them
Ask about how your school, workplace or community is creating change for mental health
Nurture your own well-being by practicing and learning mental health strategies
Get involved in a mental health initiative or organize an event to support mental health
Engage in conversations about mental health to fight stigma
Visit Bell.ca/LetsTalk for more ideas and share your actions using #BellLetsTalk and help inspire others to join the movement to create positive change.
The new 2023 nationwide Bell Let's Talk multimedia campaign – Let's change this – highlights the mental health crisis Canadians are facing in very real and personal ways and issues a collective call to action and change. On Bell Let's Talk Day, we will feature mental health organizations that are addressing the crisis and making a real difference for people in their communities around the country, so that more Canadians can learn about the types of supports and services that are available and where to go for help.
"Canadians deserve mental health care whenever and wherever they need it. Yet millions are not currently able to access it. We're happy to see Bell's action-oriented work through Bell Let's Talk Day, uniting Canadians around the value and need for mental health supports. We can't afford to let Canada's mental health crisis spiral. It's time we take action to protect, promote and strengthen mental health for all. Because we all have the right to universal mental health care."
-Margaret Eaton, National Chief Executive Officer, Canadian Mental Health Association
Bell's long-term commitment to mental health
Working collaboratively and with purpose, Bell invests in hundreds of organizations across the country to increase access to mental health supports and services and help create change. With the additional $10 million announced today, we have committed more than $139 million towards our $155 million goal.
Our 2023 initiatives include:
The Bell Let's Talk Community Fund, an annual program that provides grants up to $25,000 for local and grassroots mental health initiatives
The Bell Let's Talk Diversity Fund, which supports the mental health and well-being of BIPOC communities across Canada
The Bell Let's Talk Post-Secondary Fund that supports student mental health programs
New funding for other mental health projects
Bell also supports employees and their eligible family members with workplace programs, including unlimited mental health benefits coverage. As part of Bell's commitment to leading by example in our own workplace and encouraging greater workplace engagement across Canada, we are now also offering the Workplace Mental Health LeadershipTM certificate program at no cost to select Bell and Bell Let's Talk partners.