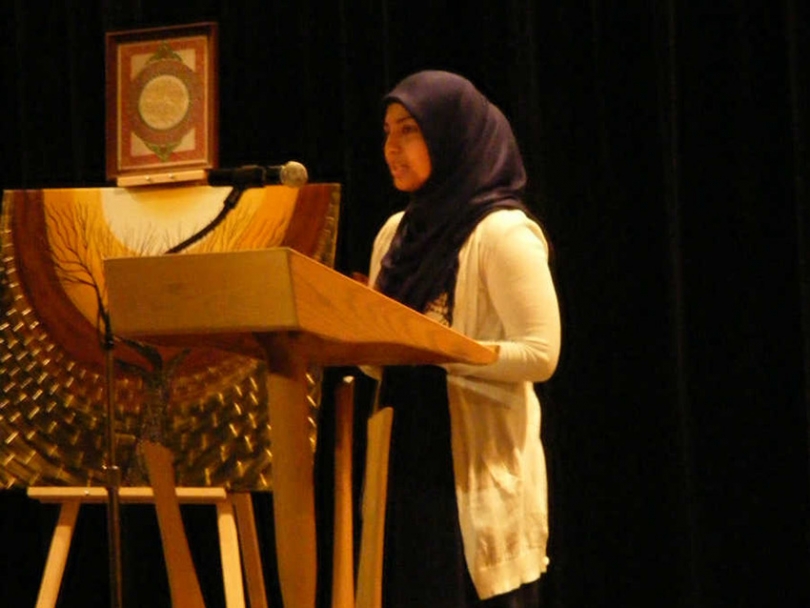 Aruba Mustafa performs at the third annual Expressions of Muslim Women event.
Photo credit: Nagat Bahumaid
23
Jan


2011
FIRST PERSON: Backstage at Expressions of Muslim Women event
Written by Audrey Saparno
Five o'clock in the afternoon on Sat. Nov. 6th, 2010 and I'm late. Krystal calls me on my cell, "Where are you?" I tell her I'm on my way. There are two hours left until the show starts, and yet, we still have to meet to practice the finale. I wonder if everyone practiced their own parts yet? Then there's the mic checks, the lighting check, the signs to post up, the easels to put together, the tables to place, the artwork to get up, coordinating the different volunteers"¦ do the performers know their order? Where's a program? Take a break for Maghrib prayer!
I suppose that list of things to do may sound long and disorganized -- and really the list was much longer -- but Alhamdulillah (thanks be to God), this year, things seemed easier to keep organized. It probably helped that this was the third time setting up a similar show in the same venue with a fine team of people. Dedicated women, each one with strengths that complemented that of the other, formed the backbone to this year's "Beyond Dress", a women-only event presented by Expressions of Muslim Women. 
Even in the spotlight, I could see the gently-lit audience smile and exchange tender looks and during those moments I felt that we shared a profound conversation.
Three years after our first attempt to shine the spotlight on the dynamic talents of local Muslim women, the now annual event was held in front of another sold-out audience at the Chamber, Ben Franklin Place on Centrepointe Dr.
There was touching prose, thoughtful skits that made some laugh and cry, beautiful-sounding Nasheeds (devotional songs), a colourful Indonesian dance; all were presented in front of a backdrop of a wonderfully eclectic collection of artwork. With this plethora of art and performances, it was not uncommon to hear the "wow" or "Masha Allah" (praise be to God) factor among new attendees.
There were so many who commented positively on the show. "Inspiring" was a common word expressed among the women attendees. Eman Loubani who had attended the first show, and this year, contributed her poetry, declared that, "having been part of many Muslim communities across Canada, I can say with confidence (this show) is unique".
Perhaps it's the Chamber with its intimate setting that makes the experience for the performers and the audience, one of sharing rather than just a mere spectacle. As I stood in the spotlight at the microphone, I heard my voice and yet I could listen to the audience laugh during comedic moments in a skit and then hush to the serious reflections of my songs. Even in the spotlight, I could see the gently-lit audience smile and exchange tender looks and during those moments I felt that we shared a profound conversation.
Sharing is not always easy especially when it's in front of a crowd of over 200 people. I suppose that's why many of us backstage kept expressing "our nerves". Yes, I believe we were all nervous to some degree, but I don't think the audience knew. So what motivates some performers to keep coming back to the daunting stage?
According to Shamima Khan who has participated in each of the three years, every year is different.
"I get introduced to amazing new performers and to be part of something beautiful and inspiring", she says. "There aren't too many opportunities for Muslim women to express themselves in a positive way". Shamima is skillful at painting pictures with words and this year her work included escaping on bus route 95 as well as capturing a beautiful moonlit night.
With the theme pointing people to look beyond external images, the content of the performers often ventured into reflections of how women perceive themselves, as well as how others may make outright assumptions based on the covered or uncovered Muslim woman. A new contributor, Aruba Mustafa recited a poem about her decision to wear the hijab despite the pressures faced by her peers.
New and returning visual artists presented this year. It was wonderful to see Hadiya Al-Idrissi, who at 15 was so enthusiastic to display her diverse collection of work in a public forum. While nearby there were returning artists, such as Hawa Kaba and Leila Wareh who have always made time to show their latest work.
As part performer and part organizer, I am always exhausted during the event. In the past, intermission time was one where I would hide backstage with the MC and fellow organizer, Krystal Cain-Gebara. We would desperately catch our breath before starting up the second part of the performances. This year, the committee made sure to meet at the EMW poster during intermission so we could take a photo. Out in the atrium, I saw and came to realize that the intermission is not just an opportunity for time for the audience to see the artwork and talk to the artists, but also to meet with friends and catch up.
EMW is a platform for Muslim women with artistic talent to share their work with a supportive audience. It provides a forum for Muslim women to share stories and reflections on their faith and common challenges. It encourages Muslim youth to develop an artistic culture that is in keeping with their faith and Canadian roots. And it is an opportunity for women of other faiths to see, learn and perhaps be inspired by the beauty and creativity of Muslim women.
This component of giving back to the community is an essential element for EMW. Proceeds from ticket sales were donated to local charities, including the Sadaqa Food Bank and Artswell.
Insha Allah (God willing), EMW will continue this venture and return next year. I do hope that many more Muslim women come and share.
This article was produced exclusively for Muslim Link and should not be copied without prior permission from the site. For permission, please write to info@muslimlink.ca.