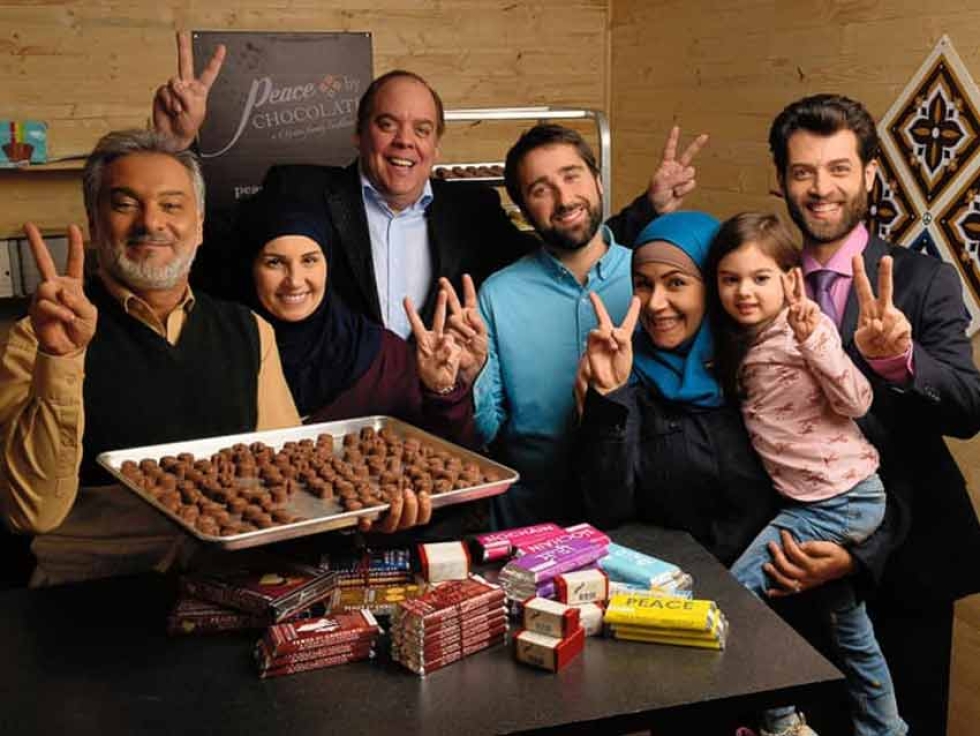 Members of the Cast and Crew of Peace by Chocolate
From the Film Peace by Chocolate
01
Jun


2022
Film about The True Story of A Syrian Refugee Family's Journey to Rebuild Their Chocolate Factory in Nova Scotia Comes to Bytowne Ottawa
Written by Refugee 613
From inspiration to action
Between June 3 and 7, Bytowne Cinema in Ottawa will be screening Peace by Chocolate, a film based on the inspiring - and true - story of the Hadhad family.
Following the destruction of their chocolate factory in Syria, the Hadhads relocated to Canada, where they rebuilt their business from the ground up with the help of their new neighbours in Antigonish, Nova Scotia.
Peace By Chocolate shows what an impact ordinary Canadians can have on the lives of newcomers, because the Hadhad family's story was made possible by the community sponsorship of refugees.
A representative from Refugee 613 or one of its partner organizations will be at the ByTowne with information about Canada's community sponsorship programs, including the requirements and opportunities. You could form a group to sponsor a refugee through the BVOR Program, and welcome a refugee newcomer in two to three months.
There are more than 26 million refugees in the world today. We encourage you to catch a screening of Peace By Chocolate before June 7, and at the same time, learn more about how you can make a difference for a refugee from Eritrea, Sudan, Afghanistan, Syria, and many other countries.
The movie start times are as follows:
June 3 - 1:30pm
June 4 - 4:00pm
June 5 - 12:30pm
June 6 - 6:30pm
June 7 - 4:00pm
Click here to purchase tickets.
The cost is $11.95 for non-members.
We hope to see you there!
Watch the Trailer below (It may take a few minutes to load)