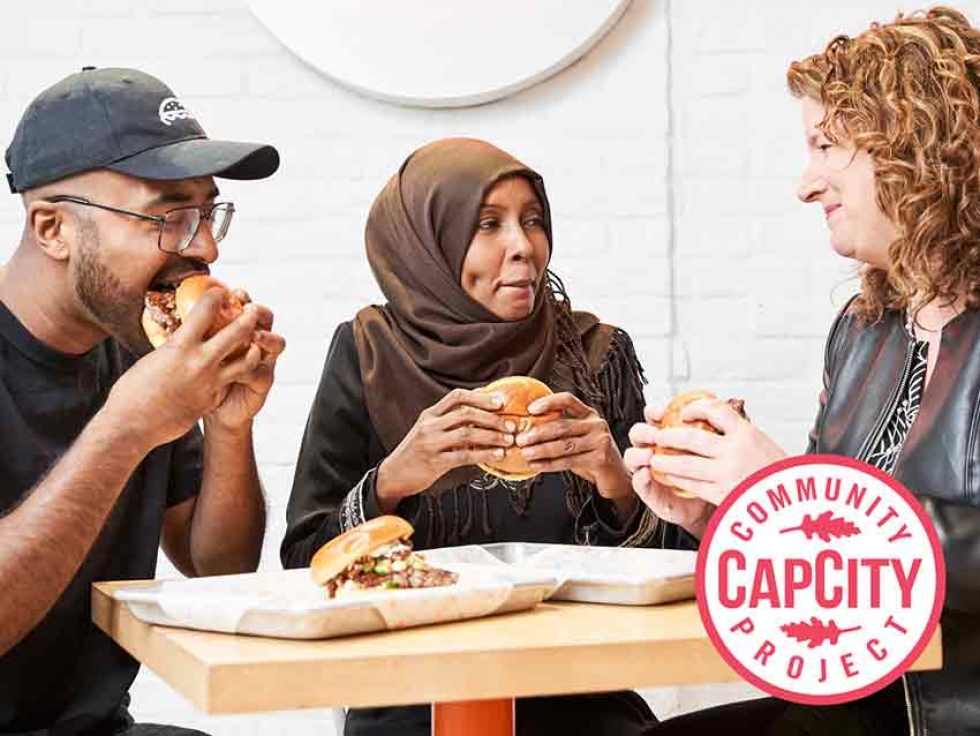 Jamil Bhuya founder BFF, Anaam proud Ottawa newcomer and project beneficiary, Louisa Taylor Director Refugee613
Refugee 613
02
May


2019
Halal Restaurant Launches Sudanese Inspired Burger To Support Ottawa Refugees
Written by Refugee 613
On May 1, Burgers n' Fries Forever (BFF) and the CapCity Community Project launched their innovative partnership to explore a new way to raise funds for refugees building a new life in Ottawa. Mayor Jim Watson and City Councillor Mathieu Fleury attended the launch to show their support.
BFF is a local gourmet and halal fast-casual restaurant founded by Jamil Bhuya. The CapCity Community Project is a group of dynamic Ottawa volunteers partnering with refugee groups to raise money for refugee welcome in Ottawa and encourage local businesses to get involved in fundraising efforts to help refugees settle and thrive as members of the Ottawa community.
Volunteers from the CapCity Community Project initiative and Anaam worked with BFF founder Jamil to design a gourmet burger to support the settlement needs of Anaam Ali, a privately sponsored refugee from Sudan. BFF uses halal beef and has a philosophy of equity and welcome for all. The "Mishon Accepted" burger is a tribute to Anaam's homeland and features traditional Sudanese staples such as mish (a spicy feta yogurt), ful medames (fava bean stew), and jibna salata (tomato salad), atop a 5 oz halal chuck beef patty.
$1.00 from the sale of each "Mishon Accepted" burger will go towards Refugee 613 and to help Anaam's sponsorship group meet her everyday settlement needs and get her closer to her dream of continuing her legal studies here in Canada.
"Business owners know that when refugees and other newcomers succeed in Canada, local economies and communities thrive -- and that's good for local businesses," said Bhuya.
The CapCity Community Project volunteers hope to inspire other businesses to follow the lead of BFF, and fundraise for projects like Refugee 613 to support refugee welcome across the city. Refugee 613 is an innovative communications hub that informs, connects and inspires people to welcome refugees and build strong communities. As a non-partisan, grassroots project, it maximizes the efforts of many organizations and individuals by providing information, convening and mobilization services to build a world where everyone can thrive.
"Many Ottawa businesses have supported refugee welcome, but BFF and these amazing volunteers have put a whole new twist on it by creating such a fun, delicious way for Ottawa to show its welcoming spirit," said Louisa Taylor, director of Refugee 613.
This month, Canada celebrated 40 years of the refugee sponsorship program, which has inspired countries across the globe to develop their own refugee sponsorship programs. Private sponsors have welcomed more than 327,000 refugees since the late 1970s, and its success is a direct result of the extraordinary partnerships and cooperation between individual Canadians, businesses, and communities.
But 40 years on, one of the biggest challenges at the local level remains that of pulling together enough money to resettle a refugee and give her or him the best start in their new life in Canada.
Visit Burgers n' Fries Forever (BFF) at their Bank Street or Dalhousie Street locations until May 30 and try the 'Mishon Accepted' burger to support Sudanese newcomer Anaam and Refugee 613!
This could make a great iftar meal with family and friends this Ramadan! 
Watch a video interview with BFF founder Jamil Bhuya and Anaam Ali on CTV here.