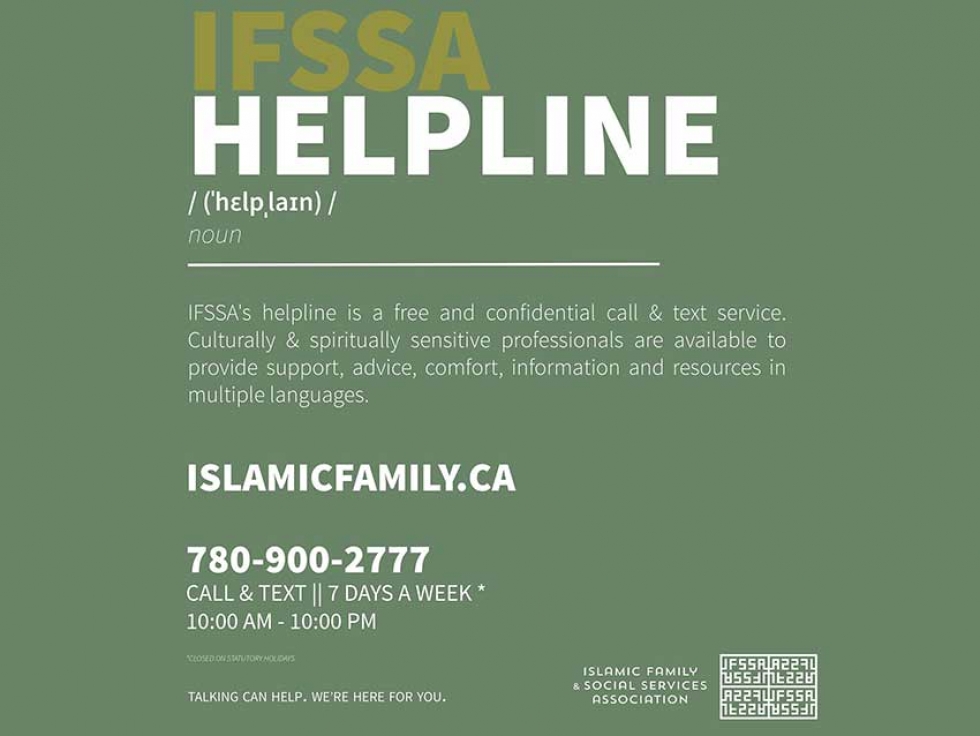 11
December


2019
Edmonton's Islamic Family and Social Services Association (IFSSA) Launches Helpline
Written by IFSSA
Imagine going through a panic attack one evening, and not knowing where to turn for help.
Imagine being in a relationship that you desperately want to get out of, and not knowing where to turn for help. Imagine you are a newcomer to Canada, looking for someone to answer life's questions, and not knowing where to turn for help.
Islamic Family and Social Services Association (IFSSA)'s helpline came out of a community need to access IFSSA's services, outside of business hours.
We know that situations, crisis and support don't follow a 9:00 AM - 5:00 PM schedule. We also know that not everyone in need of support is able to come to our office. We've heard this from Imams, victims of gender-based violence, community leaders, and staff — the demand and need was clear.
IFSSA's helpline is a free and confidential, call and text service.
The line is open from 10:00 AM - 10:00 PM, seven days a week (except on statutory holidays). IFSSA's culturally and spiritually sensitive professionals answer these phone calls and text messages, and are able to provide support, advice, comfort, information and resources in multiple languages.
As we officially launch the helpline today, we will be relying on our community, over the next few months, to provide us with feedback on how the helpline is running and what we can do to continue to improve this service.
Please keep us in your prayers,
Lubna Zaeem
Registered Physiologists, IFSSA Clinical Director