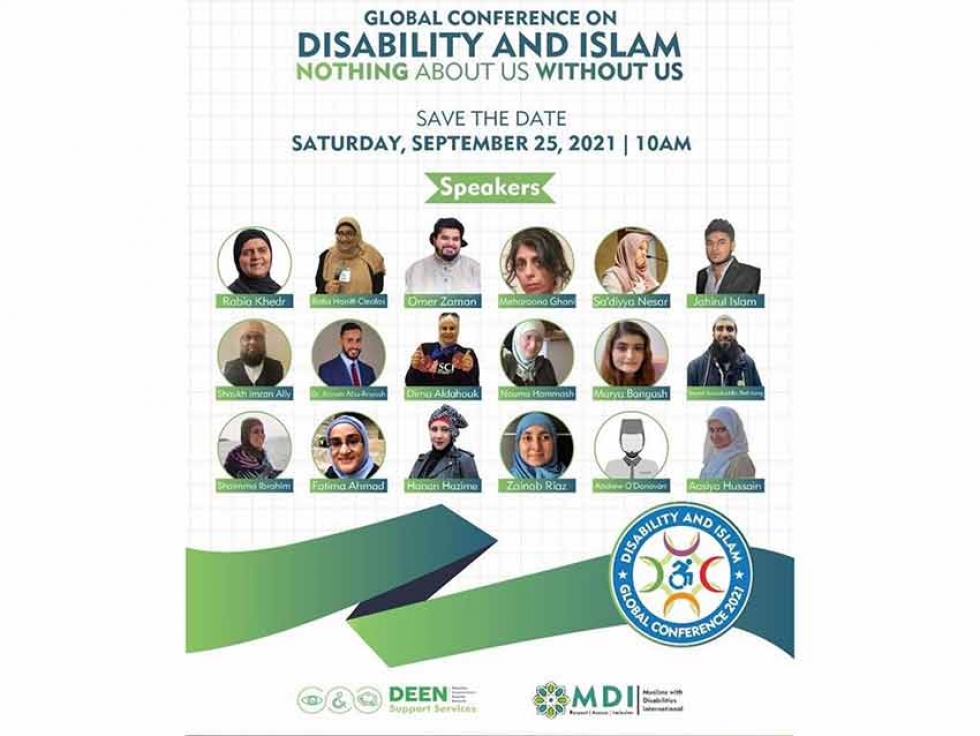 25
Sep


2021
Watch DEEN Support Services Hosts its 2nd Annual Global Conference on Disability and Islam Online
Written by Deen Support Services
DEEN Support Services and Muslims with Disabilities International was excited to host its second Global Conference on Disability and Islam on September 25th, 2021.
Sponsored by the Islamic Institute of Toronto (IIT) and supported by the Centre for Deen Studies and Sound Vision Canada, this free virtual conference brought together service providers, academics, Islamic scholars, and individuals living with disability from around the world to address the theme, 'Nothing About Us Without Us.'
"The goal of this conference is to advance the understandings of Islam and disability, the needs of Muslims with disabilities within an Islamic and societal context, and the responsibilities of Muslim communities to support individuals with disabilities. It's great to see international disability organizations, Islamic Research institutions, parents of children with disabilities, and Islamic scholars all coming together for this event," said Rafia Haniff-Cleofas, Conference Organizer. Haniff-Cleofas serves as DEEN's Community Relations Manager and has been active in Canada's disability rights movement over the last 25 years.
A leading voice in North America on disability issues, DEEN Support Services is pleased to host the second Global Conference on Disability and Islam with keynote speaker, Sa'diyya Nesar, a disability advocate, TEDx Speaker, Poet & Author of 'Strength from Within' from Hong Kong. She will be our Opening Keynote Speaker on the topic 'The Right to Belong and Heal - Amanah towards People with Disabilities.' We will be closing the Conference with Meharoona Ghani, a Diversity Specialist with over 20 years in the corporate world, now running her own business as a Consultant. She is living with a disability and is using poetry to get her message out. She will be closing our conference by speaking about the practical next steps we all need to take towards moving forward.
The conference provided a platform for participants to share and explore a range of perspectives, experiences and research about Muslims living with disabilities and bring awareness to a variety of topics including Mental Health & Islam, Marriage & Disabilities, Muslim Women with Disabilities and Sports, Mastering Safeguarding: At-Risk Muslim Adults and Children, Islamic Psychology, Employment/Economic Health, Education and Accessibility, Understanding Disability within the Spirit of Islam, Muslim Women with Disabilities and much more.
"Since we launched the "Towards an Inclusive Ummah Report" 14 years ago, we have been saying that it is essential that Muslim leadership recognize that Muslims with disabilities are present in their communities and there's a social and spiritual obligation on them to ensure that Muslims with disabilities are fairly and equitably included in all aspects of the community. This conference will encourage Muslims with disabilities to document their lived experience since research on Muslims with disabilities is limited and is usually done from a non-disabled person's perspective. This Conference embodies the principle of 'nothing about us without us,' " said Rabia Khedr, CEO of DEEN Support Services.
Exciting developments are also in store including the forthcoming launch of DEEN's first Annual Journal on Disability and Islam and the launch of DEEN's Global Network on Disability and Islam. These platforms will help continue the invaluable dialogues initiated at the conference.
"This Conference is for people of all faiths, especially those who interact with Muslims with disabilities. We want to cultivate a broader cultural understanding and mutual respect concerning the inclusion of people with disabilities through strategic partnerships and collaborations with both Muslims, people of other faiths and non-faith affiliations. We have speakers from Egypt, Sweden, USA Hong Kong, UK, Bangladesh, and Canada. We're looking forward to another exciting, educational and learning experience for the 2021 GCDI," added Haniff-Cleofas.
Watch the conference online on YouTube below (it may take a few moments for the video to load from YouTube).