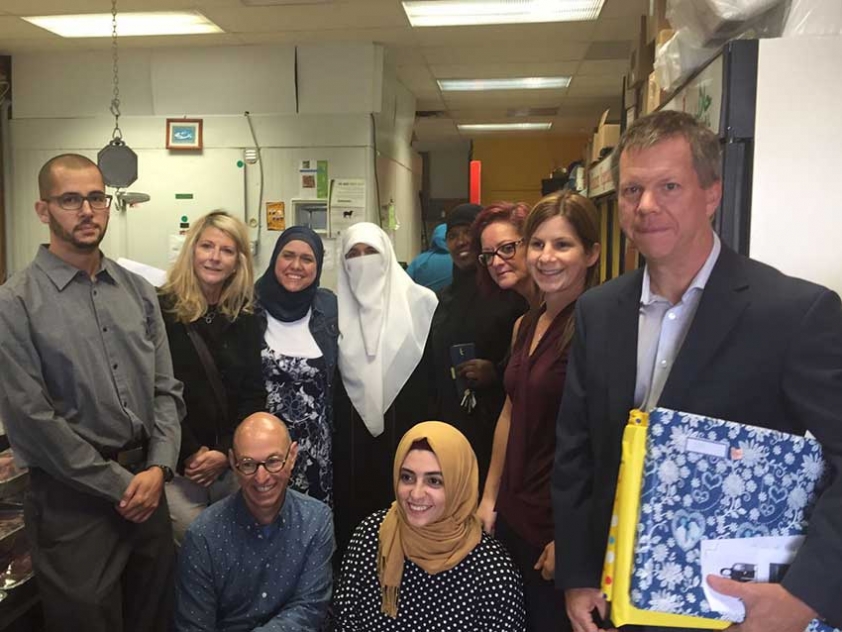 Members of the team that brought a special Eid al Adha to Muslim children in care this year. From left to right: Karim Mekki, Debbie Hoffman, Sawsane El Khatib, Majeda Elghaben, Aaminah Abdulqadir, Marion Bailey-Canham, Cindy Perron, Walter Noble, bottom row André Fontaine, Ithar Abusheikha
Courtesy of CASO
30
September


2016
Children's Aid Society Collaborates with Muslim Organizations to Bring Eid al Adha to Muslim Children in Care
Written by Muslim Link
This Eid al Adha was special for a group of Muslim children in our city that our community sometimes forgets. The Children's Aid Society of Ottawa (CASO), Children's Aid Foundation of Ottawa (CAFO), Muslim Family Services of Ottawa (MFSO), and CAS Friends collaborated to ensure that Muslim children living in foster care still got to participate in the blessings of this special holiday. Through proceeds raised through fundraising within the wider Muslim community and volunteer efforts, children not only received Eid gifts, including calligraphy of their name by local artist Chaker Zouari, but they also received qurbani meat to share with the support of Al Furat Meat Shop. CASO paid for 1/3 of the lamb, CAFO paid for another 1/3, and the rest of the cost was covered by fundraising in the Muslim community.
Muslim Link interviewed Cindy R. Perron, the Communications Supervisor for CASO, Karim Mekki, MFSO's Community Liaison Worker, and Sawsane El Khatib, a volunteer with CAS Friends, about how this initiative came together.
1. How did the idea of engaging Muslim children in care in a special Eid al Adha event come about?
Cindy: The Children's Aid Society of Ottawa (CASO) recognizes the importance of maintaining the culture and traditions of children and youth in our care. As part of our commitment to better serve diverse populations, we saw Eid al-Adha as an opportunity to empower Muslim children and youth.
It can be challenging for Muslim child to take part in Eid celebrations, especially if they are in the care of a non-Muslim family. We wanted to provide caregivers the tools to properly celebrate Eid, and we thought what better way to do so than to give them a lamb!
Upon discussion with our community partners, we decided that each family caring for a Muslim child or youth would receive a lamb to share as a family, and with the community as a whole.
Karim: Every year, MFSO, CASO and CAS Friends plan an Eid party for children in care. Last year, some of the non-Muslims around the table shared their family traditions around Christmas, and asked what Muslim traditions surrounding Eid were like. This led to a discussion about sacrificing a lamb and the story of Abraham and his son Ishmael. We then thought it would be nice if children in  care could experience that aspect of Eid that they often miss out on-sacrificing a lamb, donating a third, giving a third as a gift, and consuming the last third with their foster families.
2. Why is it so important to ensure that Muslim children in care continue to participate in their religious traditions?
Karim: Children and youth who are taken into care can experience a serious destabilization of their safest haven, their home. Many efforts are made to help children and youth transition into care, such as ensuring they have a safe place to live, providing them opportunities to make friends, and avoiding interruption in their schooling. However, one of the most crucial factors to consider during this transition is providing them opportunities to maintain and develop their cultural and religious heritage. This is especially relevant for Muslim children and youth who are placed in the care of non-Muslim families.
This past Eid, MFSO sought to use Eid Al-Adha's traditions of giving and sharing to bring together people of all faiths to help youth take pride in their religious festivities. The initiative showed children and youth in care that, on the one hand, foster parents cared enough to learn about Eid, and that the community at large cared enough to come together to help them celebrate. In essence, at the heart of this initiative was the objectives of (1) helping children and youth maintain and take pride in their identity, (2) giving them a piece of home by not missing out on Eid, and (3) instilling the values of giving and sharing because they had the opportunity to offer meat as a gift to family/friends and donating (sadaqah) to the needy and a variety of shelters.
3. What did each child receive?
Karim: They received lamb from Al Furat Meat Shop. All of the children received a $15 gift card from either Toys R' Us or St. Laurent Shopping Centre for the older kids. Foster parents were reminded to buy the children new clothes before Eid. Artist Chaker volunteered to make each of the children their own personalized gift writing their name in calligraphy and including a personalized quote for each child. These gifts were framed and gift wrapped by CAS Friends.
4. Why is it important to engage the wider Muslim community in supporting Muslim children in care?
Karim:We still need to raise awareness about our children in care. I believe that "talking to people" is one way of raising awareness, but it is somewhat passive. And we live in a generation where we are flooded with information, we have, unfortunately, become desensitized to issues that touch even the most vulnerable members of our society, children. Therefore, I feel a better way to raise awareness is to actually pull people in to participate, once they see for themselves the reality, be it the smiles on children's faces, the stories of success etc. they will become advocates for this cause.
Sawsane: It is important to keep the Muslim community aware of all the issues that are happening to other Muslim families and children and to encourage them be a part of these cases to offer kinship care or to become foster parents.
5. What lessons have CASO, MFSO, and CAS Friends learned from this experience?
Cindy: This experience has been truly empowering for the children and youth in CASO's care, and a great learning experience for many of their caregivers. Everyone involved at CASO has had the opportunity to directly see the impact that this initiative has had on the children and youth. It has also reinforced the idea that strong community partnerships are essential to the success of our initiatives. We look forward to continuing to work closely with both MFSO and CAS Friends to empower children and youth and enlighten our caregivers and staff members.
Karim: MFSO has learned that the network of support in the Ottawa Muslim community is larger than one perceives. The challenge is being able to disseminate information and connecting everyone in a timely manner - this needs some brainstorming. 
Sawsane:We learned that collaboration among organizations makes the event amazing and almost perfect!
6. What feedback have you received from Muslim children in care and their foster families about this event?
Cindy: Upon delivery of the lamb, many families shared their plans for donating and gifting portions of the meat. They were excited to take part in this celebration, and most had taken the time to coordinate their donations in advance, deciding as a family what they would like to do with their lamb.
We were also fortunate to have many families reach out to us following Eid to tell us about how their family celebrated, and the ways in which they engaged their community in the celebration.
One particular family made plans to bring a portion of the meat to their children's school and prepare it for their classmates. In this particular case, the children in care were the only Muslim children at their school. This initiative gave them the opportunity to share their culture and religion with their classmates, which was an extremely empowering experience.
Another family chose to donate a portion of their lamb to their local food bank. The children made an informative poster about Eid to go along with their donation, and they were even given a tour of the facility to find out more about how a food bank works. It was truly a learning experience for everyone involved.
As a whole, foster families have provided us with extremely positive feedback, as they recognize the impact that the celebration has had on the children and youth in their care.
This article was produced exclusively for Muslim Link and should not be copied without prior permission from the site. For permission, please write to info@muslimlink.ca.