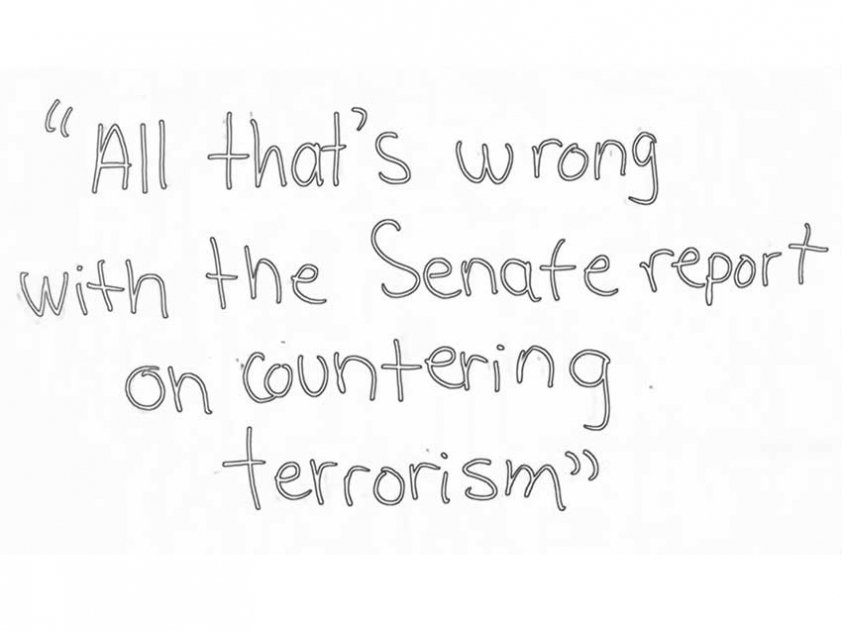 A clip from the National Council of Canadian Muslims (NCCM)'s animated video about the Senate Report.
Courtesy of NCCM
30
Jul


2015
"Certifying Imams" and the Senate Report on Countering the Terrorist Threat in Canada
Written by Muslim Link
So much has been written about the recent Senate Report , particularly the suggestion of "certifying imams". The "Certifying Imams" controversy comes from Recommendation 9 of the Senate Report which states that "The federal government work with the provinces and the Muslim communities to investigate the options that are available for the training and certification of imams in Canada."
This recommendation arises from the testimony of Ottawa Muslim Michelle Walrond whose 2014 profile in Muslim Link you can read here. A transcript of her testimony can be read here and she has been interviewed by the Ottawa Sun about her recommendation and the final report which you can read here. As Conservative Senator Daniel Lang explained in the National Post, "She told the Committee that her son Luqman Abdunnur, who was reportedly under national security investigation, was radicalized at a mosque in Ottawa, and arrested three days after the October 2014 Parliament Hill attack. [Walrond] called on the Committee to "create a certification or licensing standard for clergy and religious leaders in Canada." While the Committee did not go this far, it felt the suggestion was worthy of further, open exploration, discussion, and debate."
Also in his article in the National Post Senator Lang clarified that "the Standing Senate Committee on National Security and Defence did not propose that government intervene to certify or establish a registry of Islamic or other clerics.
A spokesperson for the Minister of Public Safety, Jeremy Laurin, told media that "The recommendation in question is not something our Government is considering."
Three Liberal Senators refused to even sign off on the Senate Report, including Liberal Senator Grant Mitchell who explained his decision in the Toronto Star which you can read here. In his article, Senator Mitchell explained that he felt the idea of certifying imams " is a bad idea because it unfairly stigmatizes an entire religion. It also foolishly puts the government in the business of deciding which religious ideas and preachers it deems suitable. This is hardly a suggestion worthy of a Senate committee report."
It should be noted that there were two imams who were asked to give testimony during the Senate committee hearings which informed this report; they were Calgary's Imam Syed Soharwardy and Ottawa's Imam Zijad Delic. You can read the full transcript of their testimony here.
The following are some media pieces written by Muslims or that include interviews with Muslims criticizing the idea of the government being involved in imam certification and the Senate Report in general.
Canadian Senators Want to Target Radicalization by Training and Certifying Imams
Interview with: Imam Yasin Dwyer in Hamilton
Source: Vice News
Date: July 8, 2015
Certifying Imams?  
Interview with: Imam Yusuf Badat in Toronto
Source: CBC Toronto Metro Morning
Date: July 9, 2015
Imams cool to Senate's proposal to certify them
Interview with: Imam Imtiaz Ahmed, Dr. Salah Basalamah, and Imam Mohamad Jebara in Ottawa
Source: Ottawa Citizen
Date: July 9, 2015
Senate report leaves bitter taste with Canadian Muslims
Author: Amira Elghawaby, the National Council of Canadian Muslims (NCCM)
Source: The Globe and Mail
Date: July 10, 2015
An Alternative to Certifying Imams
Author: Imam Mohamad Jebara, Cordova Academy
Source: Ottawa Citizen
Date: July 10, 2015
Certifying imams as a security measure: An imam's response
Author:  Imam Sikander Hashmi, the Kanata Muslim Association
Source: Globe and Mail
Date: July 14, 2015
Senate's call to train Imams misses the point
Author: Sarah Mushtaq in Windsor
Source: Windsor Star
Date: July 15, 2015
Kamloops imam calls Senate committee proposal 'discriminatory'
Interview with: Imam Mazhar Mahmood in Kamloops, BC
Source: Kamloops This Week
Date: July 16, 2015
Date: July 17, 2015
Senate report on imam certification aims to make Canadians afraid
Author: Mustafa Farooq, Alberta Muslim Public Affairs Council
Source: Edmonton Journal
Date: July 20, 2015
in Toronto
Source: rabble.ca
Date: July 20, 2015
This article was produced exclusively for Muslim Link and should not be copied without prior permission from the site. For permission, please write to info@muslimlink.ca.