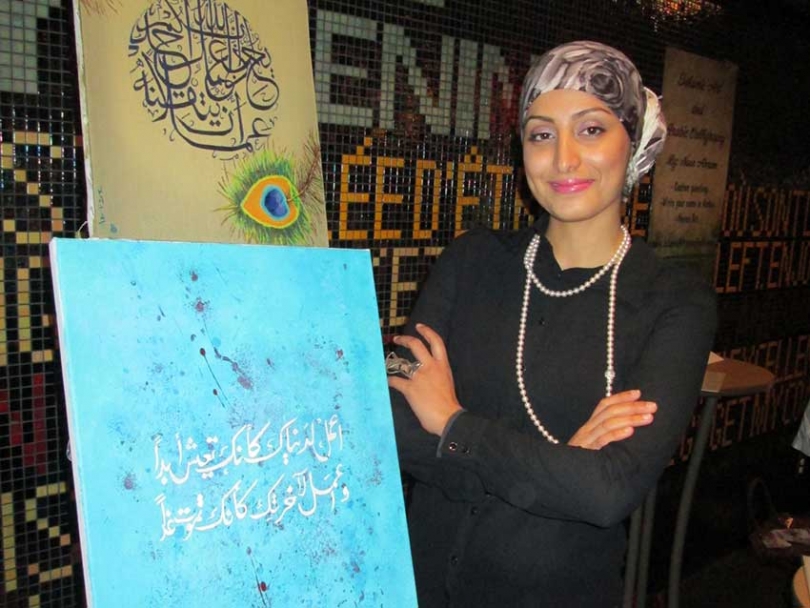 Artist Nagat Bahumaid at EMW
Photo Credit: Chelby Daigle
24
Dec


2012
Celebration of art, music and Muslim sisterhood returns for fifth year
Written by Chelby Daigle
The
fifth annual Expressions of Muslim Women (EMW) took place on Saturday, November 17 at the Centrepointe Studio Theatre. The sold-out event raised funds for local charities like Sadaqa Food Bank and Nelson House, a shelter for women and children fleeing abuse.
The title of this year's event was "Strength in Sisterhood", a theme which ran through several of the performances that evening. The theme was also embodied by the commitment of the event organizers, a group of women who have volunteered to make EMW an artistic celebration for women to look forward to each year.
Nagat Bahumaid, a local visual artist, is grateful for the venue the EMW team has provided for artists like herself to display and sell their work.
"Other than EMW, there aren't really any events in Ottawa focusing on Muslim artists. This event is so important for me because I have been given a free table to showcase my work in a cosy setting where I get to interact with people who are genuinely interested in the arts."
The enthusiasm and support of the EMW audience often keeps artists coming back to share their work each year. Baraa Arar returned to perform her Spoken Word poetry for a second year.
"I love the audience! They were engaged and gave off an interested vibe. Like last year, they were wonderful, and very genuine. It feels great to immerse myself in such a great group of new and old faces," Ms. Arar said.
Ms. Bahumaid credits the response of the EMW audience with building her confidence as an artist. "I didn't expect to have such an amazing response. I always treated my art as if it was something that was just mine. I didn't want to display it. I was really nervous about displaying it because I didn't know how people would react. But I actually sold paintings! It gave me a lot of confidence and a boost of motivation to develop my art further and to think of my art as something that I can display publicly rather than just painting for myself."
EMW once again drew in an audience of both Muslim and non-Muslim women. "Art is a great way to connect people across cultures and faiths," says Ms. Bahumaid. "There were a lot of non-Muslims who responded to my art and bought my prints which was great. We can express our religion through our art that people from different communities can understand. People don't have to look at me, at my scarf, they look at my art. They look at me through my art."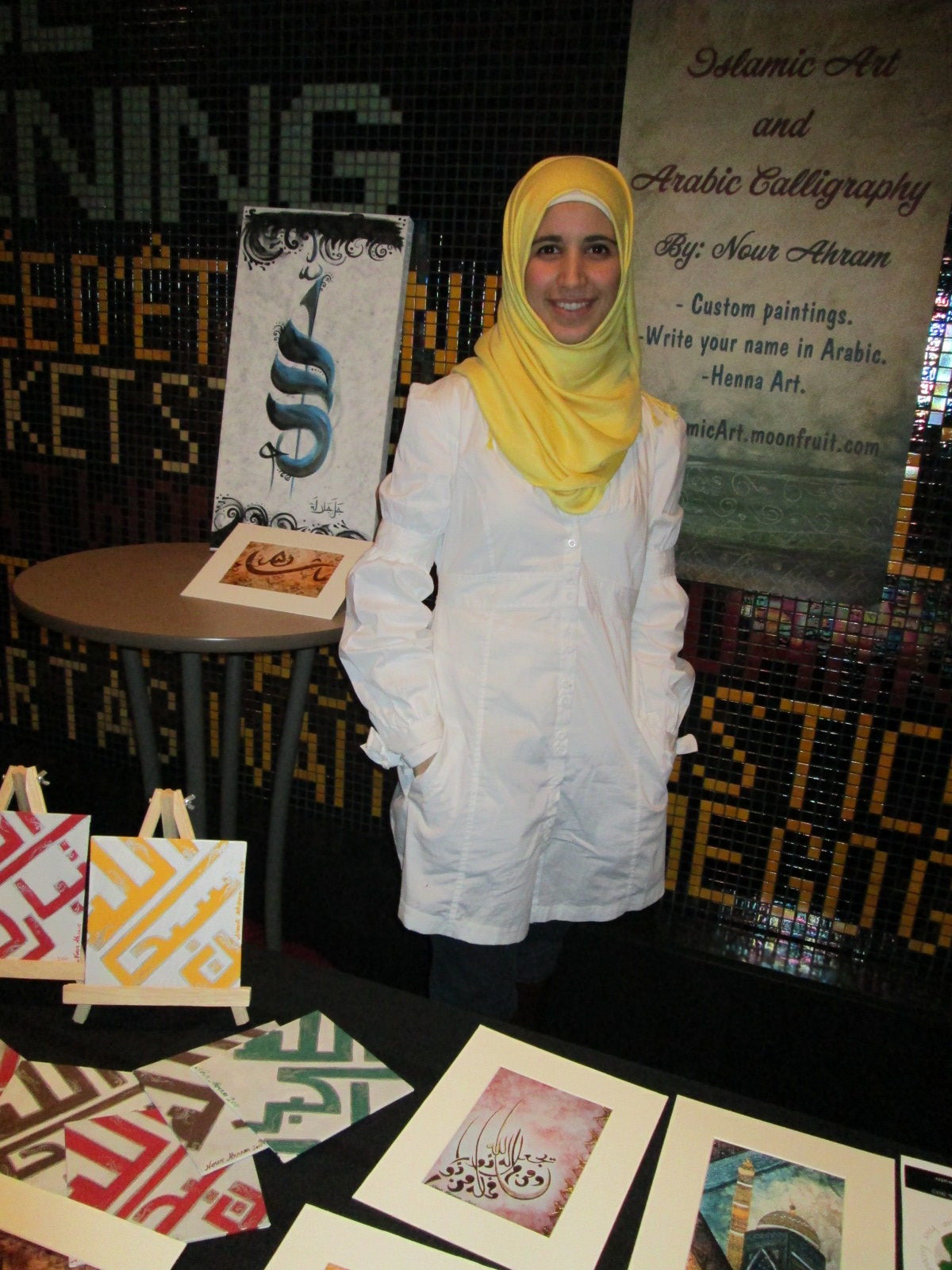 Technologically, EMW has progressed over the years. The advantages of being in Centrepointe's Studio Theatre were more fully utilized. Performances were accompanied by images on a wide screen behind the artists. This was particularly useful when artists were singing or reciting in Arabic or Urdu as English translations were displayed on the screen.
In the midst of the celebration, there were poignant reminders of women's daily struggles. A skit performed by Audrey Saparno and Krystal Cain-Gebara, explored the strained relationship of two long-time but recently estranged friends who eventually reconnect as one admits that she is getting divorced and needs her friends' support to get through it.
Outrage at the recent attacks on Gaza was expressed by artists like Anastasia Filippova who performed a song dedicated to the people of Palestine and Ghadeer Abou-Shakra who recited poems in Arabic about her homeland.
Women find "strength in sisterhood" often in the most trying of times and so this year's EMW theme reflected both the joys and sorrows of Ottawa's talented Muslim Women.  
Imperfectly Perfect
I have an uncontrollable sweet tooth
My voice shakes when I speak the truth
I sometimes pretend to be the lead sleuth
When I'm nervous I talk too much
I'm a sucker for my mother's soft touch
I tend to act off my hunch
I  absolutely love chocolate fudge
I try not to prejudge
I hate it when my writing smudges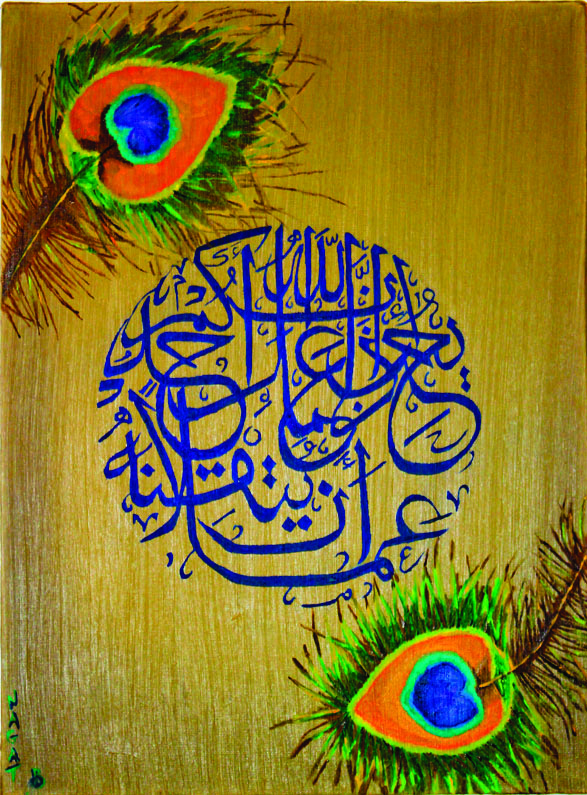 I don't show it when I hold grudges
My opinion barely budges
I laugh too hard
I put up an emotional guard
I dream of a husband
kids and fenced yard
I don't always bring home a 90 on my report card
I never make the same mistake twice
I make it 5 or 6 times to be precise
I have unpredictable untested advice
I'm brutally direct
Sometimes I say things I regret
I explain using sound effect
Mainstream ideas I usually reject
But I do not object
To the fact that I am imperfect
Imperfection
Imperfection is the human side effect
We are all different but imperfect is our fusion
100% flawless is an illusion
Cause perfect is not in appearance but in movement
How we carry ourselves as we walk
Our diction when we talk
It's the opinions we share
It's the depth of our eyes when we stare
It's our generosity how much we care
It's our pain and despair
It's our quirks and our gaffes
It's friends our other halves
It's the blooding pulsing through are veins
It's the neurones flashing in our brains
It's the imperfect perfection that make us humane
- Baraa Arar
This article was produced exclusively for Muslim Link and should not be copied without prior permission from the site. For permission, please write to info@muslimlink.ca.