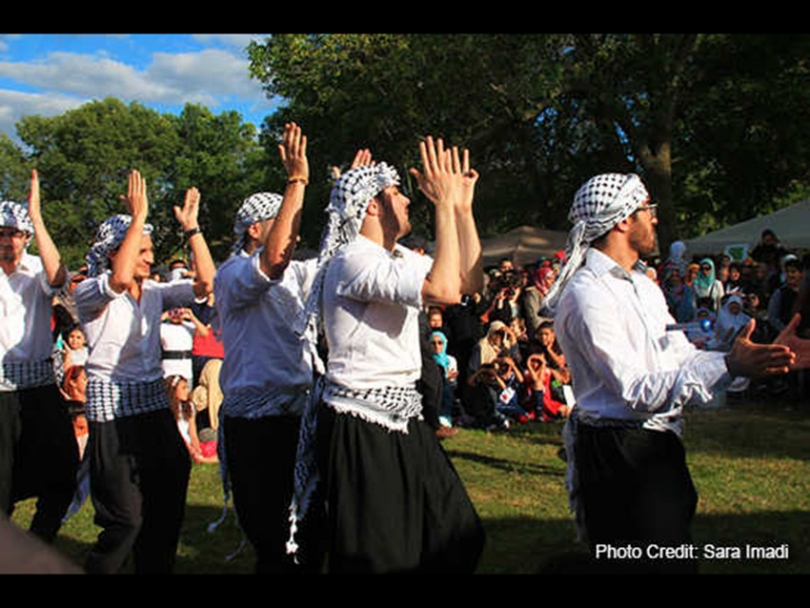 Cultural performances were a highlight of the festival.
28
September


2013
Annual Summer Festival showcases cultures, builds "respect"
Written by Staff Writer
For the 13th year in a row, Britannia Park transformed into a diverse and fun-filled showcase of Ottawa's eclectic Muslim community to celebrate both the summer and Eid.
Held by the Muslim Association of Canada (MAC) on August 10, the festival once again provided an opportunity for members of the community to showcase their cultures and traditions to one another and the general public.
"The more familiar we are with each other, the more respect we will build within our own community. Not only does it create positive networking for local businesses but it gives the youth a chance to feel part of a global family," said Mariam El-Chamaa, a professional event planner who headed up this year's programming for the first time.  She said she was surprised by how well she enjoyed the experience.
Along with tents set up from a variety of Muslim majority countries from around the world such as Palestine, Egypt, and Somalia, there were also tents representing Muslim convert communities closer to home including First Nations in Canada and Latin Americans representing Venezuela and Peru.
Festival-goers share their reflections
"I've attended the festival for 3 years now with my family. My favorite part of the festival was the performances by the different tents. They are quite engaging and give a special feeling of excitement to the festival. Festivals like this are essential to the growing Muslim community. Through it we are able to showcase the many talents that we have in the Muslim community. We also come together not only as Muslims but also different parts of the community based on ethnic backgrounds. It's amazing to see that even through there are many differences we are able to appreciate the array of culture that we present to one another. This gives an amazing sense of inclusion that is always supported in Islam."
"" Shahad Khalladi, University of Ottawa student
"I went with my family and friends. A festival like this would be important for strengthening the sense of community spirit among Muslims in Ottawa because it brings all Muslims together and different things at the festival encourages Muslims to spread the word about Islam, even a small fact about Islam could affect people."
"" Saara Mian, Grade 12 student
"Interior Charms is a new company and the Festival provided a great opportunity to showcase business and services to the community. It was also a great way to meet the business community as well as the general public. We were able to establish contacts with other businesses as well as potential customers. I liked how the festival brought different cultures together under the umbrella of Islam/Muslims. It was a fun place to meet friends and bring the whole family!"
"" Mona Abow, Interior Charms co-owner
The festival was sponsored by the City of Ottawa, OC Transpo, Ottawa Fire Services, Human Concern International, TD Bank, the Liberal Party of Ontario, and local MPs including the Hon. John Baird (Canada's Foreign Minister) and NDP Foreign Affairs critic Paul Dewar. 
This article was produced exclusively for Muslim Link and should not be copied without prior permission from the site. For permission, please write to info@muslimlink.ca.