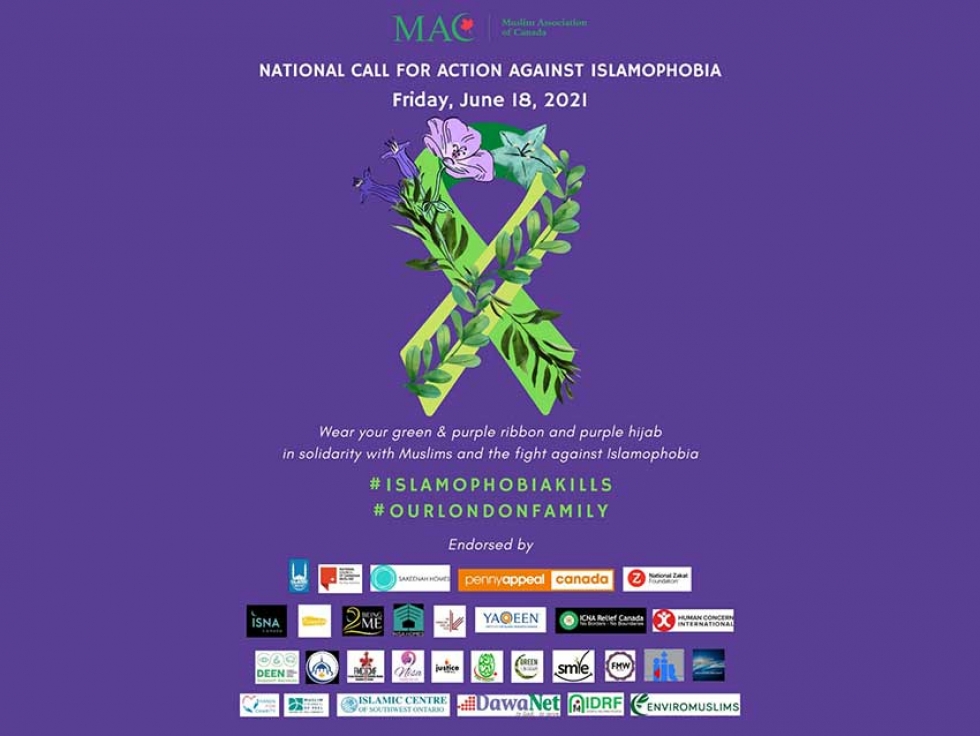 17
Jun


2021
Muslim Association of Canada (MAC) Organizes National Call for Action Against Islamophobia Events in Cities Across Canada on Friday June 18
Written by Muslim Association of Canada
The Muslim Association of Canada (MAC) is organizing a National Call to Action against Islamophobia on Friday, June 18th. This national event is endorsed by over 30 major Muslim organizations across the country.
This call is being made by organizations who serve Muslims in Canada under a wide variety of mandates, including: social services; education; disability services; environmental issues; civic engagement; women's issues; mosques and centers; relief efforts; mental health supports; shelters; and human rights efforts. The issue of Islamophobia impacts every single one of us and the communities we serve.
The tragic acts of Islamophobia and hate-based crime against Muslims in Canada has been drastically increasing over the past few years. Action needs to take place immediately to dismantle all forms of Islamophobia and anti-Muslim hate! Canadian Muslims are proud of who they are and how they look! Whether that is wearing a hijab, a beard, or cultural clothing.
"The London attack is a tragedy that has woken every Canadian to the reality of Islamophobia in our country and so we must act now. Muslim children deserve to feel safe and proud of their identity. We cannot let another family become a victim of such senseless acts of hate", commented Sharaf Sharafeldin, the Executive Director of the Muslim Association of Canada.
On Friday June 18, 2021, Canadians across the country are gathering in front of legislative buildings and city halls with a National Call to Action against all forms of Islamophobia and Anti-Muslim Hate. Canadians are expecting elected officials at all levels of government and law enforcement leadership to take serious action to remove the root causes of Islamophobia and hate against Muslims. Everyone is encouraged to wear a green and purple ribbon and women to wear a purple hijab or scarf in solidarity with all Muslims in this fight against Islamophobia.
MAC supports the upcoming Emergency National Summit on Islamophobia and is working with community partners to ensure that the summit will focus on effective action by the government against Islamophobia.This should include legislation, budget allocations, and policy changes to end Islamophobia .
For Media Inquiries please contact This email address is being protected from spambots. You need JavaScript enabled to view it. or 905-822-2626 ext.233
The following are a list of some of the events being organized by MAC in cities across Canada on Friday, June 18th.

Click on each city for event details:
Quebec
Ontario
Alberta
British Colombia