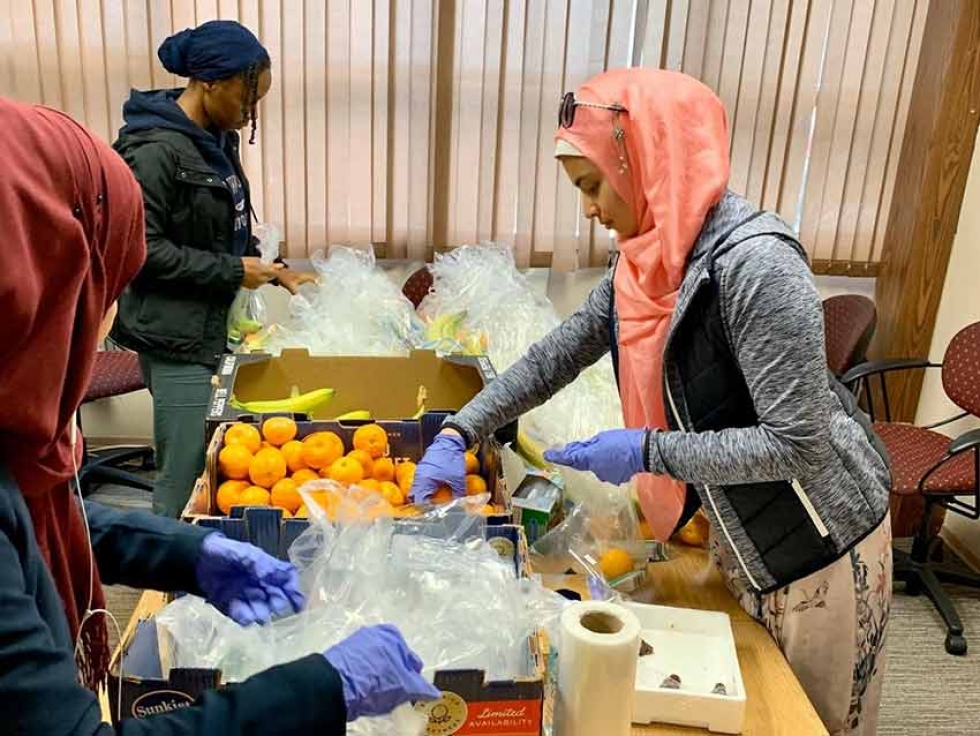 Youth volunteering with MAC Give Foodshare
Sarah Attia
13
Aug


2020
Charitable Activism Provides Purpose and Connection for Canadian Muslim Youth During Pandemic
Written by Sarah Attia
The pandemic lockdown may have impacted our mental health, but not many people are talking about it.
The COVID-19 pandemic is a time like no other and youth are among the most vulnerable. Most of them had never experienced real isolation before and felt directionless. As the youth director of a national Muslim organization, I can say that during this time, more than ever, is the time to involve our children in pointed and purposeful community activism.
The Muslim Association of Canada (MAC) Youth Department engages youth of all ages. We knew that when the virus emptied schools and community centers, this disconnected youth from their friends, communities, and broader social networks creating a vacuum that needed to be filled. MAC organized countless virtual learning opportunities, dialogue, and even exercise sessions to keep hundreds of youth properly occupied. But none of that fully provided the vital sense of purpose and connection that our youth crave and need.
So we decided to direct their energy to work where it was most needed. We quickly mobilized and started the MAC Give Foodshare national campaign in 9 cities across Canada to combat hunger during the lockdown. We quickly realized that, given their tech-savvy skills, our youth were some of the quickest to self-organize and mobilize, while staying at home. We were surprised at their enthusiasm and even more shocked to witness the results.
Traditionally, we have always centred our MAC Youth Department around a core Islamic principle: activism through the service of others. Isolated by the lockdown, youth across the country responded by directing their pent-up energy towards the campaign. Youth as young as 14 used their skills to create graphics, videos, and social media content to spread the word, mobilize others, and raise over $125 000 to date. Within just a few days, they mobilized to help many members of the broader community, including the elderly, homeless, newcomers, and those whose lives have been crippled by the economic downturn.
I quickly realized how this activism provided the sense of purpose that could neutralize the isolation that the lockdown imposed on our young people. Eventually, the youth became the backbone of our national campaign. They spent hours calling shelters, faith-based organizations, and community centres to build partnerships that help them reach multiple neighbourhoods across the country. A lot of the food provided were hot meals also arranged by our youth who connected with small restaurants and catering businesses who've also needed support since the lockdown. We've since delivered over 5,000 food packages to various households across the country. The smiles and words of appreciation that our youth volunteers have received in return, has filled their hearts and kept them going.
This success turned a single campaign into a nationally recognised food program that connected food suppliers, service organizations and interfaith and community connections. Prime Minister Justin Trudeau recognised the impact of the program as did Conservative MP Kelly McCauley in the federal legislature. For months during the lockdown, the MAC Give Foodshare has been a strong contributor across Canada, and our youth have been the main reason for that. This has had a ripple effect as more and more donors have stepped in once they saw the program's success.
The reality is the community needs our youth just as much as they need the community. It is the job of the wider community to step in to galvanize youth towards a worthy goal to ensure that they come out of the pandemic stronger and with purpose.
Watch Prime Minister Justin Trudeau speak about MAC Give Foodshare at MAC Eid Fest 2020 (It may take a few moments for the video to load from YouTube)
Watch Recognition by MP Kelly McCauley in the Federal Legislature (It may take a few moments for the video to load from Facebook)
https://youtu.be/s--Mq3TlWHc