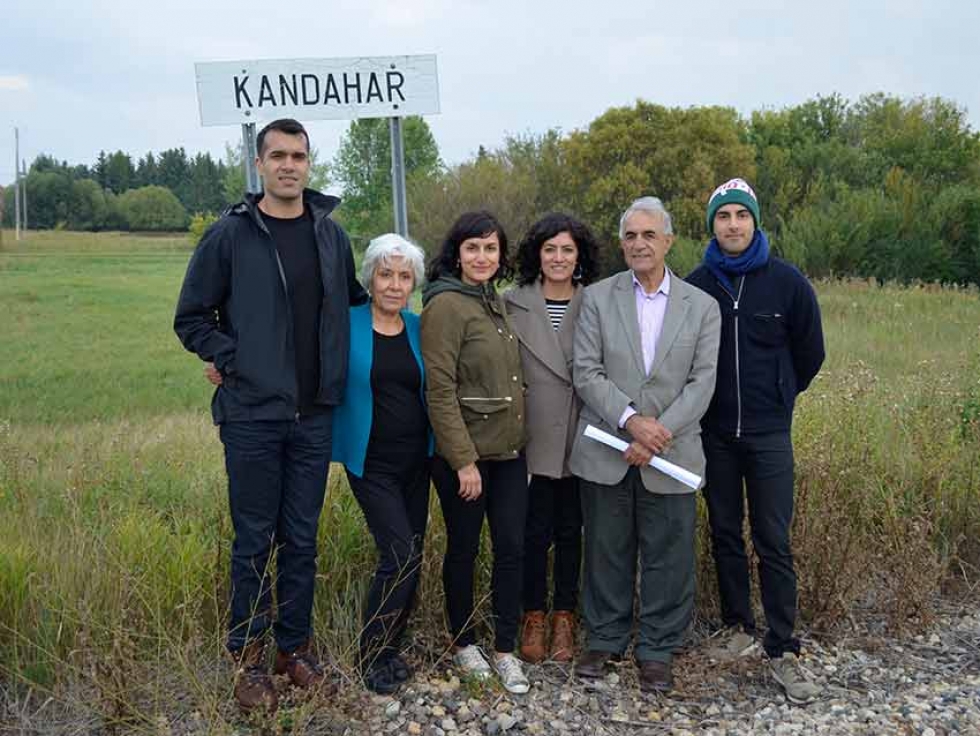 The documentary "A Kandahar Away" follows an Afghan Canadian family's journey to Kandahar, Saskatchewan.
08
Oct


2019
An Afghan Canadian Family's Emotional Journey Between Two Worlds In A Kandahar Away on documentary Channel, October 20
Written by A Kandahar Away
Everyone has heard of Kandahar, Afghanistan but Kandahar….Saskatchewan!
The latter is a dying Prairie hamlet with fifteen inhabitants, but for Abdul Jamal that dot on a map of Canada gave his life new meaning and certainly impacted his family.
A KANDAHAR AWAY is the story of the Jamal family's journey from Afghanistan to a tiny Canadian community ---it's a film about reconciling the past and present, becoming a new Canadian, but most significantly it is about family and one man's unlikely dream.
Written and directed by Afghan Canadian filmmaker Aisha Jamal, the daughter of Abdul Jamal, A KANDAHAR AWAY launches on documentary Channel on Sunday, October 20 at 9p.m. ET/PT.
Abdul Jamal left Kandahar, Afghanistan with his young family in 1990 and the discovery of a Saskatchewan 'Kandahar' sparked a longing for his beloved homeland. It's a longing he hopes to pass on to the next generation of Jamals, so he decided his five adult children would get their inheritance early: a plot of land for each in Kandahar, Saskatchewan. A tenuous link to his birthplace perhaps, but one full of emotional resonance.
A KANDAHAR AWAY charts the Jamal family's first trip to their new property. It's a very personal family story told by Abdul's daughter Aisha. "His purchase of land in the Canadian Kandahar is his way to let us have a piece of home," she says, "even if it's the Canadian Prairie version."
But this is not the inheritance the Jamal children would have chosen. They have grown-up to become Canadians and don't share their father's passion for either Kandahar. Owning land in a dying farm town two hours from the nearest airport is not the dream-come-true for these urban new Canadians.
And how did a tiny hamlet take to the Jamal's and their somewhat unorthodox presence? They were greeted warmly, quickly meeting locals, forming friendships, hanging out with the mayor, the last Cree resident, a Hutterite woman, and soaking in the history of their new community.
Then Abdul has another idea that really that stunned his children.
What better place to build a monument, to the 158 members of the Canadian Forces who gave their lives serving in the Afghan war, than in this newly discovered Kandahar? It's a proposal that divides Abdul's family---has their father gone just too far this time? But Abdul is adamant and even getting an endorsement from retired General Rick Hillier, who lead the Canadian Forces mission in Afghanistan.
A KANDAHAR AWAY is the moving story of Abdul Jamal's unbreakable link to his past—he is a remarkably obstinate, loving, and vehement character viewers are unlikely to easily forget. The film is about finding roots and reconciling the past with the present, but most importantly it deals the forces that bind a family together. "Making this film was far more difficult than I ever imagined," says Aisha Jamal. "It forced me to confront my preconceived ideas about my family, myself and even my country."
To learn more visit the website www.akandaharaway.com
Read Muslim Link's interview with Afghan Canadian filmmaker Aisha Jamal here