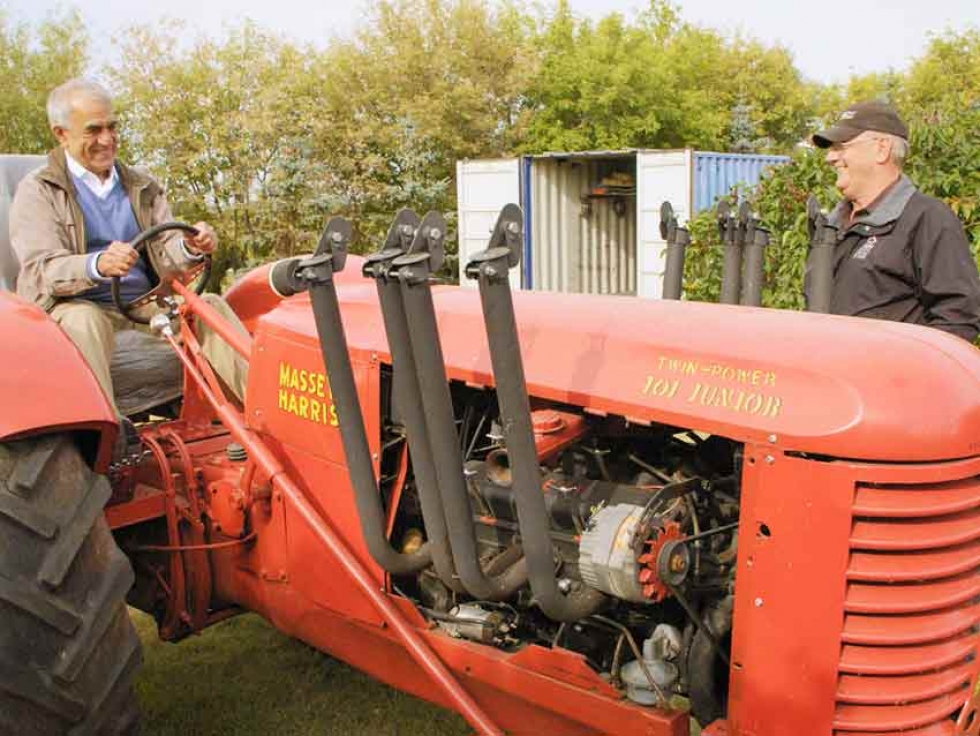 29
Apr


2019
Afghan Canadian Filmmaker Follows Her Family's Road Trip to Visit Kandahar, Saskatchewan
Written by Chelby Daigle
As an immigrant to Canada, Abdul Bari Jamal's longing for his homeland of Afghanistan is a constant theme in his life. Now living in Toronto, Canada, he never thought he would find a piece of his former home right here in Canada's heartland. Delighted by his discovery, he decided to buy every member of his family a plot of land in the dwindling farming community of Kandahar, Saskatchewan.
The documentary "A Kandahar Away", by Abdul's daughter Aisha Jamal, follows the Jamal family – all born in Kandahar, Afghanistan – on their first family trip to see the land. The documentary captures the interaction of the Jamal family and their urban, immigrant perspective with that of the rural population of Saskatchewan and ultimately paints a varying portrait of what it means to be Canadian.
The film is premiered in Toronto in May at the Hot Docs International Film Festival.
Muslim Link interviewed Aisha Jamal about making this documentary.
You work in the field of documentary programming and have had to see a lot of documentaries about your family's homeland, Afghanistan. What role did this play in you wanting to make a film about your own family?
I watch close to 400 documentaries a year which I know sounds ridiculous but it's true. As a member of the Afghan diaspora, I pay particular attention to how documentaries deal with stories and subjects from my homeland. The majority of films I've seen have been about Afghanistan have been by filmmakers that are not from there. As a conservative, and religious country this means you'll have limited access to the deeper, more private stories of Afghans.
The images I kept seeing focus on warlords, violence and the oppression of women. Those things do exist and are part of the story but that's a very over-rehearsed and over-represented aspect of Afghanistan. I am craving more complex images of Afghans, at home and in the diaspora. I see myself as part of a new, growing generation of Afghan filmmakers worldwide, striving to tell their own stories, and diversifying the images that circulate in the media about us.
2. Often documentaries about relationships between immigrants and their Western-raised children focus on culture clash, but the tensions in your film revolve more around your father's intense Canadian patriotism and the lengths he goes to establish "deep roots" in this country. Why do you feel this aspect of your film is important for viewers to learn from?
I'm always fascinated with how people deal with this relationship between the different generations of immigrants within their own families. I think it's important to see that relationships have many complex dynamics, and that it doesn't play out the same for all of us. You point out how that's different in my family than others; and even within my family, we each have our own thoughts about each other, my parents and this country.
3. In making this film, you had to go between urban Toronto and rural Saskatchewan. Did this experience open your eyes to some realities of life in Canada that you had not previously considered?
I realized how little I know about rural, agricultural Canada. I actually had to look up the word "combine" during the planning process. I've never encountered a mention of this piece of farming equipment otherwise. For the film, I take my family to visit the land we are going to inherit in this Canadian Kandahar for the first time.
I thought long and hard about what people do there for fun when there are no movie theatres or new restaurants to try. Exploring all that was probably one of the funniest aspects of making this film. We went fishing for the first time (and my mom loved it!) and my brother got to ride one of those elusive combines. I've learned so much about a part of Canada that I knew nothing about previously. This makes me pay a whole other level of attention to the Prairies.
4. Would you recommend that the children of immigrants watch this documentary with their parents? Do you hope it could be a conversation starter for other children who are trying to better understand their parents' own complex search for belonging and identity?
Definitely. My family really shares some difficult family arguments on camera. It's truly been a gift for me to think about how my family has dealt with migration, the legacy of war and living on occupied land in Canada. I hope that the film will inspire audiences to explore the dynamics that shape their families and their existence in this country.
5. Is there anything else you would like to add?
Although some of the issues we touch on in the film are heavy, it's also a film with humour. I hope that it provides enough layers for everyone to find something they can relate and find interesting.
Listen to an interview with Aisha and Abdul Jamal on CBC Radio here.
Read Aisha Jamal's article about making this documentary on Chatlelaine.com here.
Follow A Kandahar Away on Facebook
This article was produced exclusively for Muslim Link and should not be copied without prior permission from the site. For permission, please write to info@muslimlink.ca.