Ad campaign raises awareness about the life of Prophet's grandson
Written by Mohamed Suleman
For the last two months, a group of youth in the city have been hard at work trying to get advertisements on bus shelters and preparing gift bags to hand out to the public. Their goal "" to spread the noble message of Hussain, the blessed grandson of the Prophet Muhammad, peace and blessings be upon him.
"Who is Hussain" is an initiative that began in the UK that has spread across the world; arriving in Canada's capital. The campaign aims to familiarise the public with Hussain, may Allah be pleased with him, who alongside his closest companions and members of his young family, was killed for standing up against injustice and oppression.
Hussain's courage, selflessness and humanity have been lauded by famous personalities like Charles Dickens, Mohandas Ghandi, and Edwards Gibbon. The words of poet Josh Malihabadi, who said, "Let humanity awaken and every tribe will claim Hussain as their own," feature on a number of the Who is Hussain ads.
According to Zainab Merhi, a commerce student at the University of Ottawa and one of the organizers of the campaign in Ottawa, it's a way to show people that the lessons that can be learnt from Hussain's life are not just for Muslims.
"The main purpose behind the quotes is to convey that the message of Hussain is universal, and not only for Muslims," she said. "This campaign seeks to let people know about the extraordinary personality of Hussain and to create some inspiration and hope in the general public by using his story and personality."
Australia, India, Finland, and Kenya are just some of the other countries around the world that have also taken up the campaign.  In Canada, Ottawa was one of the first cities to take the Who is Hussain project on board with, Montreal and Toronto also joining in. Along with having ads put on public transport platforms across the city, organizers in Toronto also gave out hot chocolate in downtown Toronto while educating people about Hussain.
The campaign in Ottawa was divided into two parts "" a city-wide ad campaign and a one-day event on January 11 where volunteers handed out gift bags to people in downtown Ottawa. The gift bags, which numbered 1,000 in total, contained candies, customized pens and gift cards.
The ad campaign was extensive, with Who is Hussain ads finding their way onto more than fifty OC Transpo buses, two bus shelters, and in the weekend edition of the Metro newspaper.
A large-scale project like this required a fair bit of funding and according to organizer Reda Taleb, religious centres, student university groups, and individuals from around the city donated generously to make the campaign possible.
Taleb hopes the initiative will continue to grow. He is confident the campaign will be an even bigger event come next year.
"I think now since people have an idea of what this is all about, we can definitely get more funding next year God willing," Taleb said. "With more funding we can make an even bigger effect and reach out to more people."
For more information on the Who is Hussain campaign, visit www.whoishussain.org. You can also reach the Who is Hussain Ottawa team by emailing them at This email address is being protected from spambots. You need JavaScript enabled to view it..
Mohamed Suleman is an organiser of the Who is Hussain campaign.
This article was produced exclusively for Muslim Link and should not be copied without prior permission from the site. For permission, please write to info@muslimlink.ca.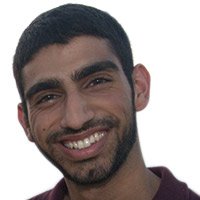 Originally from India,
Mohamed Suleman
was born and raised in Dubai, UAE. He graduated with a bachelor's degree in journalism from Carleton University in 2014 and currently works as a journalist in Dubai. Find him on Twitter
here
.