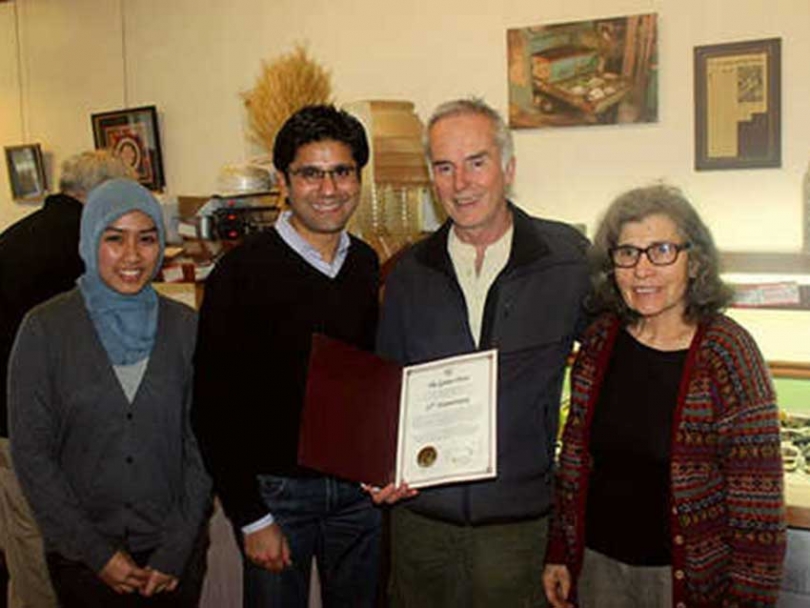 Adilah Makrup accompanied Yasir Naqvi for a day. Here they visit the owners of The Green Door Restaurant who are celebrating 25 years in business.
Photo Credit: Omayma Rezgui
06
December


2013
Snapshot: Day in the Life of Yasir Naqvi, Ontario Minister of Labour
Written by Chelby Daigle
We at Muslim Link strive to make it a non-partisan publication that respects that Ottawa's Muslims support a variety of political parties. However, when we were invited to spend a day with Yasir Naqvi, the Ontario Minister of Labour with the Liberal Party, we jumped on the opportunity to see just what a politician does with his or her time. Our goal is to demystify the work of politicians and encourage citizens to take more of an interest in politicians' work throughout their time in office, not just during elections. This is important in order to keep politicians accountable to their constituents. Along with Muslim Link reporters, 16 year-old Adilah Makrup, a Lisgar High School student and photographer living in Yasir's riding, was invited to join Muslim Link on November 15th for the chance to connect with the man who represents her and her family provincially. We hope that this will become a regular series as more politicians invite us to spend the day with them.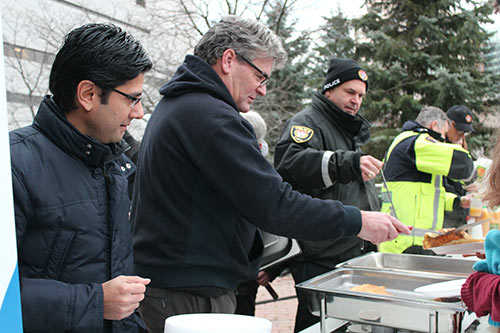 Homelessness is a stark reality in Yasir Naqvi's riding of Ottawa Centre. The Youth Services Bureau (YSB) holds an annual Sleep Out in front of City Hall in order to raise awareness of the reality of youth homelessness in the city. Yasir Naqvi, along with Chief of Police Charles Bordeleau and MPP John Fraser volunteered to serve pancakes to volunteers who spent the night out in the cold. Affordable Housing is a provincial responsibility and the Ontario government has also developed a Community Homelessness Prevention Initiative. Naqvi's community office sees people who are homeless or at risk of homelessness on a regular basis. They are helped by Jessica Dawson, a social worker who is part of Naqvi's staff. While we spent time in the Naqvi's office, we watched Jessica work to help a constituent find a space in a shelter. Constituents of Ottawa Centre can come to the office on 109 Catherine Street to get assistance or referrals for issues related to financial assistance programs such as Ontario Works, Ontario Disability Support Program (ODSP), and the Ontario Student Assistance Program (OSAP).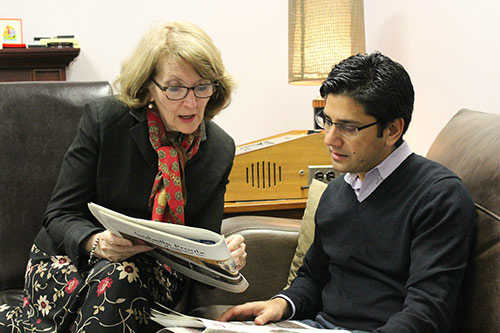 Next, we followed Yasir to his French Lesson with Lise Drolet at the Centre linguistique Ottawa-Carleton (CLOC). During these sessions, Yasir must speak entirely in French and Ms. Drolet insisted that Adilah Makrup, who also speaks French, join in the conversation. During their conversation, Yasir shared his experiences about going to high school in small-town Ontario when his family came from Pakistan to Canada as political refugees. Yasir's first language is Urdu and although he had studied English prior to coming to Canada, he admits that navigating high school in a second-language was something of an ordeal. When Ms. Drolet asked them who they most admired, both Yasir and Adilah said that they most admired their fathers who left their homelands in order to make a better life for their children in Canada.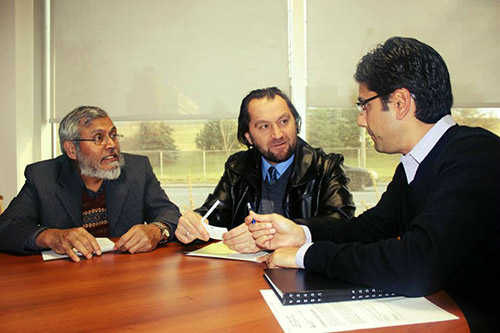 We were privy to a couple of meetings Yasir had with concerned members of the public, including one with Emdad Khan and Imam Zijad Delic from the South Nepean Muslim Community (SNMC). Elected representatives are supposed to help their constituents with the issues they face that are within their jurisdiction. When 18 year old photographer Omayma Rezgui joined Muslim Link's team later in the day, she came prepared with a barrage of questions related to worker's rights. "Well, he's the Minister of Labour, right?" she stated. Omayma was particularly concerned with the rights of young workers and newcomers to Canada. Yasir answered her questions and recommended she visit a provincial website  where she could find fact sheets about workers' safety rights in Ontario in a variety of languages.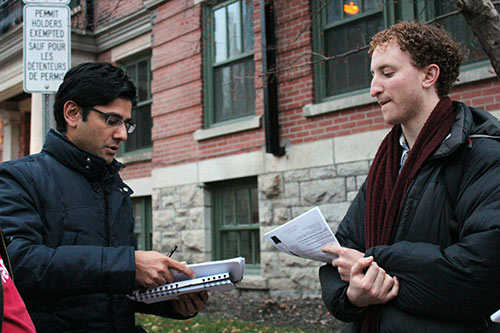 Yasir Naqvi canvasses his riding on a regular basis where he and his team of volunteers go door to door asking residents if there is anything that they need assistance with. Issues that came up during this canvass ranged from access to subsidized dental care to provincial funding for the arts. We watched as Yasir took notes after each encounter to ensure he had the details in order to follow up on Monday.
We asked Adilah what she felt she got out of the experience of following Yasir Naqvi for a day. "It was a good glimpse because there was a lot I did not know. I think I knew about 50% of what happened. I was aware of how the provincial government worked but I learned a lot more of the details by following Yasir Naqvi today," she explained.
If you are an elected representative who would like Muslim Link to spend a Day in Your Life contact Muslim Link's Coordinator Chelby Marie Daigle This email address is being protected from spambots. You need JavaScript enabled to view it.
Muslim Link would like to thank Adilah Makrup and Omayma Rezgui for their great photos.
To learn more about Yasir Naqvi, MPP and how he and his staff can help you, visit http://www.yasirnaqvimpp.ca/  
This article was produced exclusively for Muslim Link and should not be copied without prior permission from the site. For permission, please write to info@muslimlink.ca.