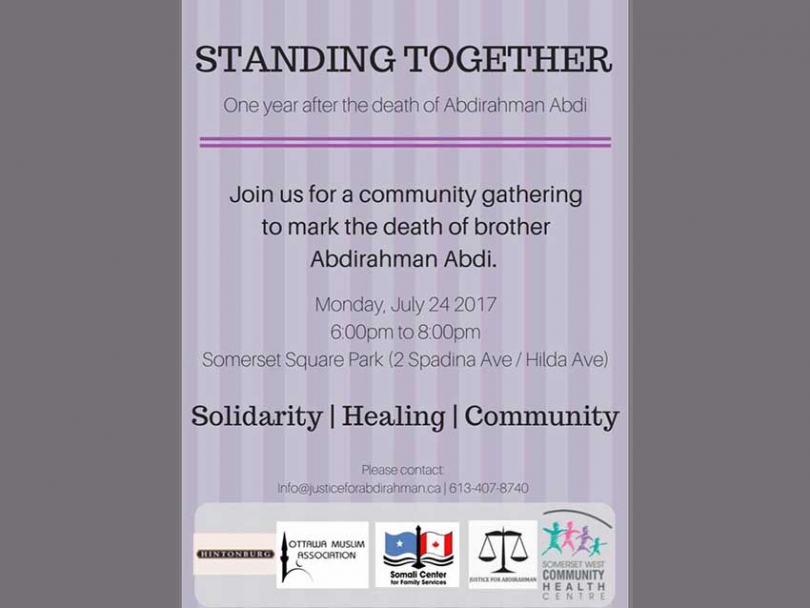 On July 24th Community members will gather in Ottawa to remember Abdirahman Abdi, one year after his tragic death.
20
Jul


2017
On July 24th Community Members Will Gather to Remember Abdirahman Abdi, One Year After His Tragic Death
Written by Justice for Abdirahman
STANDING TOGETHER: Community gathers to remember Abdirahman Abdi, one year after his tragic death.
(Ottawa, ON): July 24th, 2017 marks one year since the death of Abdirahman Abdi. The Ottawa community will gather in Somerset Square Park for an interfaith event entitled: Standing Together to remember Abdirahman Abdi and to show solidarity with the family of a man whose life was unjustly taken in our city.
When: Monday July 24th, 2017; 6:00pm-8:00pm
Where: Somerset Square Park, 2 Spadina Ave. Ottawa, ON.
Who: This event is organized by the Justice for Abdirahman Coalition in partnership with the Hintonburg Community Association and the Office of Councillor Jeff Leiper.
Why: The purpose of this event is to provide a space for community healing and remembrance to those impacted by the tragic death of Abdirahman Abdi. This event also offers solidarity with the Abdi family who has recently learned they must endure another two year delay in the commencement of the criminal trial on the loss of their son.
Key Attraction: The event will be centred on the unveiling of a plaque presented by concerned citizens in memory of Abdirahman. The plaque will be placed at the entrance of 55 Hilda St. where Abdirahman lost his life.
Contact: Dahabo Ahmed Omer, (613) 407-8740 (cell), This email address is being protected from spambots. You need JavaScript enabled to view it.
The Justice for Abdirahman (JFA) Coalition ("the Coalition") is a group formed within days of Mr. Abdi's death. The Coalition is based in Ottawa and supported by local and national advocacy groups. The Coalition's objectives are to obtain greater transparency, challenge racial inequity, increase support for mental health needs and bring positive change to our law enforcement institutions. The Coalition asserts that fairness, transparency and accountability in our law enforcement institutions are critical to ensuring all of our safety and security.
This article was produced exclusively for Muslim Link and should not be copied without prior permission from the site. For permission, please write to info@muslimlink.ca.