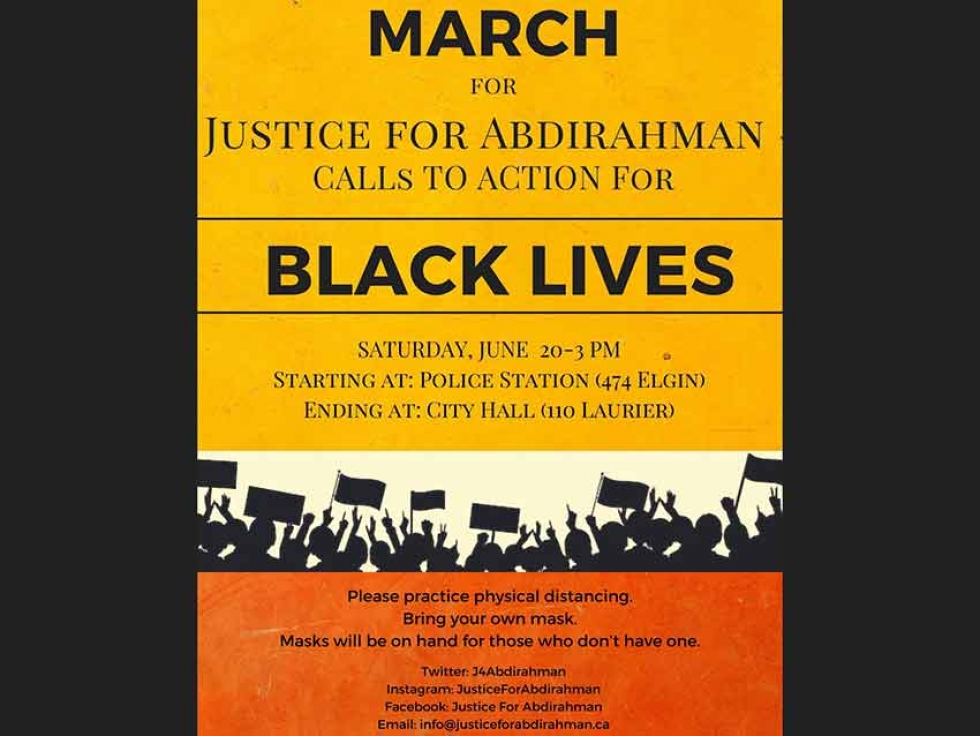 19
Jun


2020
March for Justice For Abdirahman and Calls to Action for Black Lives on Saturday June 20 in Ottawa
Written by Justice for Abdirahman
The Justice for Abdirahman Coalition, in collaboration with community partners, will be holding a march to stand against the violence inflicted on Black bodies that has been willfully ignored by our institutions.
Like many cities that have held their second and third events, this march is organized to support the global and local protests against police violence on Black lives, and to deliver a specific set of demands and recommendations for local action. We also act in solidarity with our Indigenous sisters and brothers who have been struggling against the same racist police violence in Ottawa and across Canada.
The trial of Const. Daniel Montsion, who is charged with the brutal killing of Abdirahman Abdi, will resume soon, as the administrative hearing has been set for July 6th. This constable was charged with manslaughter, aggravated assault and assault with a weapon. Nearly four years later, the trial is still in progress. We continue to wait for justice to be served.
The march on Saturday June 20th will start at 3 pm.
The crowd will gather at the Ottawa Police Station, 474 Elgin Street where we will hear opening statements and then walk to City Hall, 110 Laurier where there will be short speeches, a symbolic gesture in memory of Abdirahman, and the delivering of our calls to action.
To follow this event on Facebook, click here