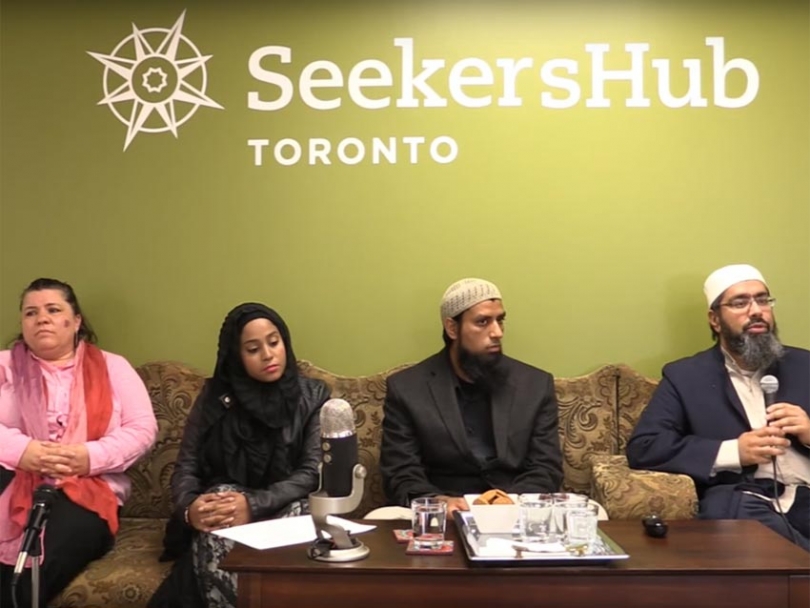 Why Adopt? The Urgency, Virtues, and Practical Steps of Adoption was organized in September by SeekersHub Toronto.
Courtesy of SeekersHub Toronto
01
December


2016
Why Adopt? An Interview with Shaikh Faraz Rabbani on Adoption in Islam
Written by Chelby Daigle
November is Adoption Awareness Month.  Throughout the month, Children's Aid Societies across Ontario spread the message that every child deserves to have a forever family' in the hopes of encouraging more families to open their homes to children in care.
Once again, Muslim Link has partnered with The Children's Aid Society of Ottawa (CASO) to raise awareness about the adoption as an option for Muslim Canadian families.
This year, we interviewed Shaikh Faraz Rabbani of SeekersHub Toronto about why he has become a vocal advocate for adoption among Muslim Canadians. Earlier this fall, he hosted a session with a young Muslim adoptive family and a representative from Permanency and Adoption Support Services (PASS).
Shaikh Rabbani doesn't deny that there are challenges for Muslims who adopt, particularly in terms of gender relations as an adopted child is not a relative according to Islamic Law and therefore prohibitions around interactions between unrelated and unmarried men and women will apply, but he feels that the urgent need for children to have caregivers should outweigh the inconvenience that managing proper Islamic gender relations between the adoptive child and their adoptive guardians entails.
Why did you decided to organize a session on Adoption through Seekers Hub? 
Taking care of orphans is very central specifically to the guidance of the Quran and the Sunnah of the Prophet (pbuh)
There is repeated urging in the Quran for us to take care of orphans. It is not an accident that our Prophet (pbuh) was himself an orphan. This is often a neglected area of Islamic practice given a confusion over what adoption is and what Islam encourages and what Islam prohibits.
We organized the seminar because, while raising orphans is encouraged in our faith, a lot of people are put off because so many Muslims believe that adoption is not permitted. This is a mistake.
As an Islamic scholar, what would you say to Muslims who believe that it is against Islam to adopt?
What Islam prohibits is adoption in the sense where one negates the child's actual biological parents. What is Islamically considered kafalah (guardianship) is highly virtuous, and a collective obligation and highly encouraged for those who are able. Through this guardianship, a couple or individual takes on the care and upbringing of a child that is not biologically theirs.
Here in Ontario, and much of Canada, adoption agencies generally encourage more open forms of adoption where the child does not lose knowledge of their origins. When the time is right, with sensitivity, with proper consultation, guardian parents or "adoptive" parents make the child aware of their biological parents. It is a misunderstanding that Islam forbids adoption, it prohibits the denial of the child's true parentage and linage but beyond that, as the Prophet (pbuh) said "I and the one who raises and orphan will be like these two in paradise" and he brought his two fingers close together.
What principles in Islamic tradition should Muslims keep in mind when considering adoption?
Muslims need to keep in mind that raising an orphan is one of the most virtuous of actions.
There are some guidelines regarding how to adopt, and these are ultimately to safeguard the interest of the child. If someone is considering adoption, they should educate themselves around the Islamic virtue of adopting. People should not hesitate if they wish to adopt, whether it is because they are unable to have children, or maybe you are not married and would like the opportunity to raise children.
For more information about adopting in Ottawa visit the Children's Aid Society of Ottawa's Website here
View Seekers Hub Why Adopt Seminar online
This article was produced exclusively for Muslim Link and should not be copied without prior permission from the site. For permission, please write to info@muslimlink.ca.