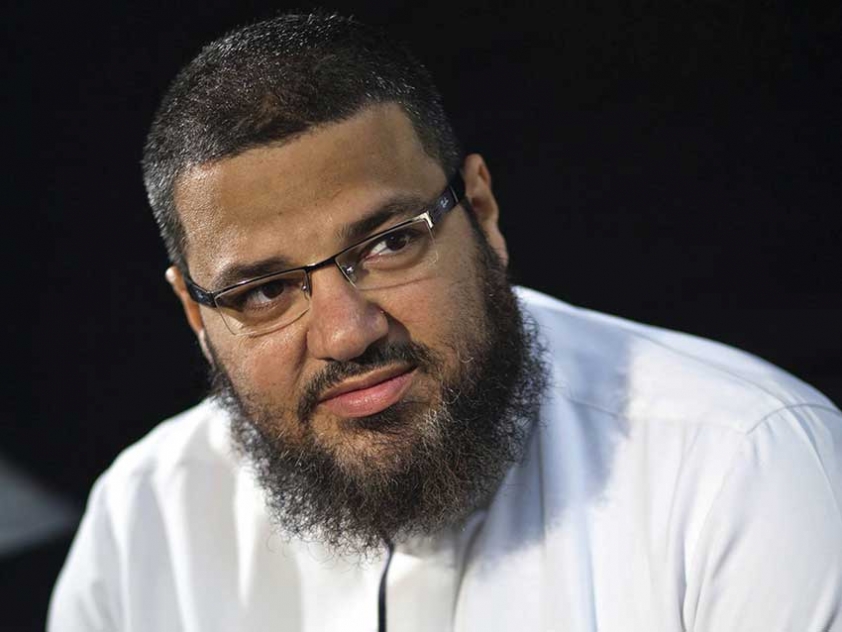 Egyptian American Imam Waleed Basyouni has been speaking out against extremism long before 9/11.
Courtesy of Waleed Basyouni
31
March


2015
You have been speaking out against extremism for a long time, long before the rise of ISIS. Why?
I grew up in Saudi Arabia around the area where the jihadi movement started in the 80s and I had friends who went to fight as mujahidin (fighters) in Afghanistan against the Russians. I noticed that a lot of them when they came back, they came back with different ideologies. I'm also originally from Egypt and I've seen how the jihadi movement started there as well and I've been seeing how this jihadi ideology can be very dangerous so I've been speaking out against it for a long time, even before 9/11. With all of the political change which has happened in the Muslim World, with things not getting better, I always have the fear that this will feed these ideologies based on hate and frustration. One more reason, I guess, is because my specialty is theology, and I've studied different sects and anyone who has studied the history of sects in Islam will know that this was a major ideology of the Khawarij (an early group of religious extremists in Muslim history). There has always been this strain of extremism, manifesting itself in different ways in Muslim history, which has turned against Muslims and non-Muslims.
What do you feel the relationship between law enforcement and the Muslim community should be in relation to countering violent extremism?
I do believe that community and law enforcement have to work together. We are living in a democratic society that is geared towards absolute freedoms and opportunities for people to express their views and ideas. It is the community's responsibility to counter any radical ideas or views, not the government or law enforcement. But when these radical ideas turn into violent extremism, an act of terrorism, or a plot against society, that's where the government comes in, and the community has to pull back. I believe that the community has to support the government and law enforcement when they step in. But that will take trust from both sides and cooperation. I'm not saying that every arrest that is made is 100% correct but there is a justice system that exists and at the end of the day the court will decide. If every time an arrest is made we are just going to say 'It's made up, it's not true.' we are kind of putting our head in the sand and denying that we have this problem. I have seen people in my life that I never ever expected would become violent extremists, but they did.
Concerns have been raised in local Muslim communities that these extreme ideologies also involve spreading hatred against other Muslim groups such as Shia Muslims. What are your thoughts on this issue?
We are all living together in the same boat. We have to all work together. We can debate our differences academically, we can talk about it, but at end of the day we have to work together collectively as a community with one voice, united. I think the challenge for us is so big as Muslims who are a minority here, I don't think we can survive if we divide each other. I don't need to agree with you in everything to be your brother or to work together.
The political situation that we are living in today is fueling this hate. If you look at Syria, it is a sectarian war, what you see in Yemen is a sectarian war, in Bahrain it was a sectarian war. So these sectarian wars just feed that narrative of hate. But we have to be mature enough in the West to not bring all of these problems that exist overseas here into our society. The reasons for these sectarian wars don't exist here in America or in Canada so why would we bring them here? Those politics are toxic. Why would I bring the model of Iraq or the model of Syria or Yemen to my community here?
Parents are concerned about the ways in which ISIS is appealing to Muslim youth, particularly those who are angry about the injustices they see in the Muslim World. What are your thoughts on this?
As imams we have to speak out against aggression, against violence, even by governments or by Western societies against people in the Middle East or the Muslim World. We are not only there to speak out against the injustices that have happened by Muslims. We inspire our youth to have a role to play in changing the things in their society that they are not happy with. The whole problem with the jihadi narrative is that there is no other way to change the problem except these acts of terror. But these acts of terror never change anything. Tell me what these jihadi groups have achieved since they started? Have they solved any problems? The reality is no. So I tell the youth, if you really want change, if you want to see justice in cases like Palestine, Syria, terrorism is not the way to do it. There are other ways that might take long but they will be more effective. I've never seen any policy change because a bomb was made. All of the policies that come out of that are worse! But this message is being effective. ISIL is threatening people like Sheikh Yasir Qadhi, they are encouraging people to spill his blood, because they know that these voices are taking the youth away from them. So they have no other method to challenge us but to spill our blood and say we are kuffar (unbelievers). They have said this about me as well. When you debate these people and they don't have any answer all they can answer with is violence. And this has been the case with these extremists throughout history.
So you are speaking about the reality that groups like ISIS target Muslims as much as they target non-Muslims.
As Muslims, we are always the double targets. We are targeted by these terrorist groups either because directly they hate some of our leaders or indirectly because we are part of these societies, when the bomb goes off, people die, Muslim and non-Muslim, if we are at the mall, if we are at a public place, we are part of this society. Then you have the backlash after the bomb goes off. The Muslim community gets pressured by law enforcement and some of these extreme right-wing groups and we are all aware of attacks and hate crimes against Muslims.
But because of this discrimination against Muslims, particularly after the Chapel Hill Shootings, there are ongoing discussions in Muslim communities in the West about whether we will ever be welcome here. How do you respond to these concerns?
It's not fair, we always suffer from all of these generalizations with people telling us we are all extremists so we can't do the same to others by saying that all Americans or Canadians or Westerners hate Muslims. I came to America in 1997, I call this nothing but home. I feel welcomed, supported, I've become part of this community and part of this society. One incident of hate cannot represent more than 360 million Americans. We should not see ourselves as victims, we should walk with confidence because the way you see yourself, people will see you.
But not all Muslims who are living in the West will always stay here. Some are just international students, some will be denied citizenship, some will need to go abroad to find work. What would you say to Muslims who are planning to return to Muslim majority countries about how they can still be a force for change in countries where there is often a lot less political freedom?
I would say don't ever give up hope and don't be driven by your problems, be driven by your dreams. Remember that there have been countries that had worse situations than what we have now and they are strong, they are prospering. The change we want to see in the world, we need to see in ourselves first. If we change the way we behave, the way we deal with people, the way we think, others will change, our families, our companies and workplaces. I look always for the opportunities available for me to work through. If one door is closed, another door could open. This attitude will help solve the problem. I want them to be very confident in the power of hope, of unity, of education. That's really what changes society. But it's going to take time. But I believe there is still a chance for Egypt, Syria, Iraq, Afghanistan. They could still come out of these civil wars and conflicts as good countries. But they need leaders who believe in a brighter future, inshallah.
This article was produced exclusively for Muslim Link and should not be copied without prior permission from the site. For permission, please write to info@muslimlink.ca.