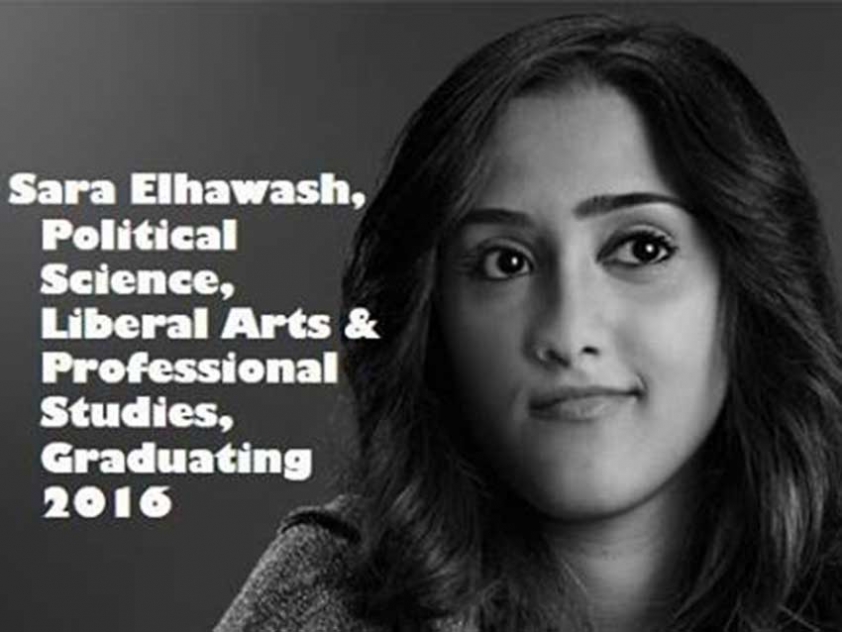 Sara Elhawash was chosen by York University to represent their Political Science program in their Visions campaign.
Courtesy of Sara Elhawash
26
January


2015
So You Want To Study Political Science? Sara Elhawash
Written by Suzanne Kanso
Muslim Link interviewed Arab Canadian political science student Sara Elhawash about her experience studying Political Science at York University.
Sara was selected by the university to represent Political Science in their Visions campaign aimed at promoting York's programs. Current students were asked to imagine where they would be in the future with the help of their York University degree. Here is Sara's vision:
"2022: As a diplomat, I advance Canada's international influence. Sara Elhawash, Political Science, Liberal Arts & Professional Studies, 2015. With a degree from York's elite political science program and a wealth of international study experience, Sara's on her way to realizing her dream of becoming a diplomat. She'll represent Canada on the world stage, bringing with her a unique blend of critical thinking skills, theory, and real world experience. Ottawa, New York, Geneva – wherever she goes, Sara will have a global perspective and universal skills. This is how York is helping Sara shape her future and ours."
Tell us about yourself
I was born in Jordan. I moved to Canada and started school in grade 5. I'm currently in my last year at York University for Political Science and I'm very active and involved with many organizations at York.
I believe in my faith, I'm a Muslim. I like my culture, I like to stick to my traditions as an Arab and Canadian at the same time, it's really more like a balance between the both and I truly love both.
Why did you want to enroll in Political Science?
At first it wasn't actually my first decision, I'm really into business. In high school I really got into social science and I had this idea that I really wanted to make a difference in this world. I want to be in this position that will allow me to give back to the community and help out. And I really like politics and I'm really interested in it and thought to myself that I should go into it, learn more and figure out how I could use my academia to make a difference and help out people in need. So that's what got me into it.
Describe your involvement in UNICEF
I've been the president of UNICEF for two consecutive years. I started off in my first year at York University volunteering, and I really enjoyed it. But I felt like that club back then was a bit small, so I realized the need to improve and expand this club, because it has great potential. I knew there were so many ways we could raise awareness about this club and raise donations to help spread the vision of this great organization. So what I did, I ran for marketing executive, and I used my skills to learn more about the organization and then got nominated to run for president and so I did.
Before I ran, I was shy and quiet. Coming from high school, I didn't have the courage to be in the position that I am today and do what I do today. My passion for it and my love for the cause pushed me to do it and so I planned and hosted so many events and activities. From there it just sky-rocketed, I kept on coming up with so many event. I got really involved and really stepped out of my comfort zone. I worked closely with my team and we eventually became one of the most active clubs on campus. We raised a lot of awareness and from the events hosted; we raised over $2,000 in donations for UNICEF Canada, which we later donated toward the end of the year in 2014.
We also now have over a 1,000 members, making us the recipient of "Club of the Year Award" at York, and now we're practically one of the biggest clubs at York. So we're going to keep pushing and hopefully the momentum keeps going. I have a strong team and so I know we're going to keep pushing and aid this cause. Although next year is my last year, sadly, I know I'll be leaving the group in good hands with a very well-grounded team so I'm hoping for it to grow more and more.
What advice do you wish you were given about enrolling in Political Science that you wish to share with aspiring future diplomats?
If you're not involved, you'll end up with only a degree in your hands and that feeling of being lost. Being out there, especially in Political Science, is very important and requires one to be a social butterfly. You really need to network! You need to be out there and involved on campus and outside in your community, because books won't be the only thing that can get you the position. It's what you do outside the classroom and how you can apply it in this world that does.
Now I realized this on my own, but this is a tip that I feel everyone should keep in mind. So a) Get Involved b) Start Networking and c) Take advantage of all opportunities offered at your university.
I strongly believe that having only a degree in Political Science is not as effective as being out there and networking. Remember to Always Push Yourself! I strongly believe that if you do push yourself, self-reflect, and most importantly believe in yourself, you'll go very far and achieve the goals you set.
What barriers if any do you feel someone from your particular background might face enrolling in Political Science and getting involved with UNICEF?
Personally, I don't think there's any. I think you just go for it, because anything is possible. I go to York University, and it's a very diverse school. We have a very large and diverse ethnic culture that exists within the heart of the university. The beauty of it is that you'll see presidents of all colors, and backgrounds and that's very encouraging. It's not necessarily where you come from but what you push yourself to achieve.
Now becoming a future diplomat and getting to the position you want, especially as you may say as a visible minority can be difficult, but you just got to keep pushing, believing in yourself regardless of what culture, race, ethnicity or religion you are, and networking. Canada is a land of many opportunities; you just got to network. I stress it again, networking and involvement is key and know that hard work will get you far.
Have you done any grassroots activism/community work with the skills you gained from UNICEF? If so, describe it and the impact you hope it had within the community
I have used the skills that I have gained throughout my work for UNICEF around York and in my community. I have used it to help out as many students on campus and help build organizations and create lots of events that are beneficial to many.
One example being currently as the Student Life Director for the Political Science Council at York University, I had planned our annual Ottawa trip this past October and it was one of the most successful ones with the highest attendees thus far. We met with diplomats, ministers, counselors from the US Embassy, and toured the Parliament and Governor General's house. [We] met with officials from the Assembly of First Nations, stopped by embassies and got to learn more about politics and Ottawa outside of the classroom. It was such a great networking opportunity, truly rewarding. It helped further motivate me to pursue a career in diplomacy. Such experiences and opportunities are what I encourage everyone to look for, because not only do you get to network but it helps direct you to the career of your choice.
Overall, my work has mainly been on campus. I'm involved off -with riding associations and in my city, but I do hope to do more off-campus in the near future. I'm currently looking at a couple of internships with the Government, the UN, and UNICEF internationally and anything that will allow me to travel abroad and help out people and children in need the most.
I realized from my on-campus experience and involvement that the more we raised awareness about children in impoverished parts of the world, students became more involved. It had a great impact on our campus with people being more aware via the various events we hosted throughout the year. The next one being is a collaborative event called "Refugee Camp in the Heart of Campus," so be on the look-out! We will be collaborating with MSF, World University Service of Canada, Refugee AID, AMNESTY, and a couple more organizations where we will be placing an actual refugee tent in [the] university to draw more attention about refugee issues happening in developing countries. And so UNICEF will be taking part focusing on the issues that children face. I continue to work on more events hoping for more awareness and understanding of UNICEF and the issues that children face.
What challenges do you feel you will face as a future diplomat?
One challenge can be its demanding nature; it will be hard balancing work and travel and having a family of my own if I choose to down the long run. Although, despite any challenges, I am very motivated to give it my all.
Do you feel Muslim diplomats should be providing/building networks of support for Muslim Political Science students? Do you see similar networks of support for students from other communities?
Of course, I think building support in general is important, regardless of what it is. Yes it's possible, I'm not personally familiar with any as of now, but yes I believe it's very possible.
You can check out Sara's vision here: http://mytime.yorku.ca/visions-students/#Sara
This article was produced exclusively for Muslim Link and should not be copied without prior permission from the site. For permission, please write to info@muslimlink.ca.