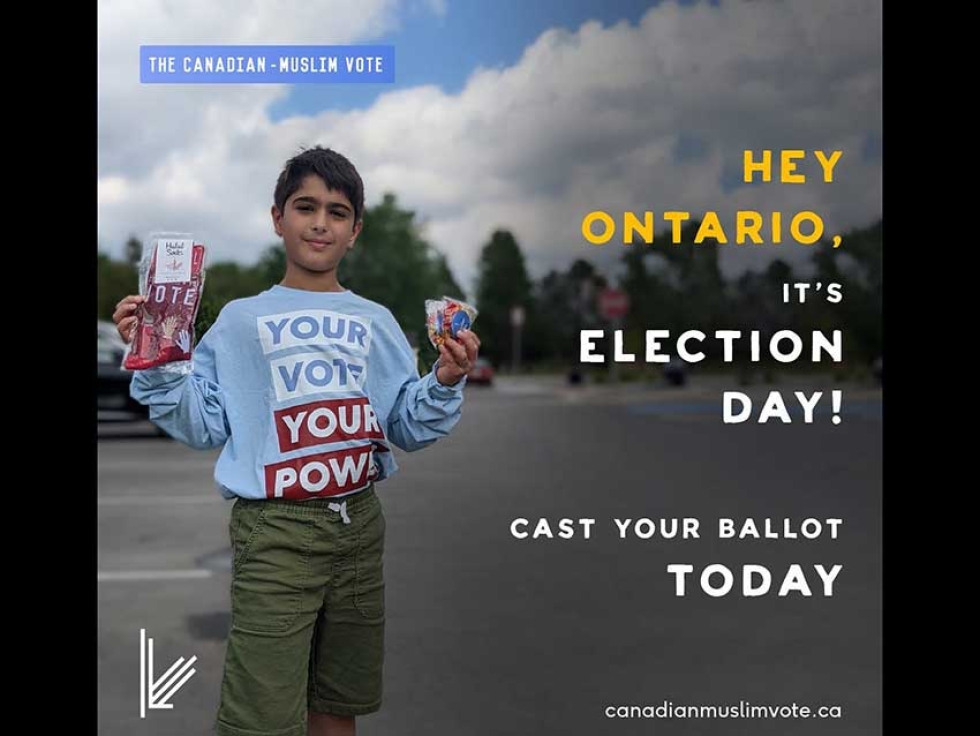 02
Jun


2022
The Canadian-Muslim Vote Mobilizes Young, Newcomer, and First Time Voters on Ontario Election Day
Written by The Canadian Muslim Vote
Oakville, ON – The Canadian-Muslim Vote (TCMV), a non-partisan, non-profit, registered charity mobilized many young, newcomer, and first time voters to the polls on Ontario's election day.
Many Muslim voters cast their ballots today and earlier at the advance polls as the result of TCMV's voter education that their votes matter. This is the culmination of a get-out-the-vote campaign with "Muslim Vote Weekend" mobilzations during advance polls and contacting voters at mosques, festivals, community centres, neighborhood shops, doorsteps, and with phone calls across the province throughout the election campaign.
Newcomer and first-time TCMV volunteer Hibah Shaikh, who voted for her first time today in Milton, said "Voting is more than just casting a ballot. Voting is taking action for my community's well-being. Muslim votes make a difference when they join to drive positive change."
TCMV Communications and Social Media Coordinator Aysha Rizwan recalled how one young attendee at the Jane and Finch Community and Family Centre in Toronto first said he didn't think his vote mattered but after hearing TCMV's presentation asked "How do I get involved? What's the first step if I want to run?"
About The Canadian-Muslim Vote:
The Canadian-Muslim Vote was founded in 2015 to mobilize the estimated over 800,000 Muslim voters across Canada at all levels of government in a non-partisan manner and is a registered charity with the Canada Revenue Agency. In the 2022 Ontario election TCMV's campaign involves 150 mosques from Ottawa to Thunder Bay with 3 touch points per mobilized voter, including over 5,000 live phone calls and over 4,000 doors knocked.