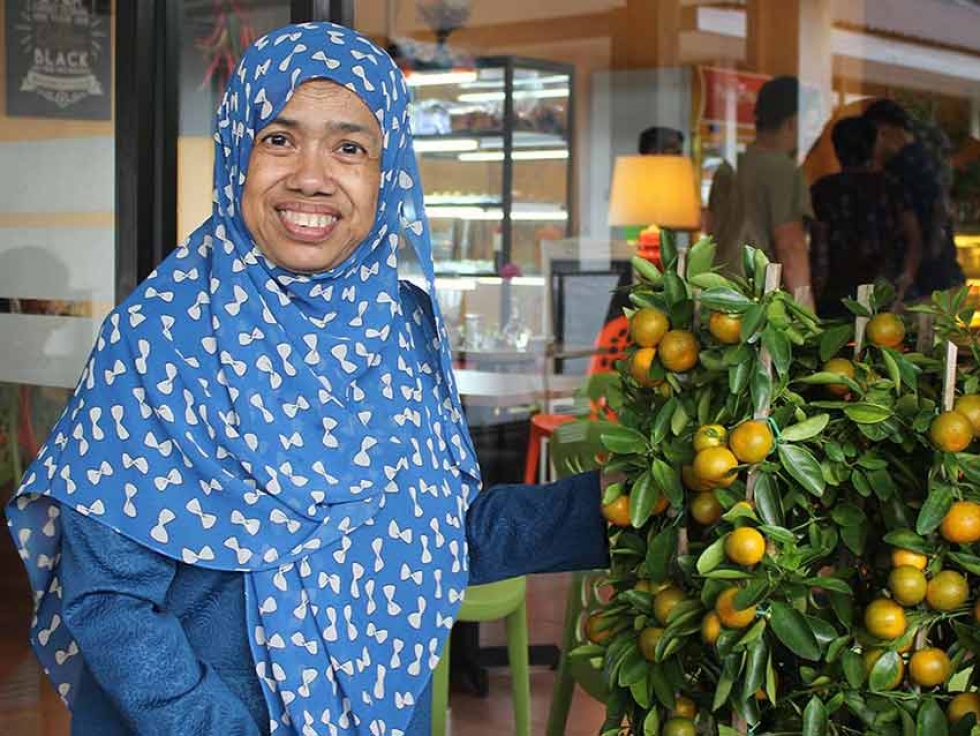 Malaysian Canadian Sabariah Binti Hussein's charity work made headlines in Canada and Malaysia in 2017.
Ini Cerita Aku
05
Jan


2019
Sister Sabria: An Inspiration in Canada and Malaysia
Written by Making Headlines
Malaysian Canadian Sabariah Binti Hussein's charitable activism made Canadian headlines in 2017. This news soon reached her homeland of Malaysia, making her an instant celebrity.
Known popularly as "Sister Sabria", she has been called the "Mother Theresa of Montreal".
According to the Montreal Gazette, "Sister Sabria's involvement in the Montreal community dates back 30 years, when she arrived in Canada after completing international cuisine courses in Kuala Lumpur, the capital of Malaysia. As a devout Muslim, she is heavily involved with the Muslim community, cooking thousands of meals for mosques spread throughout the city. She lends a hand to anyone in need, regardless of race, religion or sex, working closely with River's Edge Community Church and Unity Church, both located in N.D.G. She also runs her own women's shelter from home, called Our Second Home."
Since then, Sister Sabria's work has now turned into an official non-profit organization, the Sister Sabriah Foundation. As stated on its' website, "The Sister Sabria Foundation was founded in 2017 in a collective effort to institutionalize the networks of community support built by Sister Sabaria Hussein that so many have come to depend on."
Now in her 70s, Sister Sabriah's dream of making sure her initiatives grow into something that will be sustained by younger community members seems to be turning into a reality with the establishment of this foundation.
Early in 2018, the Sultan Ibrahim of Johor, the region of Malaysia from which Sister Sabria comes from, awarded her the Darjah Mulia Sultan Ibrahim Johor (DMIJ), which carries the title Datin Paduka. He stated that "Her efforts and noble values should be honoured and exemplified."
Early Life in Canada
In an interview with Ini Cerita Aku, Sister Sabria shared about her early days in Canada:
"I was trained as a teacher in Singapore for a school with special need students. One day, there was an ad for posting in Montreal as a teacher in a school, and I applied. I was one out of the many that actually received an interview and ultimately got the job. In the first week, I was in a dilemma, as the cafeteria served pork soup. As a Muslim, we are not allowed to touch pork. If I were to serve it and it splashed on me (as accidents do happen when you're working), I would not be able to pray. I have always placed my duty to Allah SWT above all else. When I raised my concerns, I understood that the school had to let me go. But praise be to Him that almost immediately after, an opportunity opened for me to work as a governess to take care of a child who suffered from down syndrome. This was the beginning of my career in Canada. It is where I met my husband and eventually built new roots there. It is also where I became more active in my work."
Sister Sabria married a French Canadian who has also learned to speak Malay fluently over the years.
The Time She Was Trapped in the Freezer at Long Bay Camp
Many Muslim Canadians are familar with summers spent at Long Bay Camp in Ontario. Sister Sabria was a chef at the camp. As she shared in her interview with Ini Cerita Aku, she ended up trapped in the freezer at the camp.
"I used to volunteer as a chef for summer camps with the Muslim Student Association in Ontario and Montreal. There would be about 180 students, and around 20 facilitators. Every day, I was in charge of managing the menu and kitchen staff, preparing for the food, and making sure all of the participants in the camp were well fed. One night, as I was sleeping, I awakened and realised that we were making baked chickens the next day, and I had yet to take it out to defrost! Realising this mistake, I hurried over from my room to the kitchen. At this time, it was around 2.15am, and everybody was in their cabins. Nobody saw me going in to the kitchen. Personally, I didn't want to bother anyone either.
I went to the freezer, and started taking out the boxes of chicken. It was one of those big, industrial walk-in freezers. When I went in to pick up the fourth box, suddenly, I heard the door slam shut, and everything went dark! Unfortunately, this freezer was not designed with an emergency handle from the inside. I felt my way on the cool surface and couldn't find anything to help me. I pushed. I pulled. I tried at the crack between the door and the wall to no avail. I realise I was trapped. What more, I was shivering cold, it was in the middle of the night, and no one knew I was there.
So, I went straight to the cold floor and prostrate to Allah S.W.T and prayed, pleading for help. I realised that I have to pray and I kept praying. I talked to Him and I told Him that I had lots of commitments, and that I had hundreds of people to feed, especially with Ramadhan approaching. I was assigned to cook at community kitchens throughout the month.
Resigning to my fate, I told myself to try and push the door one last time. It had been almost two gruelling hours. At this point, I was at my lowest and my weakest. I persevered for one last try. I pushed the surface of the door. At the touch of my cold fingers, it cracked open outwards. The door widened just enough for my small frame to slip through. With that, I escaped that cold room."
Volunteering with Her Neighbourhood Church
In an interview with Reader's Digest, Sister Sabria explained, "In Islam, there is a Hadith that says before you sleep, check if your neighbour is hungry. For me, the church people, the surrounding area, they are my neighbours. So I check whether they are hungry."
In an interview with the blog Have Halal Will Travel, Sister Sabria explained how she began her relationship with River's Edge Community Church.
"Approximately 10 years ago, when I was helping to prepare lunch for my shelter for about 60 people. And as I was used to preparing iftar during Ramadan for a large number of people, I told myself why not approach the nearest church in my neighbourhood to see if I can become of help? Obviously, they welcomed me with open arms. Due to sheer sincerity, we created this bond of respect and love for one another up till today."
Sister Sabria's Shelter, "Second Home"
Sister Sabria established the shelter, Second Home, in November 2001.
According to an interview with New Strait Times, Sister Sabria explained how her shelter was estabilshed:
The initiative came about after international students asked her for temporary lodging because they were having trouble finding accomodations they could afford.
"Before the shelter was set up, I allowed them to stay at my home. For a more sustainable practice, I decided to rent a four-room apartment to allow the students to stay there temporarily. I let them stay for up to a year. The high cost of living in Canada and their low-income backgrounds saw them take longer to find affordable accommodation," she said.
Her door is also open to asylum seekers and women who need a safe place to stay.
Funding Sister Sabria's Work
In an interview with New Strait Times, Sister Sabria explained how she funds her voluntary activities without any government grants, "she generates income through selling spring rolls, curry puff, samosas and other snacks and savouries at Concordia University, McGill University and Al-Ummah Mosque every Friday. I cook these savouries and snacks with volunteers. Most of them are students and they also help me to sell the snacks every week," she said. At every mosque, there is a special box for charity. When I am running short of money, I will ask from the mosque. Thank God, I have dedicated people who provide monthly contributions of around C$100 to C$200. For the two months that I am away [each year she travels to Malaysia], I ask them to contribute to the fund. They will write me a cheque beforehand. Then I would be able to prepare everything to continue my work," she said.
With the establishment of the Sister Sabriah Foundation, more people can contribute through donating to this work online here.
Charity Starts at Home: The Legacy of Sister Sabria's Parents
Sister Sabria credits her parents for giving her a love of charity and good works. Born in Johor Baru, her family moved to Singapore with her parents who were teachers at the Singapore Vocational Institute.
In an interview with the New Strait Times, she explained:
"Every week, I would follow them to go back to Johor Baru to help out the villagers there. We would buy groceries and staple items for the needy in the village. In return, they would give us coconuts, durian and other produce from the village. Apart from that, my parents helped rebuild roads, repair houses and fix other things within their capability. In Singapore, they organised gotong-royong at the school they worked in. They helped people, regardless of their background. The values of helping others are deeply ingrained in the purpose of my life. As the Islamic verse goes - "'I made you from different tribes so that you will understand one another" – which means we have to learn about and love one another," she said.
Sister Sabria's Advice to Muslims
In an interview with the blog Have Halal Will Travel, Sister Sabria shared this advice for Muslims in these troubling times:
"To help make the world a happier and peaceful place, what Muslims should do is to remain calm and united. Help those who are in dire need, regardless of race or religion. For example, currently the Rohingyas, Yemenis, Syrians are in a chaotic state but there are also people from non-Muslim countries who are in need of help. Go out to the extremes and give help to anyone who needs it. Love everyone and love will come to you. Last but not least, never forget Allah, for Allah will not forget you. [My hope for the world is that] people learn to respect and love others. With that, comes understanding and caring for others. I also hope for the world not to be judgemental, and not always pointing fingers at others because remember, the next four fingers will be pointing at you."
To learn more about how to donate and how to volunteer with the Sister Sabriah Foundation, click here.
This article was produced exclusively for Muslim Link and should not be copied without prior permission from the site. For permission, please write to info@muslimlink.ca.