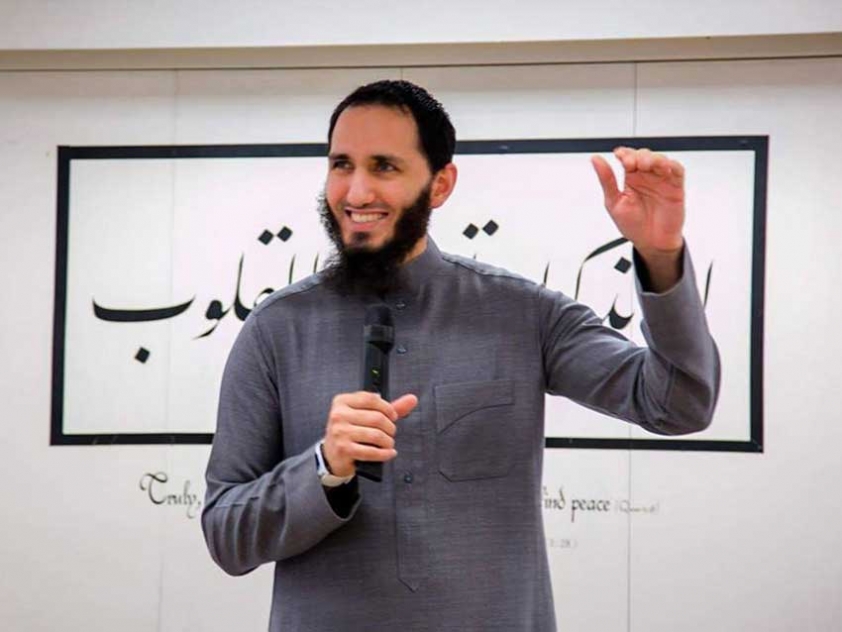 Montreal born and raised, Sheikh Daood Butt reflects on the challenges and opportunities of being a Canadian born imam.
Courtesy of Sh. Daood Butt
10
April


2016
Sheikh Daood Butt: What Will Your Legacy Be?
Written by Chelby Daigle
Sheikh Daood Butt will be speaking at the I.LEAD Conference on April 16th. Sheikh Butt received his B.A. in Da'wah and Usool ad-Deen from the Islamic University of Madinah in Saudi Arabia. In 2015, he received the Imam of the Year Award at MuslimFest from DawaNet. Born and raised in Montreal to a Pakistani father and Portuguese mother, the married father of two currently lives and teaches in Mississauga, but often travels internationally to speak on Islam.
Sheikh Butt is part of an emerging generation of North American imams who hope to support North American Muslim youth in developing a unique North American identity. Muslim Link interviewed him about the challenges and opportunities facing Canadian born imams.
What are some of the challenges that face Canadian born Imams?
After we receive our Islamic education, going back to the city we were raised in is often not what a lot of graduates do, because if you go back to your own city, often the elders won't take you seriously. They still consider you that little boy wearing diapers running around the masjid (mosque). Even though you might be in your mid to late 30s, going into your 40s, you are still that kid to them, so a lot of Canadian born imams move to a different city or province. That's what I did.
What are some of the benefits to Canadian Muslims of having more Canadian born and raised imams?
I studied here in elementary school and high school. I also worked here in Canada in multiple places so I understand what the youth are going through because I can understand the challenges that they face in school, on the playground, with extracurricular activities, in sports. I also know what the adults are facing in terms of work. I have done my share of construction jobs, I've worked at UPS, AVIS Car Rentals; I used to deliver pizza so I know the challenges for example of a Muslim who needs to go to Jummah (Friday prayer) but he only has 45 minutes to an hour to do so. So, as an imam, I can gage my khutbah (sermon) so that it is relevant to them in terms of their work and school life. I can also relate to those who have to rush to the masjid, deal with parking issues, and then rush back to work within an hour and still try to manage to catch the khutbah.
In Canada, Muslims come from various national and ethno-cultural backgrounds. Do you feel that the imam should play an active role in helping Muslims Canadians embrace this diversity, including accepting the increasing reality of intercultural marriages?
Imams can contribute to that by embracing other cultures. For example, I have no issues with wearing a thobe, which relates back to Arab culture, I have no issue wearing a shalwar kamees or a baju which comes from South East Asian culture. I feel comfortable going to the masjid in pants and a shirt and if people have an issue with that I tell them this is Canada and if you had been born and raised here like me this is the way you would dress.
Imams also need to create a really good relationship with the parents and the elders and show we have that respect for them so they can trust us, because a time may come when their children or younger relatives come to us and say "I want to get married but my parents are not letting me get married to someone from a different culture or ethnicity, so can you help me out?" That's a reality today. Youth are going to school and meeting Muslims from different places all over the world.
It is a real problem in our communities that parents try to force their children to marry someone from their cultural background. We can't blame them because they feel that that's what's best for their children because it's their culture and it's how they raised their children. But marriage is really about choosing a good person. A person's deen (faith) supersedes all the other traits the Prophet (Peace be upon him) tells us to look for in a spouse. It is the person's deen that is going to help that couple in the future and that is going to help them raise their children as practicing Muslims. It doesn't matter what they wear or how their wedding is going to be. You can have different cultural weddings as long as it conforms with the Sunnah (sayings and practices of the Prophet).
Marriage is a sensitive issue but I will just openly speak on it because what I am saying is true according to the deen. If we are too scared to address these sorts of issues as imams we aren't going to help our community move forward.
You are coming to Ottawa to speak on April 16th at the annual I.LEAD Conference. Do you think these types of regional conferences are important for community building among Muslims living in Western societies?
They really are. I do a lot of conferences worldwide. I just came back from Vancouver, before that I was in Melbourne, Australia, and prior to that I was in South Africa. From what I have observed of I.LEAD this is a really good initiative because there are no other conferences I have seen happening on that scale in Ottawa-Gatineau. At these conferences, people from different parts of the community will come together and not only learn from the different speakers—another aspect of I.LEAD that is really interesting is that they have a really diverse speaker line-up—but people also get to network.
Being someone from Montreal, we don't really get opportunities like that. The very first conference I ever attended in Canada, when I walked into that conference, I saw a lot of different social services addressing needs and issues that the community in Montreal was really hungry to address. So when people come to conferences like this they can see something that they might want to see in their own community. Like my dad now attends conferences, which he never did before, but now he comes to ones where I am speaking, and he will see something and he's like "Hey, we need that in our community in Montreal, let me speak to these people and I can see if I can get a few brothers and sisters in my neighbourhood to contribute towards making this happen where we live." So the networking is really important.
The theme of this year's I.LEAD Conference is "Living the Legacy"—the legacy being that of the Prophet (pbuh) and his companions. How will your lectures at the conference relate to this theme?
Every speaker has an aspect of the legacy of the Prophet (pbuh) that we are discussing. I am discussing family, particularly bringing the family together around salah (prayer). So, I am looking at how you build a sense of community within your own house and then extend it outward. It's an amazing theme for a conference where we can touch on various aspects of the life and legacy of the Prophet (pbuh) that we often don't get to explore in your regular Jummah khutbah (Friday sermon) or evening halaqa (religious study/discussion group).
One of the things I also like to talk about in regards to the idea of legacy is leaving my own legacy. We are all following the legacy of the Prophet (pbuh) but when I die, when I leave this world, is my footprint going to be planted somewhere on earth? Or am I just going to live and die and no one is going to notice me? So we need to learn from the legacy and life of the Prophet (pbuh) and then build our own legacy.
You teach a course on Muslim women in history. Why did you choose this subject and do you think it is important that both men and women learn about the contributions of Muslim women?
In the course, I explore the lives of Muslim women who have left a legacy, who have left that footprint on earth. The first time I taught the course was in Kuala Lumpur, Malaysia, and about 400 people attended but out of that 400 only 16 were men. I was like this is so wrong because the course wasn't just for women, it is actually meant to really educate the men particularly about how to treat women and support our wives, daughters, and mothers to excel and achieve great things. The reason why I put this course together goes back to over a decade ago when I was sitting in the car with my wife listening to a bunch of lectures about women in Islam and I was like some of these women really did awesome things and I just wanted everyone to learn about this stuff. I incorporate stories about women in my regular day to day lectures and even in my Jummah khutbahs.
Even though depending on the masjid I am in, I can't see the women, I still speak as though I am addressing them. I always have to remind myself as an imam that women are also listening to me. It's tricky because you are always seeing the men in front of you so you will notice that some imams say 'my brothers, my brothers, my brothers' but our sisters are listening too. Also, I travel a lot and I've gone to many different cities and countries where I have seen signs that say women are forbidden from entering the masjid or there is no women's section and it just boggles my mind how in 2016 we are still seeing that. That is something that is completely wrong and it is against our deen and we need to stop this.
I was in Durban, South Africa a month and a half ago, and I met a mother there who told me that for 12 years, 5 days a week, she brought her children to the masjid to memorize Qur'an. They had all memorised Qur'an. I was like Mash'Allah (God wills it) that's amazing. But then she said that for 12 years, 5 days a week, she would sit on the step outside the masjid and wait for them because as a woman she was not allowed inside. And I literally almost started crying. I started tearing up because this is a mother who did this for all of her children and she couldn't even go into the masjid! At the time of the Prophet (pbuh), the masjid was a place where we went to learn our deen, but also to receive medical care, social services. So why are we restricting women, who make up the majority of our society, from entering the masjid when the Prophet (pbuh) did not do that, nor did his companions?
Last year, you received the Imam of the Year Award from DawaNet. Why do you think you received that award?
When they told me I was getting an award I was like I don't need an award, I just do what I do. On the award it says I received it for "outstanding service to educate and inspire Muslim youth". I think I received the award because, at the time, I was teaching at four different masjids. I was teaching in Oakville, Mississauga, and Milton and I was giving khutbahs at different masjids on rotation. So people saw me around a lot. I am just pretty down to earth. I'm not the type to say "I am the imam don't come and talk to me unless you are wearing hijab on your head!" I always try to put myself in the shoes of the people I am working with and I think that helps make what I am saying relevant.
This article was produced exclusively for Muslim Link and should not be copied without prior permission from the site. For permission, please write to info@muslimlink.ca.