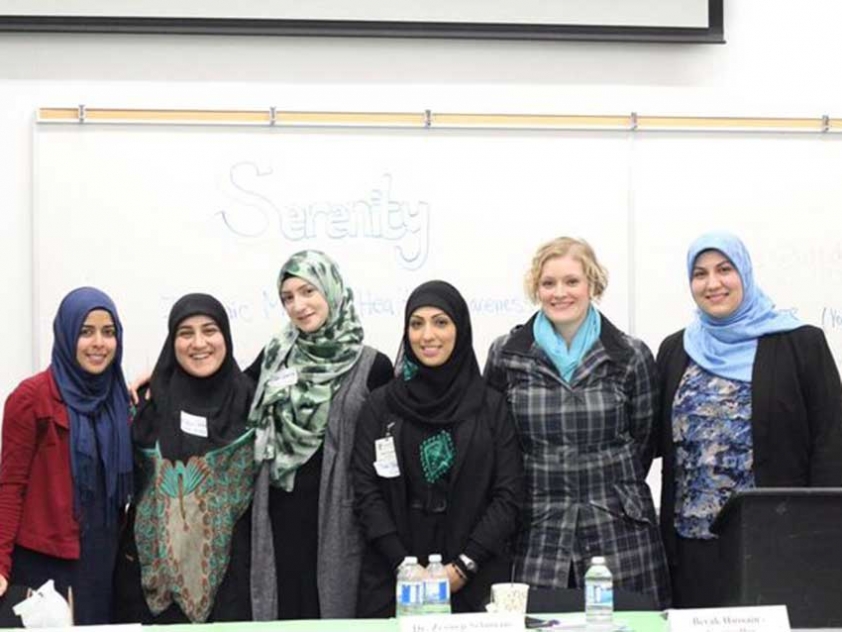 Serenity Team members and Speakers.
Courtesy of Fatima Fakih
20
Jan


2016
Serenity: Creating the Space for Muslims to Discuss Mental Health
Written by Chelby Daigle
Serenity Islamic Mental Health Awareness was founded last year as a way to address the stigma and common myths associated with mental illness in Ottawa's Muslim Communities. It is led by Berak Hussain, a practicing counsellor and graduate of the University of Ottawa's Masters' in Counselling Program, and a number of university students. At present they have organized a few presentations on mental health by qualified mental health service providers who come from Muslim and non-Muslim backgrounds.
Muslim Link interviewed Berak Hussain about the initiative.
How did Serenity begin?
This started last winter when a group of youth from the Ahlul Bayt Centre and myself went to Montreal to attend the three day Reclaiming Our Community's Conference on Drugs and Addiction in Muslim communities. We found the event very beneficial. On the bus ride back, we were quite excited and we thought we should put a similar conference together in Ottawa exploring topics that are relevant to Muslim youth. As mental health is of personal interest to me, I threw it out there and response was quite positive. So that is how the idea for our group began, but I would also say that our initiative is also a response to some youth suicides which took place within our community over the last few years. We don't want to be reactive, we want to be preventative. In the wake of those suicides, we saw a lot of reactive responses; often these were impromptu presentations on the subject of suicide and depression by people who were not necessarily mental health practitioners. We wanted to put something more formal in place with presentations by people who are actually working in the field of mental health, including people from Muslim backgrounds working in these professions.
Put simply, our initiative is in reaction to the realization that there is a serious lack of mental health awareness in our communities.
How did the Serenity Team grow?
We did a lot of brainstorming about topics for a conference that would appeal to youth and parents. That same night in Montreal, a group of 30 to 40 young women stayed up until fajir throwing out different ideas. Within a few months, a core group emerged and we officially created the group in the Spring of 2015. We started out planning for a conference but then decided to begin with a series of presentations on various subjects related to mental health.
At these presentations, you invite both Muslim and non-Muslim mental health practitioners to speak. Why is it important to have both present?
Mental illness touches all of us, whether you are from a Muslim background or not. Having a mixture of backgrounds helps to shed light on different perspectives on the topic and we welcome learning about non-Muslim perspectives on these issues. But it is also important for them to hear about our community's perspectives on these issues, because it helps them in their work with Muslim clients so that our spiritual concepts and the diversity of our religious and cultural backgrounds are not so foreign to them. It helps build those basic cultural competency skills. Many mainstream practitioners are really interested in our project for that reason.
At your last session, the topic was stress and anxiety. You had a lot of youth in attendance as well as some parents. What are your reflections on the event?
It was wonderful to see how the youth felt safe enough to openly discuss topics that are usually taboo. It also allowed for the parents to hear from experts in the field that their children's concerns need to be taken more seriously in terms of bullying, stress, anxiety, and depression. The feedback I got from some of the parents was that our session helped them connect more with their children because before they might have thought their children were exaggerating or were just lazy, but when we discussed the topics from a medical point of view and a psychological point of view, they understood that they needed to take what their children were saying to them more seriously.
In the open discussion, advice was given to both the parents and the youth on how to approach the topic with one another, particularly taking the cross-cultural and cross-generational gaps into consideration.
Why do you think that Muslim parents sometimes don't take their children seriously when the children share about feelings of stress, anxiety, depression, or being bullied?
Parents might see their child at home, being lethargic, not doing house work and think they are just lazy because when they see them in another environment, the child is more active. But as mental health practitioners know, the effects of depression, anxiety, stress, and bullying can manifest themselves in different ways in different spaces. It is hard for parents to see if their child is really depressed or just being lazy. But hearing from a psychiatrist, a social worker, and a counsellor helped the parents better understand that there could be more going on than their child just being lazy.
If your child is saying they are stressed or depressed, there is nothing wrong with going to your family doctor or going to the school guidance counsellor or social worker to find out what is going on. Parents need to now let the cultural taboos around mental illness stop them from seeking help for their children.
Do you think there are particular mental health stressors for Muslim youth?
Yes, particularly in light of what has been happening around the world.
We all go through this awakening around what it means to be Muslim during this time in our lives, in high school and post-secondary education where you start interacting with so many different people with different ideas—so you start questioning your own identity. I know that when I was in university, it was a time when I tried to understand my spiritual and religious background and I was looking for knowledge so that I wasn't just following what my parents taught me.
It is hard enough to be a young person, trying to figure out your identity, but the added social, cultural, and religious factors can put a strain on your mental health if you are unsure of who you are and what you believe. It can really cause issue like anxiety and depression and I have seen that in my own work as a counsellor at university.
Islamophobia can be an added stressor as you feel targeted and isolated and this can have an effect on your sense of self and your emotional and intellectual development.
You are also involved with Muslim Family Services of Ottawa (MFSO) on developing a network of Muslim mental health practitioners in Ottawa.
I was approached by MFSO two years ago to give feedback on workshops they were developing on mental health. They contacted me again when they heard I was working on the Serenity project because they wanted to be involved and I was invited to join the team that was beginning to organize this network. I am really glad that MFSO included me in order to diversify the group. I am excited that the network is going to be inclusive because we need to collaborate as Muslims across our differences on the issue of mental health.
Also, we need to reach out to see who from Muslim backgrounds are working in this field—there are probably more then we realize, so we need to tap into our different networks. We need to be connected as Muslims working in this field so we can share our resources, share our events, learn from each other, support each other, and work together to make mental health a more mainstream topic in Muslim communities.
What are the next steps for Serenity?
We will be continuing with the regular psycho-educational events that we have been having involving panels with speakers from our community as well as from the mainstream. These sessions will lead up to a conference in the spring, Insh'Allah (God willing). 
Learn about Serenity's upcoming event on Suicide here
This article was produced exclusively for Muslim Link and should not be copied without prior permission from the site. For permission, please write to info@muslimlink.ca.