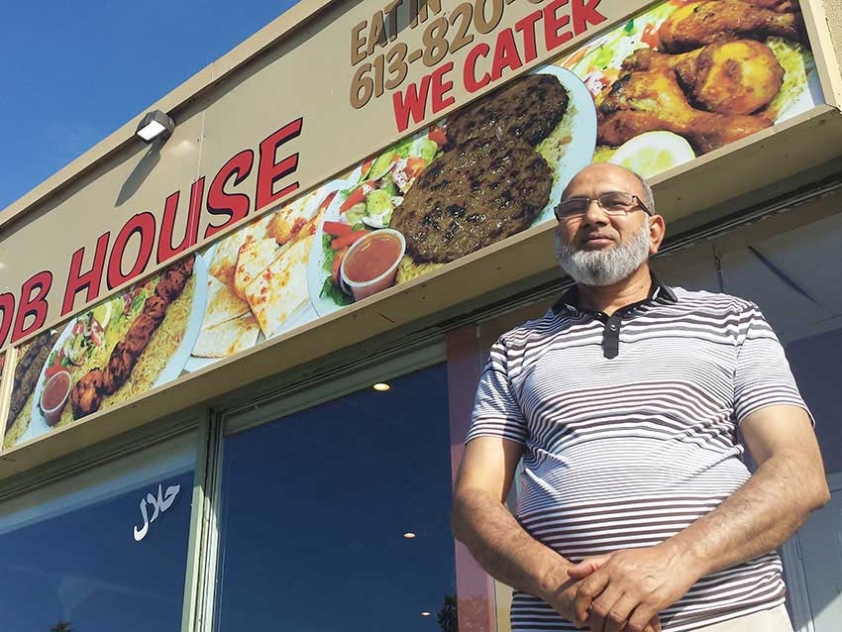 Salang Kabob House Restaurant, a staple of Ottawa's Bayshore community, has a new owner, Pakistani Canadian Ihsan Sandhu.
Photo Credit: M. Dourou
25
Jun


2015
Salang Kabob New Owner Seeks to Make the Perfect Halal Poutine
Written by Chelby Daigle
Salang Kabob House Restaurant, a staple of Ottawa's Bayshore community located at 2934 Carling Avenue, has a new owner, Pakistani Canadian Ihsan Sandhu.
Well known in the community as a board member of Masjid Jami Omar, Sandhu immigrated to Canada in 1982 at the age of 22. "I was sponsored by my wife and my plan was to continue my studies. I had an interest in political science and history." But at the time, Canada was going through a recession.  "Interest rates were high, there were no jobs, people were losing their houses. My family said, 'Why do you want to go and get a university degree and just end up driving a taxi or washing dishes?'" he explained.
Instead, Sandhu began working at a convenience store. "Alhamduillah, one of the supervisor's saw potential in me and encouraged me to own my own store," Sandhu shared. With his supervisor's support, and money raised from family, Sandhu became the owner of his first convenience store in 1984. "It was a store in Vanier, and my first day was Halloween night," Sandhu recalled.
Sandhu worked his way through various convenience store franchises and eventually moved to owning a gas station. "When I started in the gas station business, I was the only Muslim gas station owner in the city that I knew of. Now, I think most of the gas stations in Ottawa are probably owned by Muslims."
Running convenience stores and gas stations has given Sandhu a unique perspective on the human condition. "You will meet every type of person. You will see people at the best and worst times of their life. You will see the same customer in the morning and again late at night. You will see the same customer when they just got paid at the beginning of the month and when they are running out of money at the end of the month."
In the 90s, during the high tech boom, Sandhu owned a gas station in a more affluent part of the city. "You would see the young hi tech guys in their beamers, but sometimes how they behaved," Sandhu shook his head in a gesture of disapproval, "I started to see that money really isn't everything, I started to look at life differently." It was in the 90s that Sandhu began to think more seriously about his faith and the type of life he wanted to live for himself and his family. "When I first came to Canada, I thought the purpose of life was to make money. Then my parents came to visit me and they made me promise to take them to hajj. Around that time, Allah started to change me inside," he shared.
That is when he began to dream about owning a completely halal business. Now with Salang Kabob House, his dream has come true. "Alhamdullah, Allah has given me this opportunity," Sandhu stated.
Salang Kabob's head chef, Aman Jafri, an Afghan Canadian, raised in Iran, has been key in helping to give Salang Kabob its unique fusion of South Asian, Persian, and North American cuisines. From a natural meat tenderizer which is a trade secret, to his signature cheese garlic naan and potato bowlani, Jafri has helped to develop a menu which reflects his Afghan roots as well as what he has learned from his years working in Persian, Turkish and Lebanese restaurants. "He is a very talented man. His recipes are unique," Sandhu stated.
Salang Kabob's previous owner, Pakistani Canadian Nizar Abbasi, who has extensive experience managing restaurants that cater to mainstream Canadian tastes, also shared his insights with Chef Aman. "Nizar introduced the chef to some Canadian herbs," Sandhu explained, "We Pakistani people we don't use oregano, rosemary, or basil but Nizar knew that these are really good herbs to use with meat."
Sandhu is now making his own contributions to the menu, encouraged by his son Ali Sandhu. The new menu items include Poutine and Prime Rib Steak. "My son helps to bring the perspective of the younger generation," Ihsan Sandhu explained.
Creating a halal Poutine recipe proved to be far more challenging than anyone in the Salang Kabob team had expected. The trouble is, much like with soup mixes, poutine gravy mixes are seldom halal as the source of the meat is unknown because it is such a small ingredient. Chef Aman and Sandhu had to go on a quest. Eventually, Chef Aman was able to develop the right mix. The next challenge was finding the right cheese. "I have discovered that that the key to a good Poutine is the cheese," Sandhu explained, "it can't just be any type of cheese, it has to be a certain kind of cheese curd from Quebec." Sandhu looks forward to hearing from customers about whether Salang Kabob's poutine can hold its ground with other classic poutines on offer in the city.
Offering Prime Rib Steak also posed unique challenges. "If you care for halal it is hard to find a restaurant that serves a quality steak," Sandhu explained. That is because few halal farms produce AA or AAA beef, a standard which is determined by government inspectors based on the age of the cow. But Ihsan Sandhu's current halal beef provider, Cargill Excel, does provide AA Prime Rib. Cargill Excel's Dunlop facility in Guelph, Ontario, employs 950 people and processes 1,500 head of cattle per day. Dunlop is the only large scale Halal facility in Canada that operates 100% Halal quality beef. Cargill Excel is able to deliver beef six days a week to Salang Kabob.
A lot of Sandhu's work as the owner of Salang Kabob House comes from having to source halal meat which is also tayib (wholesome). To ensure that meat is not only halal but tayib, Sandhu, has tried to find suppliers that offer meat which is hormone and antibiotic free. Whenever possible, he also looks into issues of how the animals are treated. "We need to consider issues like animal cruelty," Sandhu explained. The freshness of the meat is also a concern. "We don't rely on freezers here. Whatever comes in we marinate it and it is served that day," Sandhu explained.
But finding quality halal meat is becoming easier. The majority of Salang Kabob's chicken is sourced from Sargent Farms, whose Ontatio facility has been certified as halal by the Halal Monitoring Authority. "The halal food industry is growing rapidly and non-Muslim companies are investing in halal," Sandhu explained, "Even now lamb is less of an issue since New Zealand started investing in producing halal lamb which is flash frozen."
Unfortunately, like with all restaurants, there are many ways to cut corners when it comes to serving halal, but Sandhu says his focus is on serving quality food first, not profiting from larger margins. "In this industry there is no getting rich overnight. Money can't be your major ambition," he stated, "From being involved with Jami Omar for many years now at the grassroots level, I understand the issues of the community and I am accountable to the community, so alhamduillah, I want to ensure the food we serve is halal we can trust and also tayib."
This is Sandhu's first Ramadan, which he is quickly learning is quite a feat to pull off as most of the day's business is concentrated in one hour and a half period. But with the help of some extra staff, Sandhu is meeting his priority to deliver quality food in a timely fashion. Sandhu is also catering local iftars for mosques, events, and private parties. Currently, Salang Kabob House has the capacity to cater for events of up to 400 people. 
Although it is quite a steep learning curve to go from an owner of a gas station franchise to a halal restaurant, Sandhu is confident that he brings an essential ingredient to the running of Salang Kabob-customer service. "Customer service is the same whether you are in a gas station or a restaurant," Sandhu shared, "the key is that you need to serve that customer so that they will want to keep coming back to you."
This article was produced exclusively for Muslim Link and should not be copied without prior permission from the site. For permission, please write to info@muslimlink.ca.