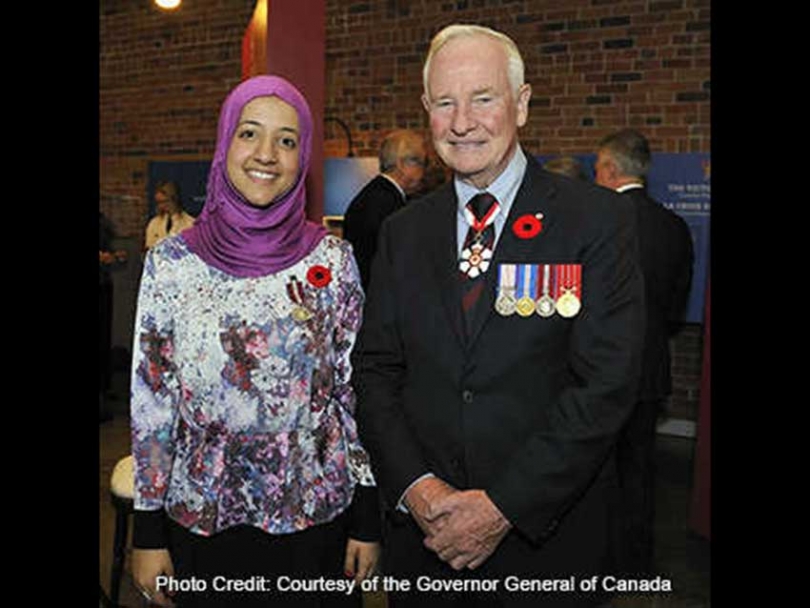 Rasha Al-Katta with the Governor General of Canada David Johnston
Photo Credit: Courtesy of the Governor General of Canada
16
Sep


2013
Rasha Al-Katta: From Britannia Woods to Mount Kilimanjaro
Written by Chelby Daigle
You may not know her name but you have probably seen her.
In 2011, Rasha Al-Katta's smiling face was visible across the city as part of the United Way's campaign to raise awareness about the organization. Volunteers like Ms. Al-Katta were asked to pose for the posters instead of models.
"I thought it would be fun. I didn't even know that it would be splattered everywhere. I thought it would just be in the newspaper but then people started texting me "˜Rasha we saw your poster in Rideau or at Place D'Orleans!'. It was pretty exciting," Ms. Al-Katta shared.
She admits that it is not often that people see a young woman wearing hijab on posters in Ottawa Shopping Malls. "I guess my poster was kind of unique so I have had people stop me on the street and ask if I was the girl in the poster. But I actually think it raised more awareness for the United Way ["]." Ms. Al-Katta added.
A graduate of Nepean High School and currently in her last year in International Development Studies at the University of Ottawa, Ms. Al-Katta, 21, is now in Switzerland at the University of Geneva completing her final semester.
In March 2014, she will be off to Tanzania as part of the Canadian charity WaterCan's Expedition Team which will be climbing Mount Kilimanjaro, Africa's highest peak and the highest free standing mountain in the world, to raise awareness and funds to combat the global water and sanitation crisis.
"According to the United Nations, "˜more people die from unsafe water than all forms of violence, including war'. Looking at the statistics, worldwide, nearly 1 billion people do not have access to clean drinking water, and a further 2.6 billion have no basic sanitation. This constitutes one of the most lethal, yet solvable, health emergencies affecting the developing world today," Ms. Al-Katta stated.
She hopes to raise $5,000 by February 26th, 2014, to support WaterCan's clean water and sanitation projects. "One hundred percent of the proceeds will go to the cause. I am covering my own travel and equipment costs. So far, I've raised $700, that's enough to bring clean water to 26 people," Ms. Al-Katta explained.
"I see clean water, sanitation, and hygiene as the ABC's of development. If you have women in Tanzania having to walk three hours to get a bucket of water, how can you encourage them to gain economic empowerment or continue their education when they have to spend so much time to get clean water which is so essential for drinking, cooking, and cleaning?"
Ms. Al-Katta credits her parents as her major support and inspiration. Ms. Al-Katta's father, who was a journalist in Yemen, came to Canada as a political refugee. Like many refugees who come to Ottawa, the family started out in Ottawa Community Housing (OCH). Ms. Al-Katta admits that she was quite sheltered from the issues facing many youth in her neighbourhood of Britannia Woods until she began working at the community house, eventually becoming a board director.
Ms. Al-Katta has been heavily involved with the United Way. Although originally only intending to get her 40 hours of mandatory community service for high school out of the way, Ms. Al-Katta found herself committing more and more time to the organization.
In 2011, she was the chair for United Way Ottawa's Youth Action Panel, and is a current member of the United Way Community Investment Committee, where she participates in the allocation of resources in community-building projects.
She has combined her passion for youth engagement with her study of international development as Research Assistant with the University of Ottawa's collaborative international research project, funded by the International Development Research Centre, examining youth social capital formation in Canada, El Salvador and Nicaragua. As part of this project, Ms. Al-Katta presented on a panel at the International Conference on the Rights of the Child, held in commemoration of the 20th Anniversary of the United Nations. She has received several awards for her volunteerism, most notably the Queen's Diamond Jubilee Medal of which she was one of the youngest recipients.
To contribute to her fundraising efforts, please donate here: http://give.watercan.com/goto/rasha. 
This article was produced exclusively for Muslim Link and should not be copied without prior permission from the site. For permission, please write to info@muslimlink.ca.